For some odd reason all my favorite people seem to have two things in common.
They get an obscene amount of satisfaction from consuming both food and their own twisted humor.
These pics were taken just a few minutes after The Stylist informed me my middle button had popped open while ordering a milkshake and Greek sweets at a cafe and I'd been walking around like that for an hour.
She looked all misty-eyed as she said, "sorry I knew there was something I was supposed to tell you but I forgot what it was".
I think she was holding back tears of laughter.
Bless.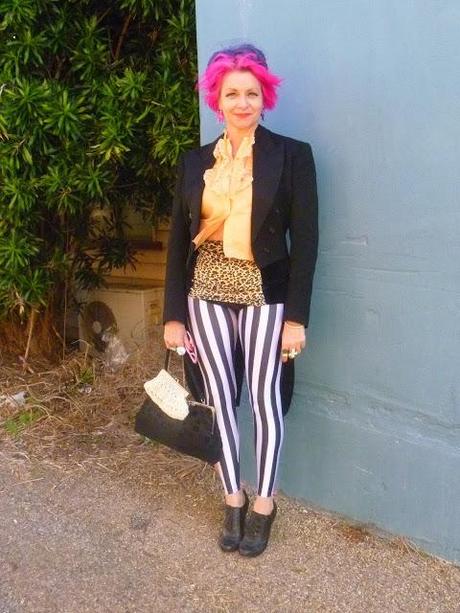 Knickers - BOODWAH
1950s purple cocktail hat - gift from my international jet-setting friend, Miss A
Pink glitter star earrings - gift from glorious Tamera
1920s men's tailcoat - eBay
1950s peach cotton blouse - Etsy
Leggings - Black Milk
Shoes - F21 sale
Handbags - second hand
Rings - craft shops and second hand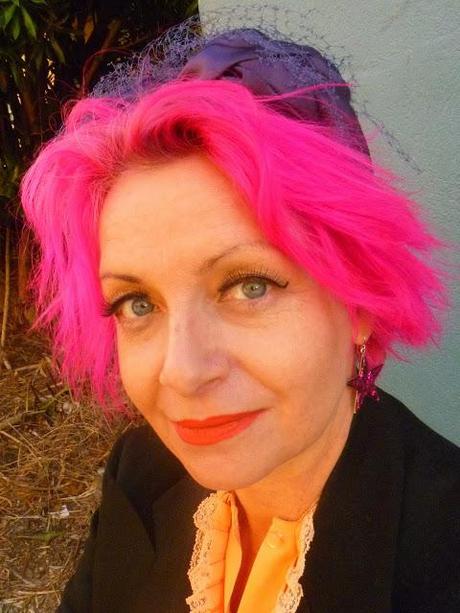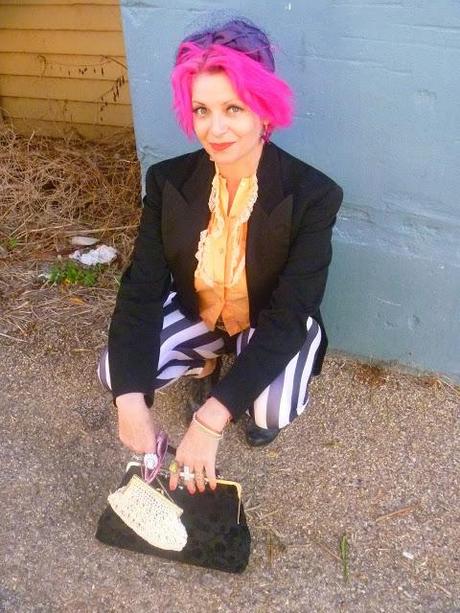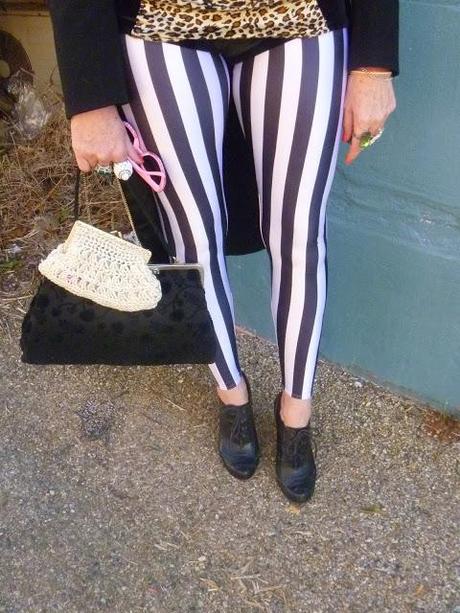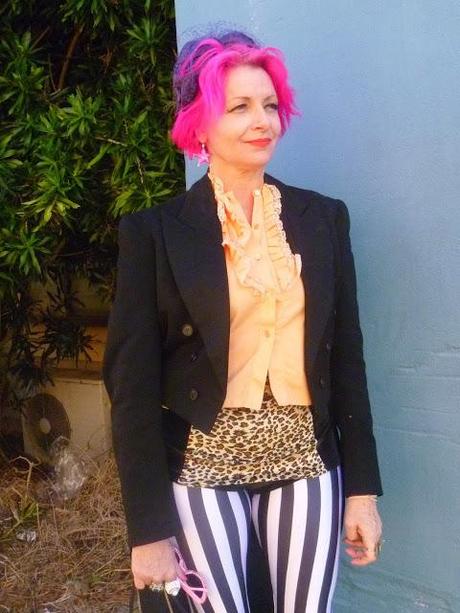 Thinks: "The cheeky bugger!"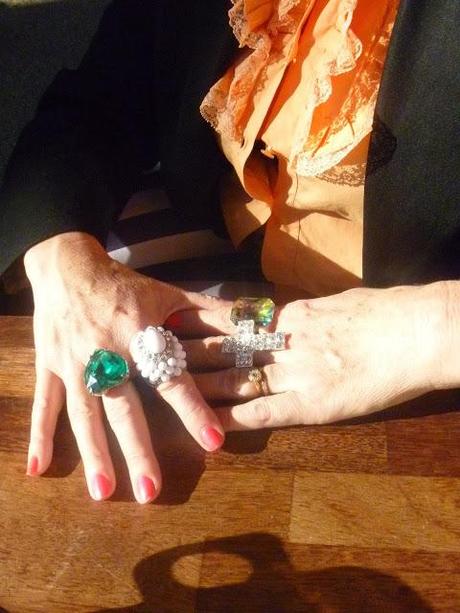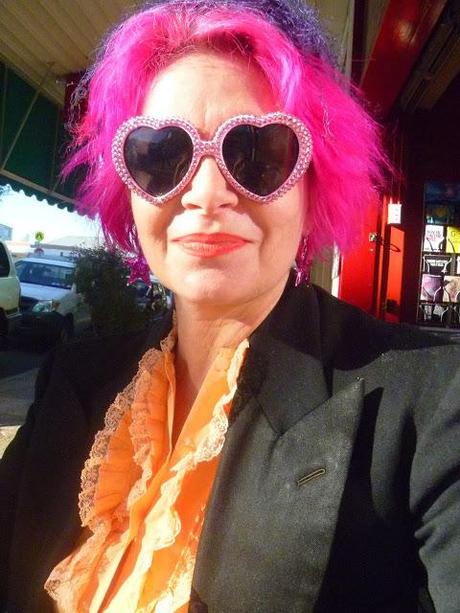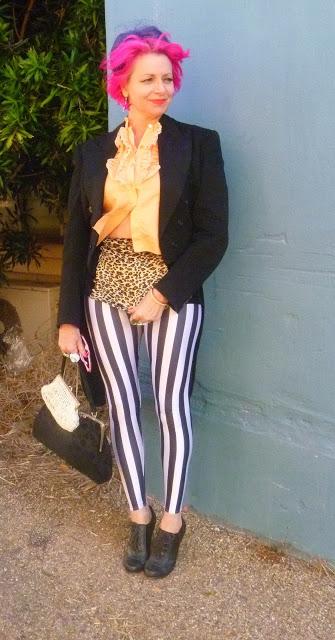 That look?  I think it's the realisation I didn't even get a discount for my impromptu strip-tease.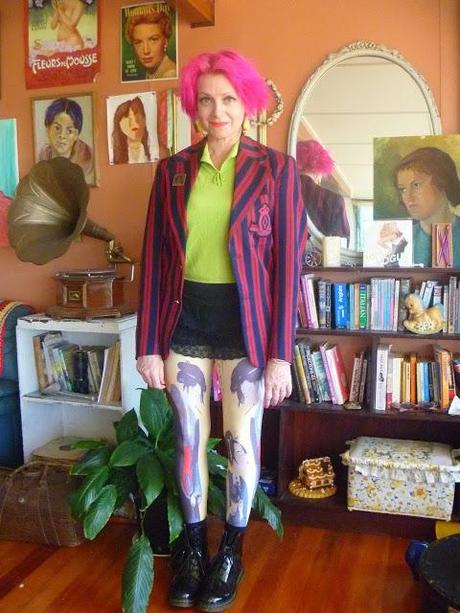 Men's vintage blazer, 1960s top - second hand
Leggings - Black Milk
Doc Marten boots and shorts - retail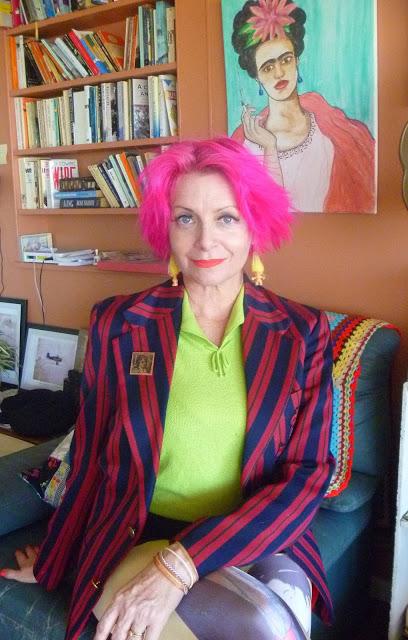 Earlier today, I thought I'd try out full-size false eyelashes.  I forgot to let my liquid liner dry first so it got a bit smudged, but as I write this 11 hours later, they're still firmly planted on and fluttering away like mad.
What a god damn fricken hero huh?
Gosh, I'll be representing the United Nations next.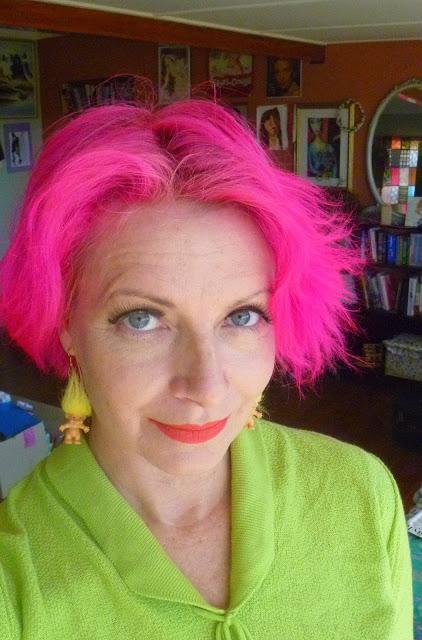 I see you've noticed my earrings.
Yes they're rather spectacular aren't they?
Scrumptious Tamera of Menopausal Supermodel sent them to me in a parcel of joy, which arrived today after a wee stop over at Australian Quarantine.
I'm still giggling at the thought of Quarantine officers opening the package expecting to find some exotic American fauna only to discover a pair of Trollz.
Tamera also sent me lightning bolt and star earrings, a beautiful brooch and two bright scarves, including one printed with Australian wildflowers.
Fancy that, all the way from Maryland, USA!
Thank you so much dear woman xx.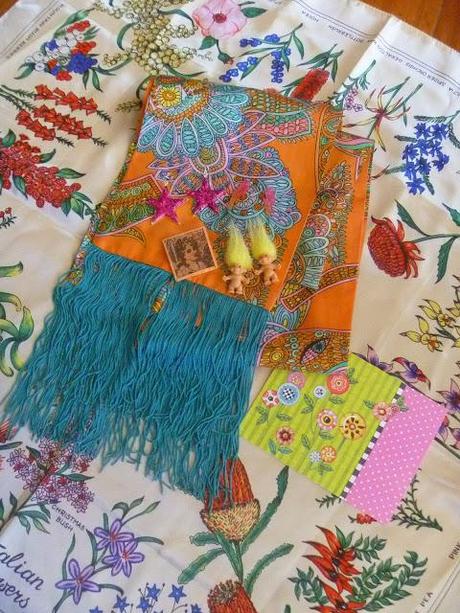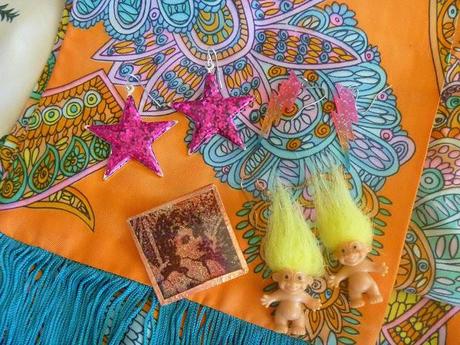 The parcel and card were addressed to both The Stylist and I, so she'll need to get her ears re-pierced to get full enjoyment from all of the glorious earrings.
Oh dear, what a shame.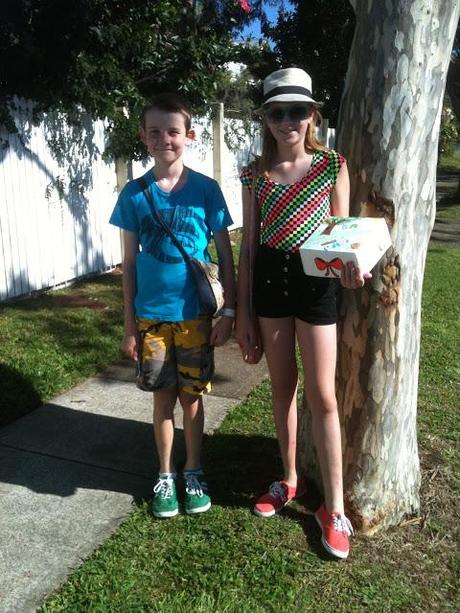 On Sunday, #3 Son, The Stylist and I trotted down the road to the school fete with homemade current cookies in tow for donation to the cake stall.
As you can see we're in the thick of a typical Brisbane winter in all its freezing misery.
Yet another "optical illusion" is the fact The Stylist can now call her older brother her little brother even though he's 19 months her senior.
Oh the pain for the poor lad!
Number One Son recommends an arm wrestle to re-establish the correct pecking order but looking at all those skinny limbs, I'm not sure it will necessarily work out in the wee laddie's favour.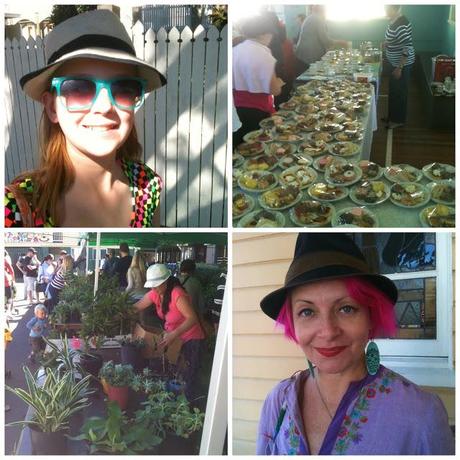 My first stops at any school fete are the trash and treasure and plant stalls, then I dive head first into the hall with the tea and club sandwiches.
The above pic of me is at the end of the day and you can see I desperately need to study the insides of my eyelids.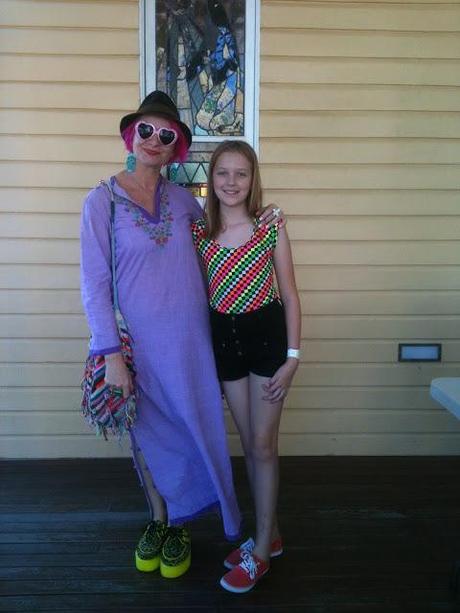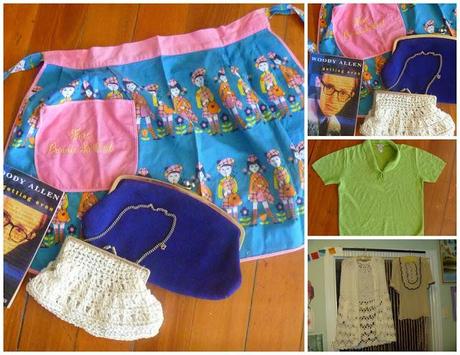 Some of the treasures I snapped up for a bargain including a cream silk top which will soon have a meeting with my dye bath, plus I found a 1960s lime green top and white crochet cape.
Woody Allen's books are getting hard to find, so are 1960s purses and bags, and the cute cotton apron says "Frae Bonnie Scotland".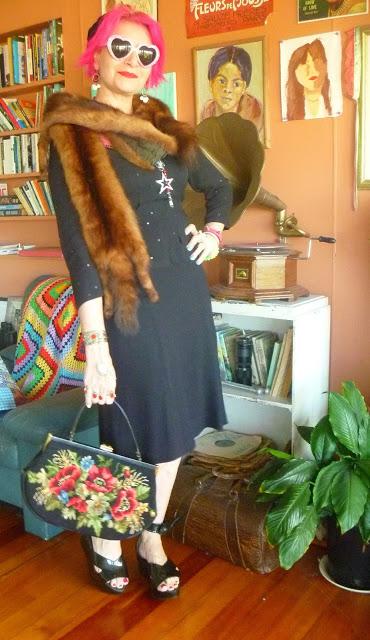 I really felt like frocking up last Friday so I wore this 1940s crepe frock I bought from Etsy many months ago.
It has a hole in the peplum but I really couldn't give a shite about imperfections.
In fact, rips, tears, any flaws at all, highlight the beauty of a piece and affirms my belief that frocks are living, breathing beings with delicate feelings and need as much love if not more, as perfect princess gowns that cost a god damn fortune.
I'm pretty sure the dead animals hanging around my neck once had feelings too.
Oh well, they get a lot of love from me too.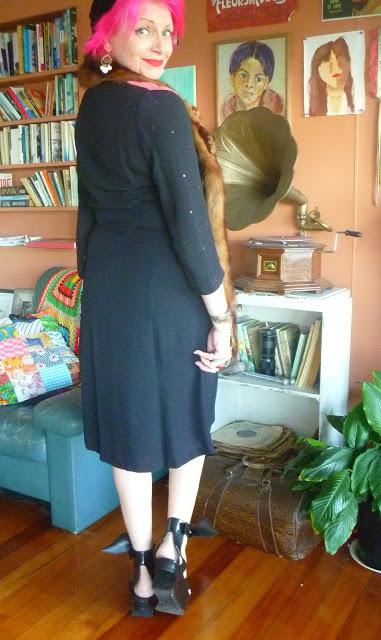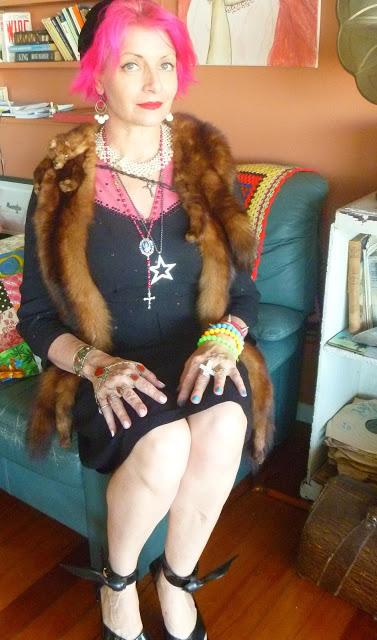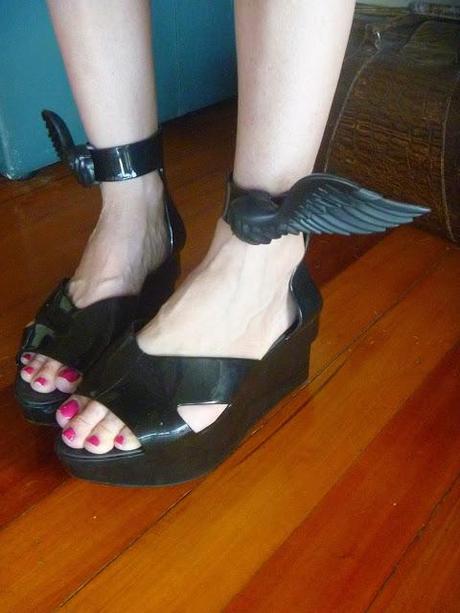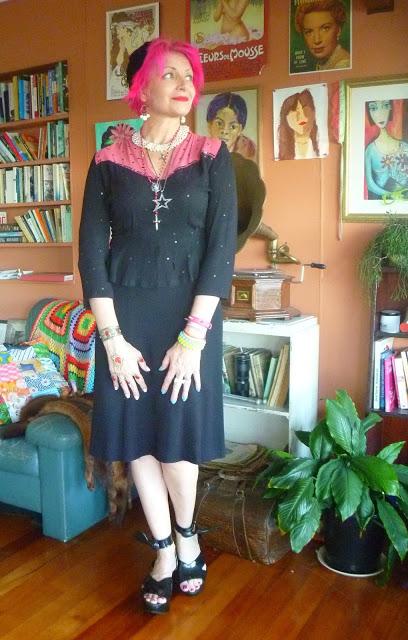 1940s frock, Amy Winehouse rosary, pink glitter heart sunnies - Etsy
1950s silk velvet cocktail hat - gift from beautiful Sasha
1950s tapestry hand bag - gift from my divine sister, Mere
Slave bracelet - Phussy
Pearl collar, star necklace, earrings - op shops
Shoes - Melissa
I hope you're all having a splendidly hedonistic week my lovely readers!
Baci, Desiree xoxo