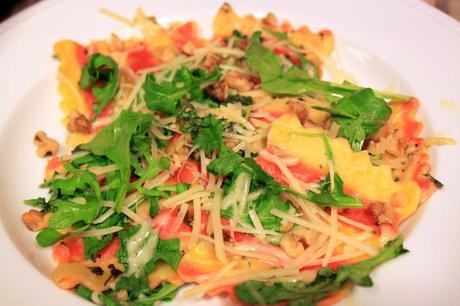 It's no secret that I'm obsessed with arugula this week. I made goat cheese & arugula paninis earlier this week, today's recipe has arugula in it, and on Saturday I'm planning to make an Arugula, Pear, Walnut and Gorgonzola salad for my friend's son's birthday party! I just love the peppery flavor of these leafy greens – they pair so well with sweeter fruits and vegetables, making them extremely versatile. And they're also packed with nutrients and fiber so you really can't go wrong using them.
Today's recipe is super easy – it was on our dinner table in about 20 minutes which included waiting for the water to boil to cook the ravioli. I started this recipe with Pasta Prima's Butternut Squash Ravioli, which is honestly my favorite packaged ravioli in the world. It's super fresh, all-natural, and tastes homemade! It also comes with this great seasoning packet, and half the entire package with the seasoning is only 250 calories, with 2g fiber, 2g sugar, and 12g protein.
The Ingredients for this dish were very simple:
Serves 2
1 package butternut squash ravioli + 1 seasoning packet (if you're using ravioli other than Pasta Prima's, you just need dried oregano, garlic powder and finely shredded parmesan cheese)
1/3 cup fresh shredded parmesan cheese + 2 Tbsp shredded parmesan cheese
1 heaping bunch of arugula
Pasta water (reserved)
1/4-1/3 cup walnuts, chopped
1 Tbsp extra virgin olive oil
The Directions:
Step 1:
Cook the pasta according to package directions. When finished, spoon the pasta into a large skillet on medium heat that has been sprayed with cooking spray. Reserve the pasta water for later.
Step 2:
Arrange the pasta in the skillet so it warms. Add 1 Tbsp olive oil, 1/3 cup shredded parmesan cheese, arugula and walnuts. Add a couple ladles of the pasta water so it forms a nice sauce with the melted cheese & olive oil.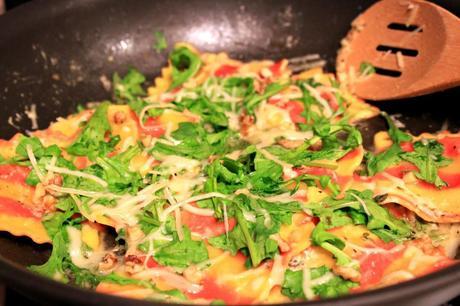 Step 3:
Toss the pasta with the rest of the ingredients until everything is heated through and the cheese has melted into a sauce. Add 1-2 more ladles of pasta water if needed. When the ravioli is almost ready, it'll look like this: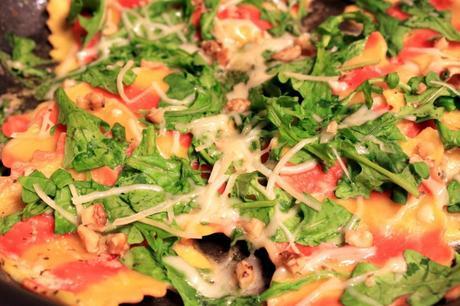 Step 4:
Plate the ravioli and top with 1 Tbsp parmesan cheese (per serving). Enjoy!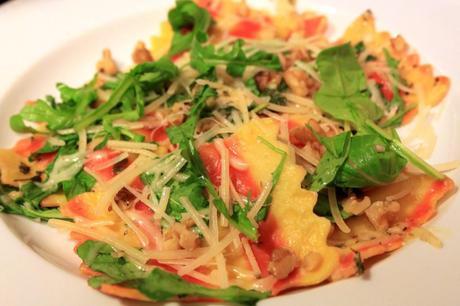 This dish was healthy and satisfying, and was a big hit with the husband. It felt gourmet even though it only took about 20 minutes – the perfect weeknight dinner!