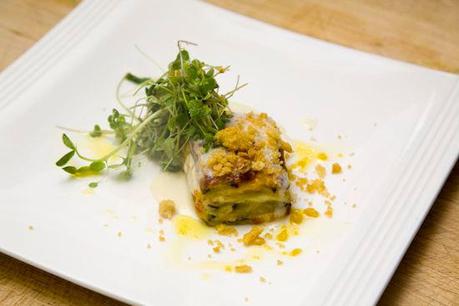 Image: James Beard-Butternut Squash Lasagna

Ingredients
1 tablespoon olive oil
1 (1 1/2 to 2-pound) butternut squash, peeled, seeded, and cut into 1-inch cubes
Salt and freshly ground black pepper
1/2 cup chicken stock
1/4 cup butter
1/4 cup all purpose flour
3 1/2 cups whole milk
Pinch of cinnamon
3/4 cup (lightly packed) fresh basil leaves
12 no-boil lasagna noodles
3 cups shredded whole-milk mozzarella cheese
1/3 cup grated fresh Parmesan
1 1/2 cups crushed Ritz cracker crumbs (about 1 sleeve of crackers)
3 tablespoons butter, melted
1/2 teaspoon paprika
Preparation:
Heat the oil in a heavy large skillet over medium-high heat. Add the squash and toss to coat. Sprinkle with salt and pepper. Pour the chicken broth into the skillet and then cover and simmer over medium heat until the squash is tender, stirring occasionally, about 20 minutes. Cool slightly and then transfer the squash to a food processor.  Season the squash puree, to taste, with more salt and pepper.
Melt the butter in a heavy medium-size sauce-pan over medium heat. Add the flour and whisk for 1 minute. Gradually whisk in the milk. Bring to a boil over medium-high heat. Reduce the heat to medium and simmer until the sauce thickens slightly, whisking often, about 5 minutes. Whisk in the cinnamon. Cool slightly. Transfer half of the sauce to a blender. Add the basil and blend until smooth. Return the basil sauce to the sauce in the pan and stir to blend. Season the sauce with salt and pepper, to taste.
Position the rack in the center of the oven and preheat to 375 degrees F.
Lightly butter a 13 by 9 by 2-inch glass baking dish. Spread 3/4 cup of the sauce over the prepared baking dish. Arrange 3 lasagna noodles on the bottom of the pan. Spread 1/3 of the squash puree over the noodles. Sprinkle with 1/2 cup of mozzarella cheese. Drizzle 1/2 cup of sauce over the no- bake noodles Repeat layering 3 more times.
Tightly cover the baking dish with foil and bake the lasagna for 40 minutes. Sprinkle the remaining mozzarella and Parmesan cheeses over the lasagna. At this point mix the cracker crumbs, butter and paprika, and sprinkle the mixture on top of the lasagna. Continue baking uncovered until the sauce bubbles and the top is golden, 15 minutes longer. Let the lasagna stand for 15 minutes before serving.
Note* One pound of fresh fennel sausage with the casing removed, after being pan sauteed, can be added to this recipe. You would then omit the basil, and instead use 1/4 cup of fresh sage, and 4 sprigs of fresh thyme for a heartier more savory dish.