I thought it was just a memory that had me elevate this Buttermilk Pan Fried Chicken recipe my dad made to celestial heights. It's been awhile and I've tried several recipes in the interim and this is still the best.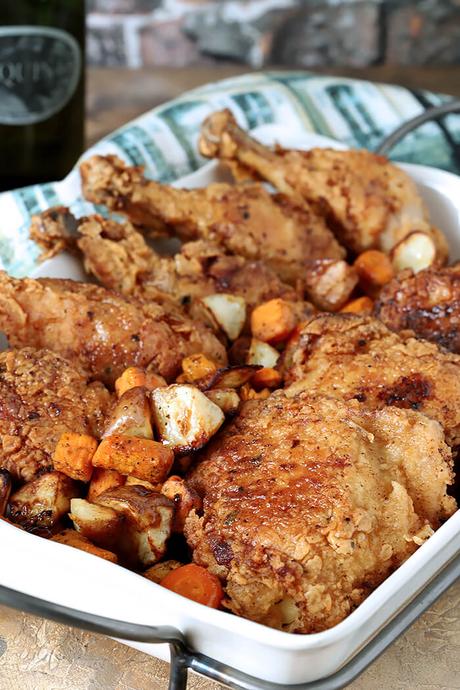 I've been on something of a fried chicken discovery tour. It started with this Korean Fried Chicken; it was SO good I wanted to find more fried chicken type dishes that measured up. Why I took so long to come back home again and make this Buttermilk Pan Fried Chicken is beyond me. But at least I'm there now and so glad I remembered this recipe from my youth.
I grew up in a large family; for the majority of our lives there were seven of us, five kids and my mom and dad. My youngest sister was born when I was sixteen so while I really have five brothers and sisters, to be honest for most of my life at home, it was just the five of us kids.
But one thing I've always been pretty amazed at, especially since it was that long ago, was just how much my father did around the house. We had a pretty 'traditional' family at the time; mom stayed home with the kids and dad went to work every day. He was officially a cartographer for the Federal Government after having serving as the Captain of a bomber unit during WWII and coming home to take advantage of the GI Bill and go to college.
While that was official, he could never discuss his job so now I imagine his job as something far more glamorous than it actually was I'm sure. Trips to the Pentagon and talks of space...that was all rather thrilling to the girl who shared a love of the St. Louis Cardinals with him.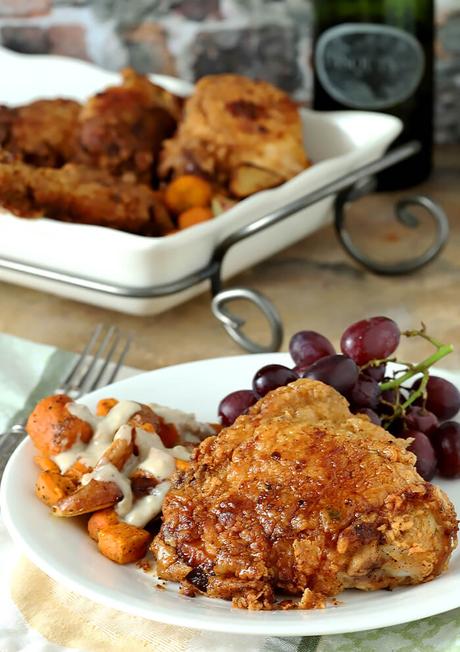 But the one thing I remember the most was that my dad always was busy with all of the chores a large family had. None of that division of labor that some families practiced. He would bathe all the little kids, always did the grocery shopping (I remember that well since he and I always went on Saturday morning and brought home everything for the week), and he cooked. A lot.
He always grilled of course, such a manly thing, but my dad grilled all year too. We had a new-fangled gas grill in our last house that was attached straight to the gas line. Fancy! On more than one occasion he would be out in a snowfall finishing up some burgers.
And he ALWAYS made this Buttermilk Pan Fried Chicken. Funny I never thought to ask him where he learned to cook anything. My only memory of my grandfather, his dad, was of him sitting in a green leather sofa in the living room of their home, never helping my grandma with anything. Maybe my dad starting helping her, we all loved her so much...I could see that happening.
If there was ever a German anything in our house it was because of him too; German pastries for Sunday breakfast and we might have fried chicken with this slaw with warm bacon dressing on the side; one of his specialties that I know he inherited from my Grandma.
After the success I had with the aforementioned Korean Fried Chicken, I wanted to try my hand at air frying chicken with a new unit I had from Cuisinart, some more I oven fried (I'll share that soon too), a broiled chicken dish I made because I used to love the recipe with Orange Roughy fish, and more. Why I saved this old recipe for last is beyond me. It was everything I remembered...and maybe a bit more.
I made a couple of changes. First, I soaked it overnight in buttermilk. Or at least my version of buttermilk. I never buy the stuff; I simply add some lemon juice to 2% milk and it works beautifully. For this recipe with 3 cups of milk, I added the juice of one lemon. Perfect and no hunt for real buttermilk is required!
The only other thing I did was add a couple of additional spices. My dad's recipe was beyond simple...I think it was flour, salt, pepper, and paprika. I added a bit of cornstarch because I loved how crispy the skin was on the Korean recipe that used it plus a few additional spices. There is some white pepper, dry mustard, dry basil, oregano, and thyme. It's actually something you can fiddle with too; the spices in the coating will definitely influence the flavor.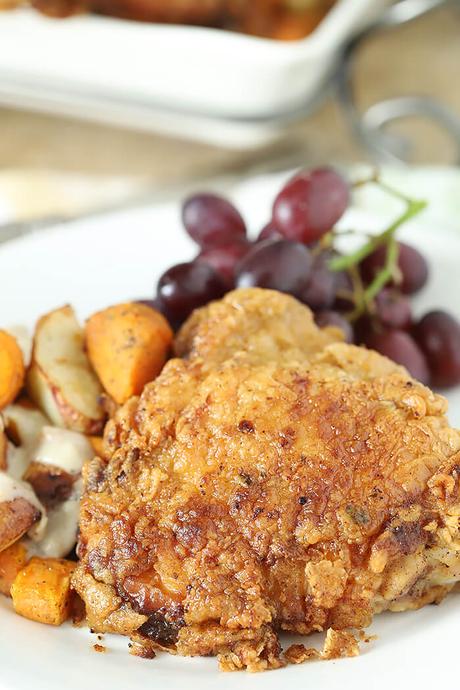 Pan frying chicken is different than your standard 'fried chicken.' Most fried chicken has to be dunked completely in hot oil to be fried. Even though I have a small electric fryer, the truth is it takes a LOT of oil for anything you want to fry and I like this recipe because it's more contained; you only need about a half inch of oil in a skillet for pan frying.
One secret for this chicken? If you have it, add a couple of tablespoons of bacon fat to the oil; adds another layer of flavor. If you don't have it? Buy some bacon and save it...it's a great element for a lot of things in lieu of butter or olive oil. I have no doubt my grandmother probably made her chicken in lard but that's not so easy to come by anymore so I add some bacon fat to oil for a hint of that same flavor.
The basic procedure is to fry the skin side for about 15 minutes while covered, uncover, turn over the chicken and fry the other side for about the same amount of time. One trick my dad taught me though? Turn up the heat a couple of minutes before the second side is done; let it really crisp up the outside and then turn it and do the same with the side you cooked first.
It's not unlike Korean Fried Chicken that is fried twice except you never have to remove it from the pan. Watch carefully though; you only need about an extra minute per side to get it crispy; don't let it burn!
One thing I have that I love for this use is a splatter cover for my skillet. I went too many years without one; they really do keep your cook-top so much cleaner during the part where frying is done with the lid off.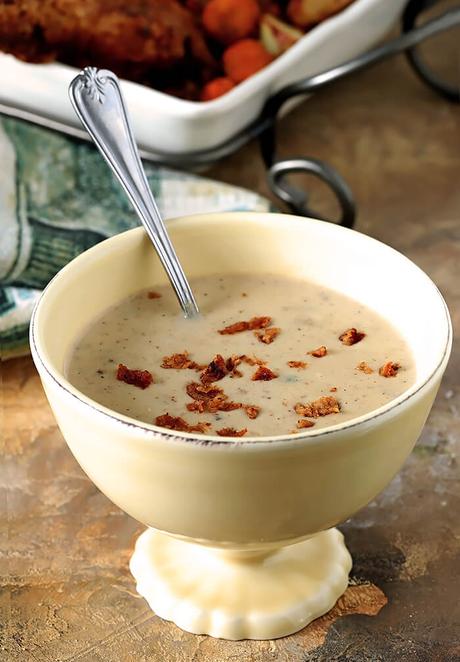 The result is a delicious, moist and tender interior with a nice crispy, flavorful crust. And there is a LOT of that crispy crust stuff too; save every morsel from the skillet and the plate with chicken...makes the white cream gravy even better!
Yes, White Gravy. It is the best; I honestly could care less about gravy made from beef stock, this is the one I've always died over; I make a variation for our Thanksgiving with this recipe for turkey that I think is absolutely the best ever. Great over potatoes, biscuits, to dunk your fried chicken into...honestly I could eat it with a spoon; if you've never made it, you must try it!
PIN IT! 'Buttermilk Pan Fried Chicken'