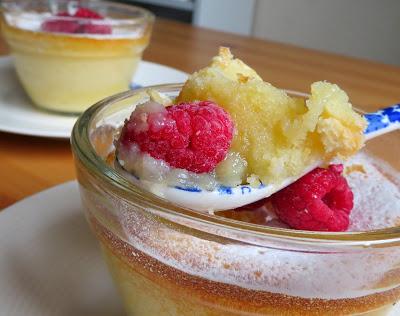 I think one of my absolute favorite flavours is that of lemon.  I could eat lemon anything until it comes out my ears and then some.  One of my favorite lemon desserts has always been Buttermilk Lemon Puddings.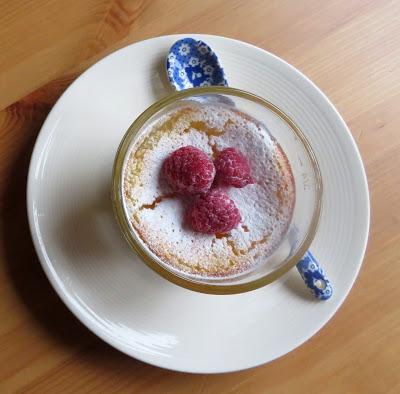 These are delicious lemon puddings which upon baking, just like magic, separate into two distinct layers  . . .  one a lush lemon custard and the other a fabulously tart lemon cake.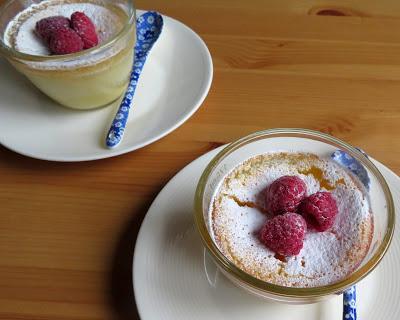 There is nothing about that not to love. Nothing.  Todd, he's not so fussed about lemon anything. I think he just tolerates it, which means when I make lemon anything I am stuck with lots of leftovers.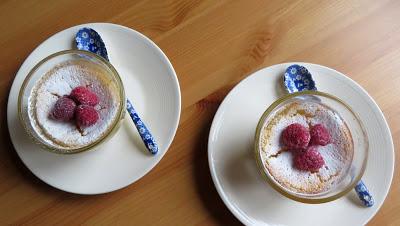 Which really shouldn't be a problem, unless you are trying to watch your weight and maybe even take off a few pounds.   An extra couple of servings of anything lemon in this house is dangerous to me.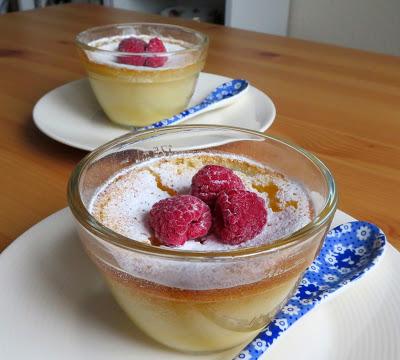 Whats a gal to do but to try to downsize things and that has been my labor lately . . .  trying to get things down to feed just two so that I can cut down on our household waste and on my own "waist."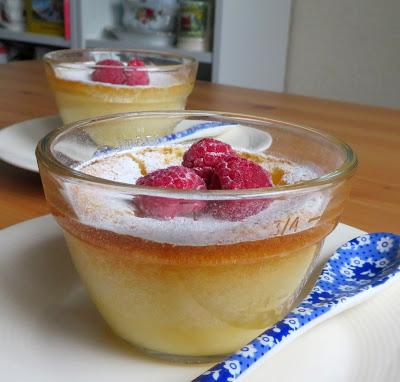 This is a dessert I used to make fairly often when entertaining at the Manor down south.  I think lemon is a common love of ladies  . . . I did lemon desserts more than anything for their dinner parties and luncheons.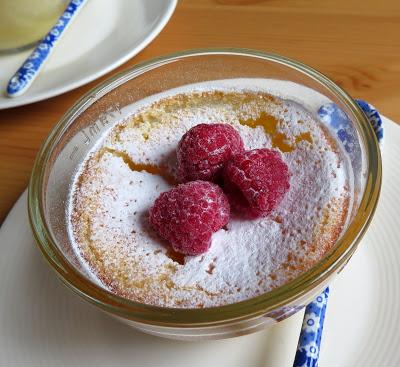 For the regular sized dessert, you can find it here.
Lemon Puddle Pudding
. That serves 4 to 6 people. You can see how that would be rather dangerous in a house where only one loves lemon.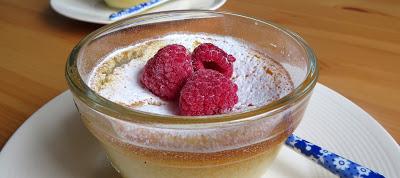 Its not exactly the same, I'll admit, but close enough . . .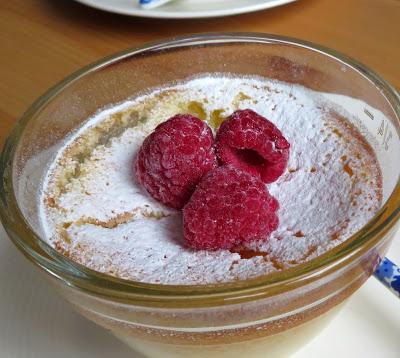 This differs in a couple ways . . .  one, in that it uses buttermilk instead of regular milk, which lends a particular dense richness to the dish.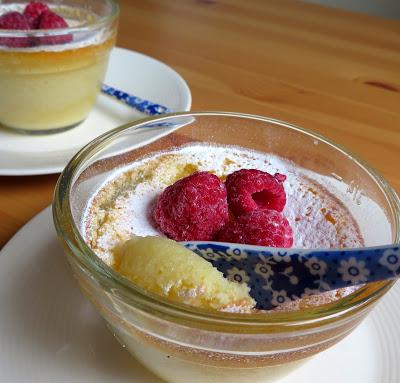 If you have no buttermilk, take one TBS of lemon juice and put it in a cup along with 5 TBS whole milk and let it sit for 5 to 10 minutes until it clabbers . . .  even more lemony flavor I think, can there ever be too much?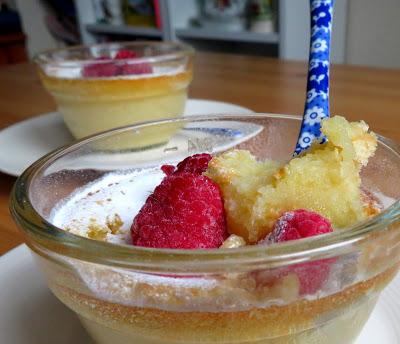 The other difference is that this uses plain flour instead of self rising flour  . . .  because it is only for two servings, it did not need the oomph of any levening . . .  the beaten egg white is enough to make it puff up, almost souffle like.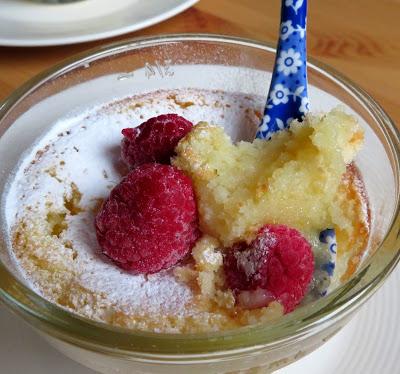 The cake on the top is nice and buttery  . . . beautifully lemony  . . .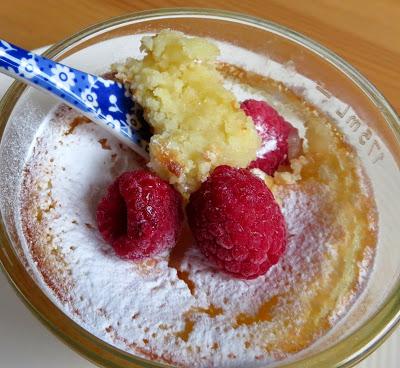 Light in texture  . . .  and beneath  . . .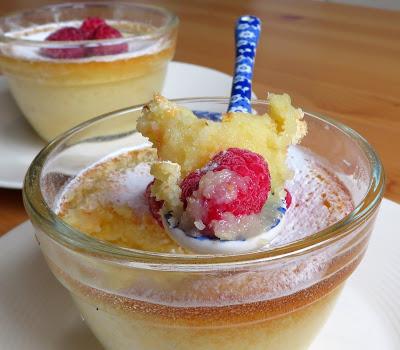 A rich creamy lemon curd . . . so lush . . .  so delicious also . . .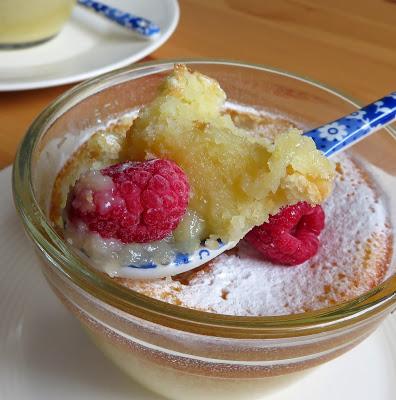 The two together are heavenly bliss.  This should be called Heavenly Bliss Lemon Cake for Two . . . . 
Buttermilk Lemon Puddings for Two
Print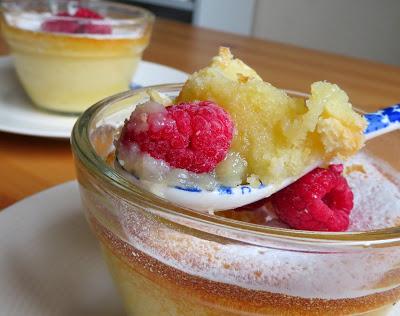 Yield: 2
Author:
Marie Rayner
prep time: 10 M
cook time: 20 M
total time: 30 M
A favorite lemon pudding, lush, creamy and now  . . . built just for two. It bakes like magic into two layers, one cake and one cream.
Ingredients:
1 large free range egg, at room temperature and divided
6 TBS granulated sugar
1 TBS fresh lemon juice
1 tsp finely grated lemon zest
2 TBS butter, melted
3 TBS plain flour
pinch fine sea salt
6 TBS buttermilk
icing sugar to dust
berries to garnish (optional)
Instructions:
Preheat the oven to 180*C/350*F/ gas mark 4. Have ready two 240ml/8 ounce ramekins or custard cups ready.
Place the egg white in a scrupulously clean glass bowl and set aside.
Place the egg yolk in another bowl and whisk together with the sugar, lemon juice and zest. Whisk until light in color. Whisk in the melted butter. Stir in the flour and salt.
Whisk the egg whites with a clean whisk until soft peaks form. (If you lift the beaters from the bowl, they should mostly stand but the top will slightly fall over.) Fold these carefully into the lemon mixture without overmixing.
Place the ramekins onto a small baking sheet for ease of transfer.
Bake in the preheated oven for 20 to 25 minutes. When done they will be mostly set, but still a bit wobbly in the centre, and slightly golden brown around the edges.
Let cool slightly before serving. Dust with icing sugar and garnish with berries to serve. Serve warm or at room temperature.
Did you make this recipe?
Tag @marierayner5530 on instagram and hashtag it #EnglishKitchenCreated using
The Recipes Generator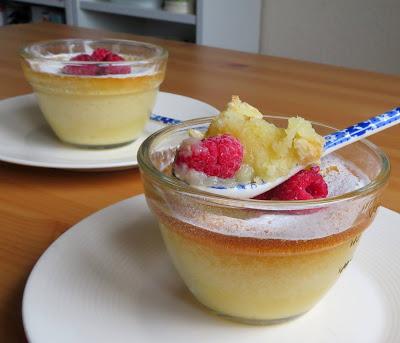 Normally I would have a dollop of cream or clotted cream on top but today we had none, so settled for a sweet dusting of icing sugar and some raspberries.  Oh boy but this was some good.  And it gave me a chance to use my ceramic spoons.  I only ever very rarely use them because I don't want to risk them breaking!

Follow my blog with Bloglovin