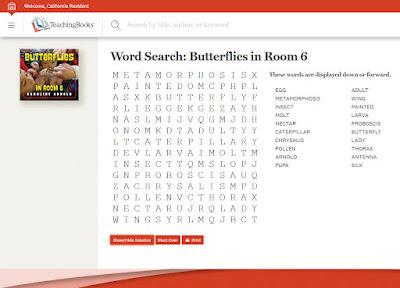 Did you know that you can create a word search of vocabulary words from my book BUTTERFLIES IN ROOM 6? After you have chosen the words (up to twenty) you can print it out for yourself or your students.
I just discovered this wonderful feature at TeachingBooks.net. Click on this link to go to the page for BUTTERFLIES IN ROOM 6.
https://www.teachingbooks.net/qla2am5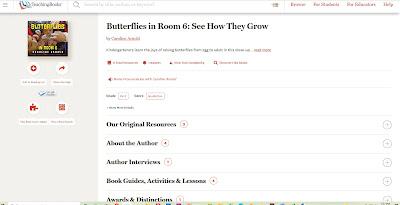 On the left side of the page you will see an icon for the word search. Click on it and it will take you to the word search activity. You can use the suggested words or go to the back of the book and select words from the glossary. Good luck!
TeachingBooks.net
is an online database that can be used by teachers, students, librarians, and families to explore children's books and young adult literature and their authors. Twenty of my books have pages at TeachingBooks. At each one you can find a blurb about the book, how to pronounce my name, author interviews and more.
Other Caroline Arnold titles you can find at
TeachingBooks.net.
(You can find them by using the search function at the top of the TeachingNet home page.)
A WARMER WORLD: From Polar Bears to Butterflies, How Climate Change Affects Wildlife
BIRDS: Nature's Magnificent Flying Machines
A KILLER WHALE'S WORLD
TOO HOT? TOO COLD? Keeping Body Temperature Just Right
HATCHING CHICKS IN ROOM 6
BUTTERLFIES IN ROOM 6
THE ANCIENT CLIFF DWELLERS OF MESA VERDE
WIGGLE AND WAGGLE
YOUR SKELETAL SYSTEM
GLOBAL WARMING AND THE DINOSAURS
GIANT SEA REPTILES OF THE DINOSAUR AGE
A POLAR BEAR'S WORLD
LIVING FOSSILS: Clues to the Past
A WALK IN THE DESERT
THE TERRIBLE HODAG AND THE ANIMAL CATCHERS
A WALK IN THE WOODS
A WOMBAT'S WORLD
A PLATYPUS' WORLD
THE SKELETAL SYSTEM
HAWK HIGHWAY IN THE SKY