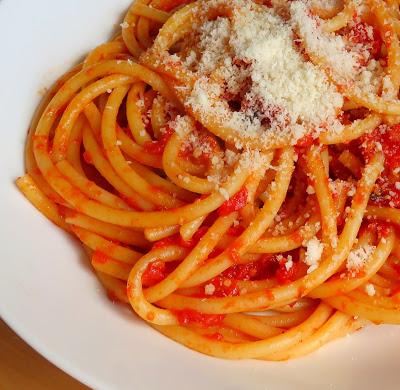 When it comes to pasta, its all about the sauce for me.  I could eat a good pasta sauce by the spoonful.  If your sauce is lacking in substance and flavour, your whole dish is lacking as far as I am concerned.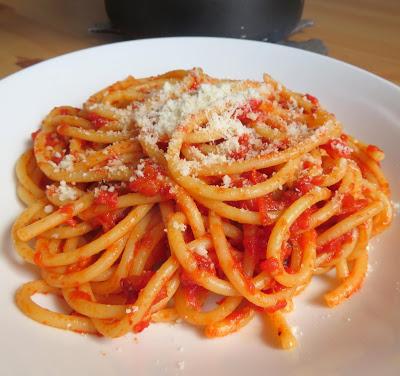 The sauce I am sharing with you today is one of my favorite sauces.  It is totally low maintenance.  It basically cooks itself.  All you need to do is to dump a few ingredients into a baking dish and then let the oven do all the work.  The only work basically that you will need to do is to cook the pasta and for this sauce I recommend something with long strands that the sauce can cling to. Today I used Bucatini.  Bucatini is kind of like macaroni. It has a hole in the center just like macaroni, but its long like spaghetti.  It goes perfectly with this lush sauce.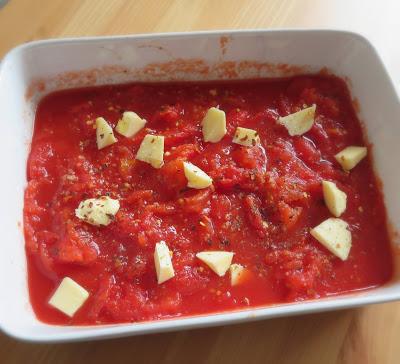 Of course when tomatoes are the main focus of a sauce, you want to make sure you use really good ones if you have them.  Today I used
Buonassai Pomodoro
Pelato, Bio in Salsa.   These are fabulously delicious Italian tomatoes.  This was my last jar of them, so boo hoo  . . .  I will just have to settle for the other kinds I have in the house until I am able to get some more.  When I tell you these tomatoes are fabulous, I mean it.  Just like eating fresh Italian sunshine.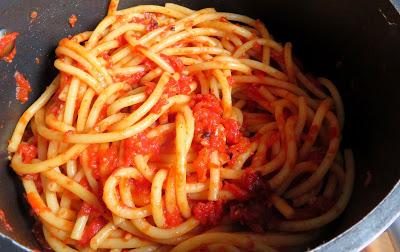 As I said, this sauce basically cooks itself in the oven.  You use some good peeled plum tomatoes which you crush with your hands in a baking dish . . .  okay a tiny bit of work there . . .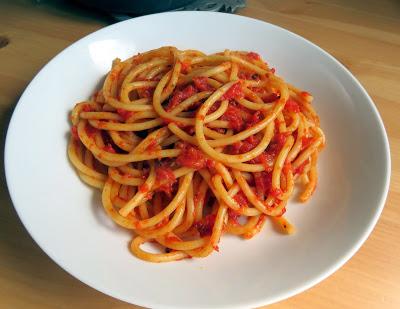 Into that you add peeled and crushed cloves of garlic and a couple of anchovy fillets, preserved in oil.  If you are not fond of anchovies you can leave them out . . .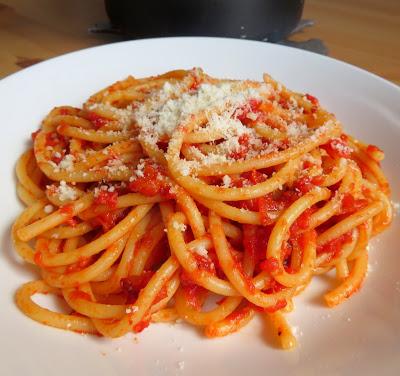 Salt, pepper and some crushed red pepper flakes provide some seasoning and heat.  Do beware that if you are using anchovies, they are salty so be judicious with the salt.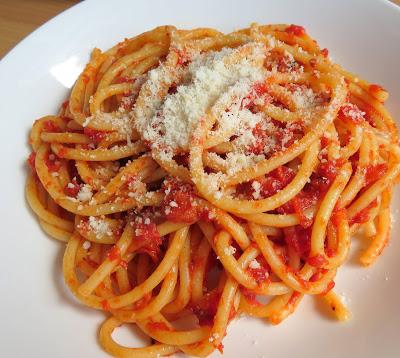 Also all of the ingredients are going to be roasted together and condensed  . . .  so the flavours will be condensed also . . .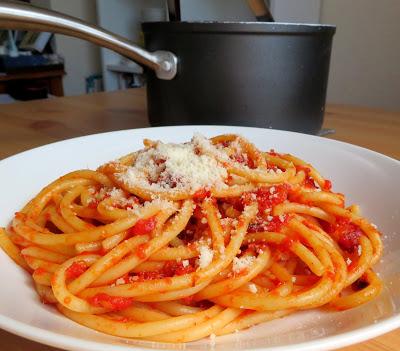 Butter is dotted over the top before roasting and then you simply roast the whole mess in a hot oven for about 35 to 40 minutes, giving it a stir halfway through the cook time.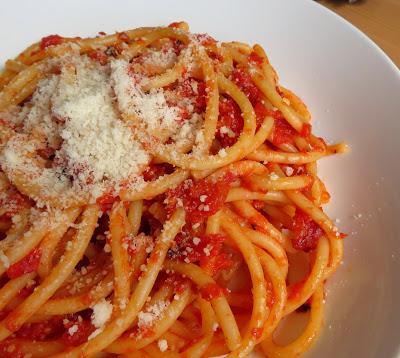 What you end up with at the end of the roasting time is a very thick, jam-like substance with beautiful concentrated flavours.  You mash it up with a potato mashed to break up the tomatoes and spread that roasted garlic flavor throughout.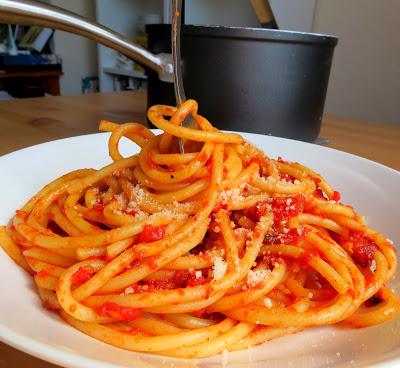 Thick and delicious you will tell yourself, this is too thick for a  pasta sauce and you would be right.  You will need to add some of your pasta cooking water to it to thin it out a bit.  How much kind of depends on the pasta you are using.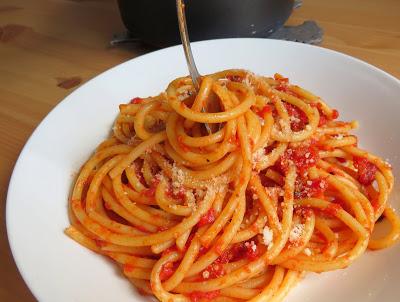 Use only enough to give you a sauce which coats the strands of your pasta perfectly  . . . .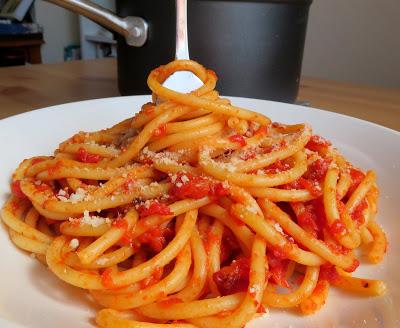 You can also make the sauce 24 hours in advance of when you need it.  So dinner can be on the table in as long as it takes to cook your pasta.  Simply throw the prepared sauce into the saucepan with the cooked pasta and pasta water and heat through.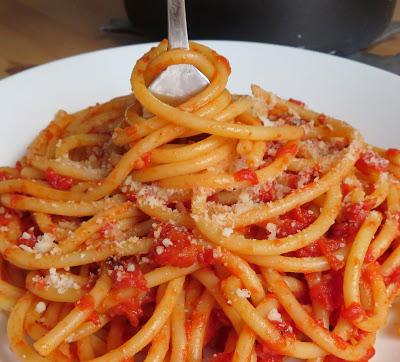 This sauce isn't just good on pasta however  . . .  its also great spread onto pizzas and baguettes, or tucked into egg dishes.  A layer of it on the bottom of a cheese Quiche adds a special something.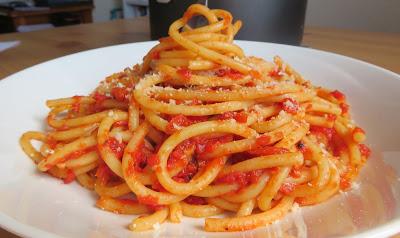 Thin it out with some vegetable stock and add some cooked rice and you have a really delicious tomato and rice soup . . .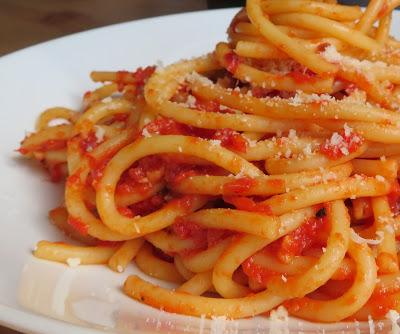 But of course my favorite way to enjoy it is on pasta . . . put simply, it is nothing less than delicious.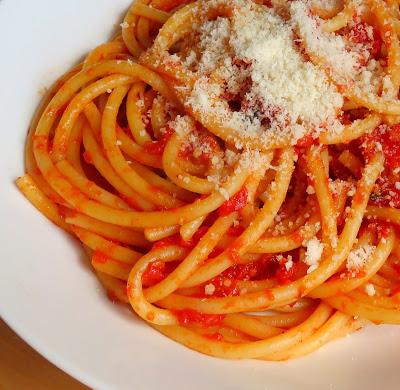 Butter Roasted Tomato Sauce
Yield:
4
Author:
Marie Rayner
This sauce is fabulous.  Roasting tinned tomatoes in the oven with a few ingredients really heightens their delicious flavours.  Serve with your favorite pasta for a taste sensation!
Ingredients:
2 (400g) tins/jars  of whole peeled plum tomatoes (2-14oz) undrained
8 fat cloves of garlic, peeled and crushed
2 anchovy fillets packed in oil
60g unsalted butter, cubed (1/4 cup)
1/2 tsp crushed red pepper flakes
fine sea salt and freshly ground black pepper
120ml pasta cooking water (1/2 cup)
To serve:
3/4 pound of dry pasta, cooked
finely grated Parmesan cheese
Instructions:
How to cook Butter Roasted Tomato Sauce
Preheat the oven to 220*C/425*F/ gas mark 7.  Dump your tomatoes into a 13 by 9 inch baking dish.  Crush them with your hands and then stir in the garlic, anchovies and red pepper flakes.  Season to taste with salt and pepper. (Remember that anchovies are salty, also this sauce will be condensing and so do be judicious with the salt.) Dot the butter over top.
Roast for 15 minutes, remove from the oven.  Toss everything and return to the oven for a further 15 to 20 minutes, at which time the sauce will be quite thick and jam-like.  Mash with a potato masher lightly.
Cook your pasta according to the package directions.  Drain, reserving some of the pasta water.  Return the pasta to the saucepan along with the reserved water and roasted tomato sauce.  Heat, tossing together until the sauce coats the pasta.  Serve hot in bowls and pass the Parmesan Cheese.
Did you make this recipe?
Tag @marierayner5530 on instagram and hashtag it #EnglishKitchenCreated using
The Recipes Generator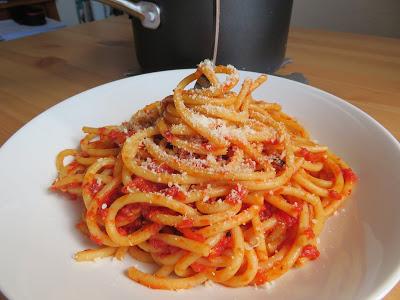 This is also a great store-cupboard recipe. Simple ingredients put together in a very delicious way. You can't beat this kind of cooking.  All you need on the side is a salad perhaps and some garlic bread. Mama mia!