This ~butter her garlic grilled chicken~ makes for a couple of fine meals~~remember, the carcass is full of nutrition once you've pretty much picked the bird clean, so simmer it a while in some water, onions, carrots, celery & spices, and you'll have an outrageously delicious broth for soups and more!
So there's not much else to say about this bird~~oh, yeah, it was organic~~yep, expensive~~but, I got it on sale~~half price!  Yayyyy!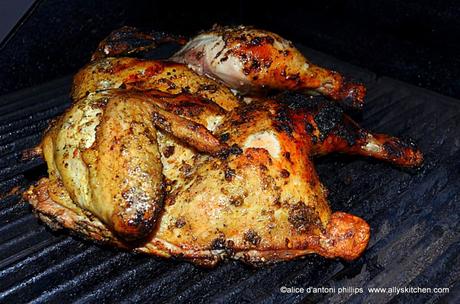 Serves: 6+
What you need:
1 whole chicken (about 4-5 lbs)—cut in half from the backbone and butterflied out
¼ cup melted butter
¼ cup olive oil
½ fresh lemon juice
2 heaping tbl Greek seasoning mix
1 tbl garlic granules
2 tsp sea salt
1 tsp pepper
1 tsp red chili flakes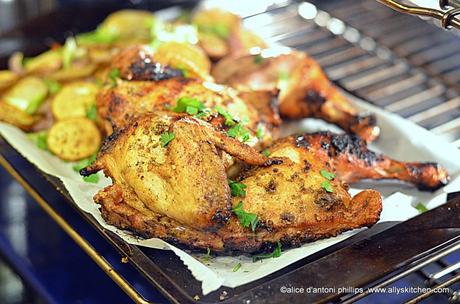 What you do:
Heat your outdoor grill to about 300-350 degrees.
Lay the butterflied chicken on a parchment paper lined cookie sheet.
Combine in a bowl the melted butter, oil, lemon juice, seasoning mixture, garlic, salt, pepper and chili flakes.  Take a pastry brush and coat the underside of the chicken.  Flip the chicken and coat the top side.
Place on the hot grill (underside down), close the lid, and let the chicken cook about 60 minutes.  Check occasionally making sure it's not getting too charred.
Flip the chicken to the top side and cook another hour.  Increase heat to 400.  Flip bird again and cook another 30-45 minutes.  Repeat on the other side.
Chicken will be done when the legs/wings start separating from the bone.  Remove and cover with doubled foil and let let the bird rest about 30 minutes.
Do it caveman style and dig in!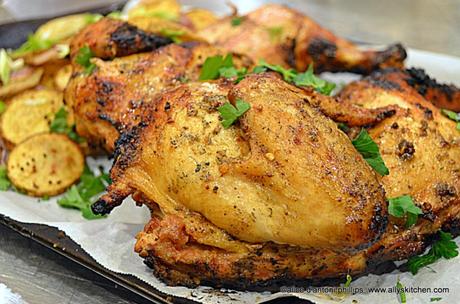 ©alice d'antoni phillips   www.allyskitchen.com

Comments
comments