From 12th February through 3rd March Lajuma will be hosting a film crew from Triosphere as well as professional wildlife trapper and television host Dairen Simpson in order to document the trapping of baboons, leopards, brown hyaenas, samango monkeys and a vervet monkey. The trapping and collaring of these species will allow us to obtain data on the movement patterns of predators and their prey. Dairen Simpson, host of Animal Planet's "The Trapper" and the developer of the predator traps that will be used by our project in 2012, is known and respected worldwide as an expert in humane and effective trapping of large mammal species.
The past 3 weeks have been very busy, setting up and pre-baiting all of the traps. The 8 leopard traps consist of the boma (a U shaped structure made of leaves and branches), which leads the leopard over the foot loop towards a bait at the back of the trap. All the research assistants helped rebuilding the bomas, pre-baiting (with fetus, livers or lungs from cattle) and assisting Oldrich to set up the foot snare mechanism.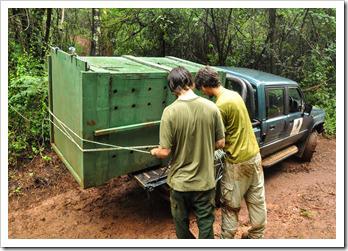 We hope that Sam and Katy will enjoy our speedy work in this video!
http://www.youtube.com/watch?v=cfTh7PxjaEk
Furthermore we, the research-assistants, pre-baited and prepared areas for catching brown hyaenas. The data from collared brown hyaenas will be used in Katy's PhD.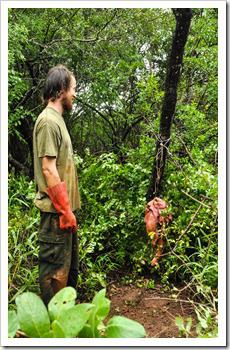 Another on-going task has been pre-baiting the baboon traps with corn, and checking the camera traps to see which individuals are entering the cages every day.
All this hard work has paid off already! On February 12 the team opened eight leopard traps for the first time and within an astonishing 30 minutes we caught Anakin (also known as Anni), a resident adult male. The team sprung into action and GPS collared Anni and collected morphological data on him. A blog post with photos and all the details will be following shortly.