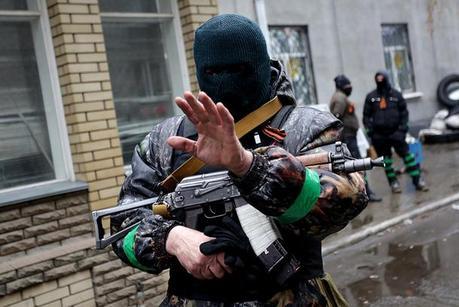 (Photo: Kyiv Post)
When protesters first took to the streets in Ukraine's largest cities in 2013, economic concerns were at the top of the agenda. As the geopolitical situation in eastern Ukraine has heated up, economic prospects in the contested regions of the country have only gotten worse. Yet average Ukrainians are still working for a more prosperous and democratic future.
Since the Maidan protests, the business climate in the Donbass, the easternmost, coal-mining region of the country, has taken a turn for the worse. Amid the turmoil, local businesses – in particular small and medium-sized firms – have suffered.  Many have been shaken down for so-called "donations," and in some cases have been looted and ransacked.
A recent article in the local press has documented fines, bribery, and other abuses committed against local businesses by police departments and government officials. Many people have even left the region, heading either for Western Ukraine or even Russia. The owners of small businesses have left their homes and their enterprises behind. They are unsure when they can return, or whether they will find their businesses in the same condition.
As one CIPE partner in the Donbass noted, "Public sector bribes have grown by several times what they were prior to the strife, and not one Grivna [the Ukrainian currency] is going to the budget." He confirmed that many business owners and heads of banks in the region are being forced to leave their businesses. "Because of roadblocks and military activities, there are just no opportunities to run a business," he laments.
The pro-European, Kiev-based protests that led to the ouster of former President Viktor Yanukovich made Ukraine a hot topic in international news. Yet in many ways, the situation that set international media ablaze in early February is really a much older story.
Since the fall of the Soviet Union, Ukraine has been economically and politically stagnant. While other post-Soviet states either saw their future in closer ties with the European Union or in renewed relations with Russia, Ukraine has spent the last two decades on a halting trajectory of reform and reversal, all the while dealing with the effects of a highly oligarchic and corrupt economy, and an unresponsive government.
To a great extent, the EuroMaidan protests were a result of these years of frustration. The protests that began in November of 2013 when Yanukovich refused to sign the EU association agreement quickly spread out of the capital and across the country, and have now resulted in a fresh opportunity to reshape Ukraine. The EuroMaidan movement sought to improve economic opportunity and well-being, ameliorate corruption, strengthen democratic representation, and ultimately bring long sought-after stability to the lives of everyday Ukrainians, after two decades trapped in a limbo controlled by a few in power, at the expense of a vast majority.
Everyday Ukrainians have shown that they want a say in their future, and the ability to control how they live and make a living. Now it has become clear that the Ukrainian economic and political environment has a long way to go to move forward with implementing reforms and creating institutions to support the systemic change so desperately needed.
Kurt Hagemann is Program Assistant for Global Programs at CIPE. In addition, from '10-'12, he served as a United States Peace Corps Volunteer in Eastern Ukraine.