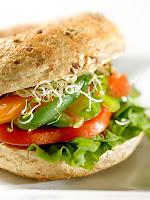 Business Description:
In this business customers can eat at the fast food without having weight problems or possible diseases. In its offer a healthy fast food can enter any food that has a small number of calories, such as juices, fruit, salads and various teas. Instead of fat sauces like mayonnaise or ketchup, natural sauces recipes can be used, that provide the body the nutrients they need, not only a full belly. To attract a large number of customers on the fast food promises can be displayed that if you eat only fast food products offered by your restaurant, one will be healthier and will slim down, and products will be as delicious as the regular fast food ones.
  Sandwiches can be cooked using healthy bread / flour tortillas, and sandwiches will be filled with vegetables and meat cooked on the grill. In this healthy fast food various juices can also be served. They can be prepared from various classic fruit or special recipes goji, aloe vera, etc. If using these ingredients, the clients' health is assured.
Pros:
- the demand for healthy products is growing
  - Clients benefit from health and energy
  - A franchise business that can be easily created
  - Cooking appliances at low prices found in stores
Cons:
- the price of the rental may be high, if you are aiming to be in a high traffic location
What You Need:
- testing and inventing new recipes
  - Selecting the most successful recipes
  - Cost of ingredients
  - necessary Costs for cooking appliances
  - Renting a space where it will be fast-food
      - Choosing an interesting name and meaningful activities
  - Advertising
Conclusion:
It would be an interesting and successful culinary business, in which, besides offering better taste, people also get health beneifts. With a little work and dedication this business can become a successful international franchise.