One of the most popular ESL course types is Business English which helps you hone your communication skills for the purpose of work. It can help you gain knowledge into industry-specific vocabulary, learn acceptable Western business and cultural practices and effective communication methods like emailing, telephoning, giving presentations or contributing to meetings.
It is imperative to have these skill sets in order to transcend your knowledge by making it effective in another language. This also opens up endless job possibilities and many opportunities for career advancement. In this first installment of Business English tips, we will start at the very beginning of any job application process, resume writing.
*Refer to this sample resume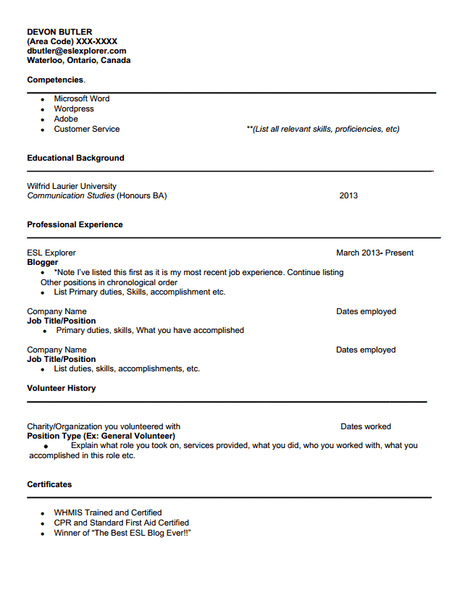 1) Visuals are important: Though the quality of resume content is key, never underestimate the importance of design. Font should be a standard 12 point font, usually in Times New Roman. It is acceptable to adapt the header (the top section that includes your name and contact information) to a larger font size in boldface, though you should still avoid any colour besides black. Overall you want your resume to be clean and well-structured, making it easy for a potential employer to read.

4) Numbers are important: Numbers create interest on a resume as they are very specific.So instead of stating, for example, that you wrote a bi-weekly blog which reached numerous people say: I managed a blog in which I wrote 2 articles a week reaching over 200,000 people. (I wish)
If you're ready to write your own English resume you can download a Word Document template here.
Read More:
Business English: Download a resume Template
Business English: Meeting process
Business English: How to ask questionsBusiness English: How to interrupt a speaker