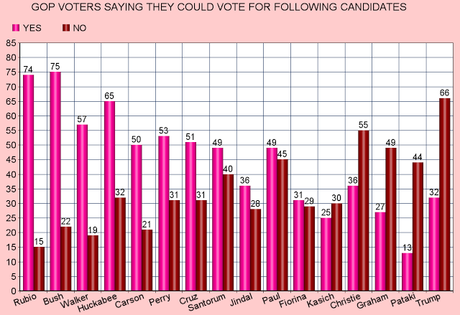 This top chart is from an NBC News / Wall Street Journal Poll -- taken between June 14th and 18th, with a margin of error of about 6.4 points.
The survey will release the support numbers for each candidate later today, but this question shows the candidates that GOP voters say they could or could not vote for. It shows a slightly higher percentage saying they could vote for Bush than in April.
But the most interesting thing about this survey is the negative support for three candidates. About 495 say they could not vote for Graham, 55% say they could not vote for Christie, and a whopping 66% say they could not vote for Trump. Unless they start turning this around real quick, these candidates are just wasting their time and money.
The charts below show the new national poll by the YouGov Poll -- done between June 13th and 15th of a random national sample of 1,000 adults, with about a 4 point margin of error. It also shows a small recovery by Bush -- but it's hard to call him the "leader", since he doesn't even get 15% support.
No real change among Democrats. Hillary Clinton still has a large lead among all Democrats and among liberals.