I spent my last two nights in South Korea in Busan. I was going to book a bed at
Mr Egg Hostel (Nampo)
, the same place I stayed in in 2014, but El Cheapo here could not resist a KRW 12,250 (about Php 525) bed. I found
Sum Guesthouse Garosugil in Booking.com
and could not believe such a cheap rate (cheap for South Korea, because from the hours...days...I spent scouring the internet for accommodations, I found that a dorm bed would cost an equivalent of Php 700 and up). I checked the photos—good enough for me; location—Nampo; and reviews—none. There were no reviews because it was new, opening just a month before my trip. Reviews are important, but it's new, and I'm giving it a chance.
And I am glad I did. Why?
Location. Sum Guesthouse Garosugil is just a minute walk from Exit 1 of Jungang Station. From the guesthouse, my feet could take me to Nampo-dong, BIFF Square, Yongdusan Park, Jagalchi Market, Gukje Market, 40gyedan-gil, Lotte Mart, and Bosu-dong Book Street in just a few minutes.
Cleanliness. The rooms, shower rooms, and toilets are cleaned every day.
Value for Money. For just KRW 12,250 I got me a clean bed. Plus a towel (to be returned, of course), shampoo, soap, bath foam, and ear plugs. Plus breakfast.
Privacy. Although they only have dorm beds, the beds are capsule-type, not the usual bunk beds. And each capsule had a roller shade for privacy. There are 4-bed dorms and 8-bed dorms.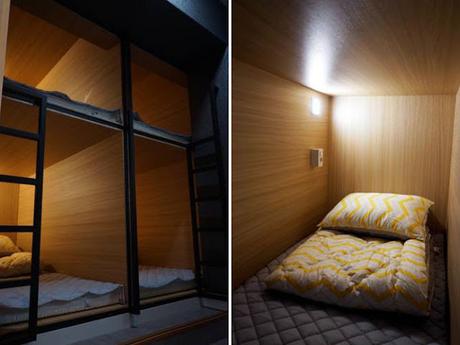 4-bed dorm (Photo from Sum Guesthouse Garosugil's Booking.com page)
Breakfast. Not your usual breakfast of cereal, bread, jam, butter, coffee, juice. But a nice plate of potatoes, pasta, toasted bread, and juice. I know it's all carbs but I was pleasantly surprised by their breakfast.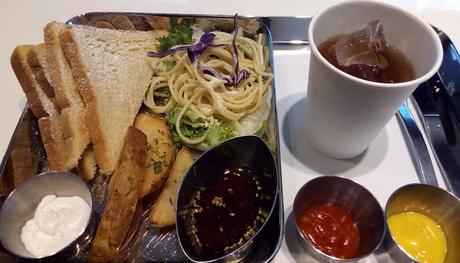 Carbo loading in the morning
WiFi. Everyone needs it, right?
Keyless Entry. You don't have to worry about losing keys. Just don't forget the PIN.
Friendly Staff. Plus they can speak English well.
Luggage Storage. If you have to check out but your flight isn't 'til later, you can leave your luggage at Sum Cafe on the ground floor.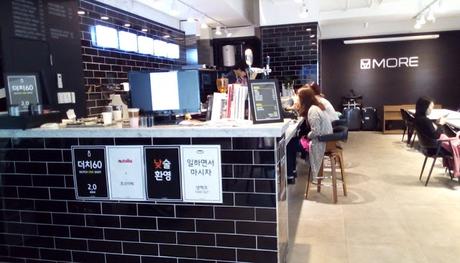 Sum Cafe
Warning though for the:
Claustrophobic. Remember, these are capsules.
Xenophobic. Afraid of strangers? These are dorms. You will be in a room full of strangers.
Acrophobic. If you get assigned the upper bunk, don't worry, it's not high. But getting up and down the narrow and absolutely vertical ladder can be a pain.
Early risers. Breakfast is served from 9AM to 12NN.
Hi-tech travelers. Can't live without your smartphone, laptop, camera, tablet, and other gadgets? Bring an extension cord. There is only one outlet per capsule.
Over packers. Well, not necessarily, but this warning is for those who have big bags or have many bags. There are lockers in the room (with keys), but the locker can only fit a small backpack. There is a bit of space though, between the door/wall and the capsules, where you can leave your bags. But if all four people have big bags, it will be a bit of a squeeze.
Sum Guesthouse Garosugil
36 Haegwan-ro, Jung-gu, 48957 Busan
Directions:
 Take Busan Subway Line to Jungang Station, Exit 1. From Exit 1, turn around and go the other way. Turn left at the corner. The guesthouse will be above Sum Cafe.
Book
Sum Guesthouse Garosugil thru Booking.com
Dorm Beds from KRW 13,000 to 20,000 depending on the season
Note regarding check-in:
Be sure to indicate the time you will arrive. Check in will be at Sum Cafe, which is not open 24 hours. Sum Cafe is on the ground floor; a different door from the guesthouse.
Map shows the two guesthouses I have stayed in:Mr Egg Hostel (Nampo) in 2014 and Sum Guesthouse Garosugil in 2016
South Korea on Three
South Korea CountdownItinerary and ExpensesSouth Korea Solo: Tangible Essentials
Six Apps for a Smooth South Korea Trip
Incheon: Tail End of Cherry Blossom Season
Seoul Stays: Kam Guesthouse and Aroha Guesthouse
Seoul Food
Seoul: Songpa Naru Park and Banpo Hangang Park
Seoul: Wander Around City Hall Station
Seoul Art: Nanta!, Ihwa Mural Village, Dongdaemun Design Plaza (DDP)
Seoul World Heritage: Jongmyo Shrine, Seolleung and Jeongneung Royal Tombs
Gyeonggi: Village Walks in Paju City
Gyeonggi: Day Trip to Suwon City
Gyeongsangnam: Haeinsa Temple
Gyeongsangnam: Find My Name in Masan, Changwon City
Busan Accommodation: Sum Guesthouse Garosugil (you're here!)
(more soon)