Burt's Bees recently launched two new skincare collections, one for your face and the other for your body. Known for their earth-friendly, natural body solutions from head-to-toe, the natural health and beauty products introduces the Intense Hydration Collection and Ultimate Care Collection.
INTENSE HYDRATION COLLECTION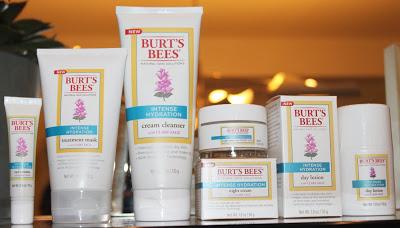 This face concentrated collection features five products infused with Clary Sage, a wonderfully fragrant plant known to trap and retain moisture. The products are also formulated with nourishing and moisturizing Cupuacu, Tacuma, and Mafura butters and enhanced with probiotic technology. The products include:
Intense Hydration Eye Cream $17.99 - this lightweight eye cream intensely hydrates dry skin, reduces the appearance of fine lines and wrinkles, revitalizes eye area for a bright healthy look.
Intense Hydration Treatment Mask $18.00 - have parched skin? this Treatment Mask quenches skin's thirst immediately and leaves it looking and feeling soft, revitalized and healthy.
Intense Hydration Facial Cleanser $9.99 - baby your skin while attacking dirt and oil with this mix of clarifying and nourishing botanical rich cream cleanser. This non-comedogenic cleanser leaves your skin supple without any trace of residue.
Intense Hydration Night Cream $17.99 - do you find that your skin gets super dry at night? This non-greasy, quickly absorbing Night Cream delivers intense hydration, reduces fine lines and wrinkles and increases your skin's ability to retain moisture while you sleep.
Intense Hydration Day Lotion $17.99 - deeply hydrate your dry skin, reduce fine lines and wrinkles and start your day with soft, smooth skin with this non-greasy, quickly absorbing, non-comedogenic day lotion.


ULTIMATE CARE COLLECTION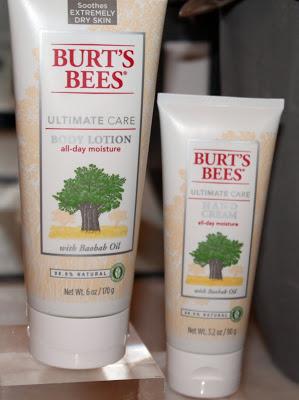 This hand and body focused collection features two products - Ultimate Care Body Lotion and Ultimate Hand Cream. Infused with Baobab Oil, known for centuries as a rich source of essential fatty acids and potent antioxidants harvested from "the Tree of Life" (Africa's Baobab Tree), both products are proven to give all day moisture.
Ultimate Care Body Lotion $9.99 - along with Baobab Oil, this super hydrating, all day nourishing body lotion also contains Pumpkin Seed Oil to nourish and Green tea Extract for its natural and delicate aroma.
Ultimate Care Hand Cream $12.99 - dry hands rejoice as this intensely moisturizing hand cream soothes the most driest of skin. Already rich with Baobab Oil, this non-greasy formula also contains Watermelon Seed Oil that gently exfoliates to leave your skin super soft and supple.
All these amazing products are available now at select natural, grocery, drug, and mass retailers and of course on www.burtsbees.com.