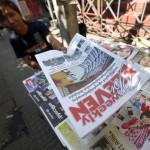 (Photo: Reuters)
Is this the beginning of a new Burma? The current government, which was sworn-in earlier this year after the military disbanded its power for the first since 1962, is showing signs of making gradual democratic changes.
On September 30th, President Thein Sein announced to halt construction of the much-anticipated US$3.6 billion Chinese hydropower dam on the Irrawaddy River because it was "against the will of the people."
This decision was surprising not only because Burma turned down a huge economic opportunity with China – the country's largest foreign investor and a regional superpower – but also because for the first time in years, the government is actually listening to the people. Community activists had been advocating against this project, pointing out that the construction would devastate the ecosystem, displace over 10,000 people, and submerge important cultural heritage sites along Burma's most important river.
Another indication of reform is the new government's call for greater media freedom. The head of Burma's press censorship department remarked in an interview with Radio Free Asia that censorship is incompatible with democratic practices and "should be abolished in the near future."
Some websites that were previously restricted, including certain Burmese news sites and YouTube, are now accessible. Newspapers are also now allowed to publish reports and photos of the pro-democracy leader Aung San Suu Kyi (something that was unthinkable even a year ago).
Of course, a lot more progress must be made in Burma. The junta still heavily influences the government – most of the current cabinet members are former military officers – and it may take years before democratic reforms implemented by the new "civilian administration" will actually crystallize. Yet, Thein Sein's efforts show that the country is taking steps to reform and move beyond the days of oppression – and the international community should not overlook this.