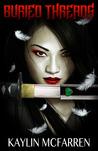 Buried Threads by
Kaylin McFarren
My rating:
4 of 5 stars
Buried Threads by Kaylin McFarren is a 2013 Creative Edge Publication. I was provided a copy of this book in exchange for an honest review.
Book Blurb:
Rachel Lyons and her partner Chase Cohen accept a contract to recover a lost priceless treasure in the Sea of Japan. However, upon arriving in Tokyo, they soon discover their mission is more complicated and dangerous than they originally believed. In order to prevent a natural disaster from striking Japan and killing millions, they must form an alliance with yakuza members, dive into shark-infested waters and recover three ancient cursed swords...before time runs out.
Rachel and Chase are experts in treasure hunting. Their current assignment takes them to Japan. When they arrive they realize they have gotten more than they bargained for. The sword they seek carries a curse that could pretty much wipe out Japan. Desperate, they make alliances with some very dangerous people.
Rachel and Chase have more than a working relationship. They are bonded in many ways and must lean on one another during the most tense adventure they have ever experienced. By tense, I mean TENSE!
The Japanese culture is very interesting . I don't know a great deal about Japanese traditions but I believe the author did her homework. There is a mystery, adventure, crime, a touch of the paranormal and romance. Once I started this book I just couldn't stop reading it. There is a lot going on and you will have to put aside any distractions and really pay attention. This book is quite unlike any other book you may encounter in the mystery or paranormal genre. I applaud the author's research and the ability to combine all the elements she used into one absorbing read. One thing I should point out is that this book does contain a number of erotic sex scenes. (That is not a criticism- it's just information I thought I should pass along)
Overall I enjoyed this one and would recommend it mystery suspense readers, paranormal romance readers and those that like action adventure. I give this one an A ( 4 stars)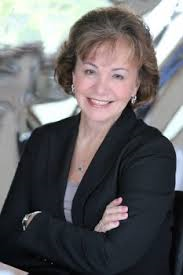 BiographyLinda Yoshida, aka Kaylin McFarren, is a rare bird indeed. Not a migratory sort, she prefers to hug the West Coast and keep family within visiting range. Although she has virtually been around the world, she was born in California, relocated with her family to Washington, and nested with her husband in Oregon. In addition to playing an active role in his business endeavors, she has been involved in all aspects of their three daughters' lives - taxi duties, cheerleading coaching, script rehearsals, and relationship counseling, to name but a few. Now she enjoys spending undisciplined time with her two young grandsons and hopes to have many more.
Although Kaylin wasn't born with
a pen in hand like so many of her talented fellow authors, she has been actively involved in both business and personal writing projects for many years. As the director of a fine art gallery, she assisted in furthering the careers of numerous visual artists who under her guidance gained recognition through promotional opportunities and in national publications. Eager to spread her own creative wings, she has since steered her energy toward writing novels. As a result, she has earned more than a dozen literary awards and was a 2008 finalist in the prestigious RWA® Golden Heart contest.
Kaylin is a member of RWA, Rose City Romance Writers, and Willamette Writers. She received her AA in Literature at Highline Community College, which originally sparked her passion for writing. In her free time, she also enjoys giving back to the community through participation and support of various charitable and educational organizations in the Pacific Northwest.
Fun Tidbits
She is proud of the fact that her great aunt Bessie B. Cordell, an evangelistic missionary during WWII, was instrumental in opening an orphanage in Tientsin,
China
and also wrote two published novels, Precious Pearl and Blossoms of the Flowery Kingdom, about her dangerous, harrowing experiences.
She keeps a glass of wine close by while writing love scenes, Kleenex on her desk while writing heart breakers, and has been known to empty a box of chocolates when she's completely stumped.
A consummate "pantser" and perfectionist, she writes and edits as she goes, and uses photographs of models and actors from tabloid magazines to visualize her characters.
She loves her husband of 40 years dearly. However, if Brad Pitt or Orlando Bloom came knockin', well... their marriage just might be put to the test.