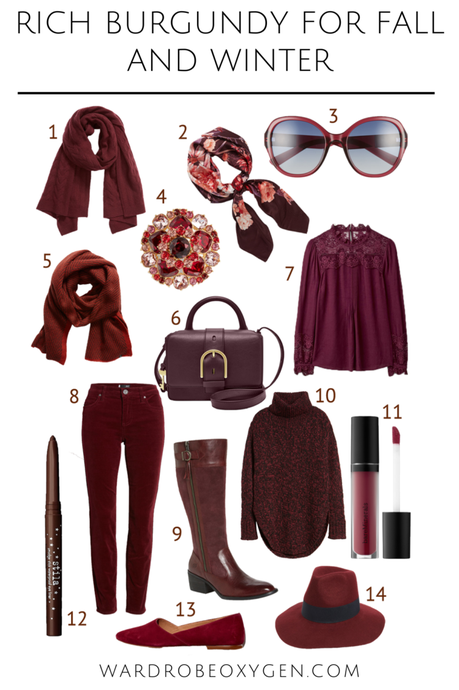 Last week I featured red, and this week I am featuring burgundy, a dark red. However, I featured red as a pop of color that can add vibrancy to neutrals, while burgundy, merlot, and other dark reds are essentially a neutral. Especially this season, a dark red is a chic choice for trousers, sweaters, dresses, and shoes. Whether it's a burgundy cashmere sweater or a pair of oxblood lace-up ankle boots, you can't go wrong with deep wine red shades for this season. They look amazing with other neutrals like camel, gray, and olive. However, it's a perfect neutral to help jewel tones like sapphire blue, rich purple, peacock blue, golden colors like topaz, and even ruby red truly shine. If you're interested in dipping your toe into this trend, below I share some of the best burgundy-colored pieces I've found on the internet.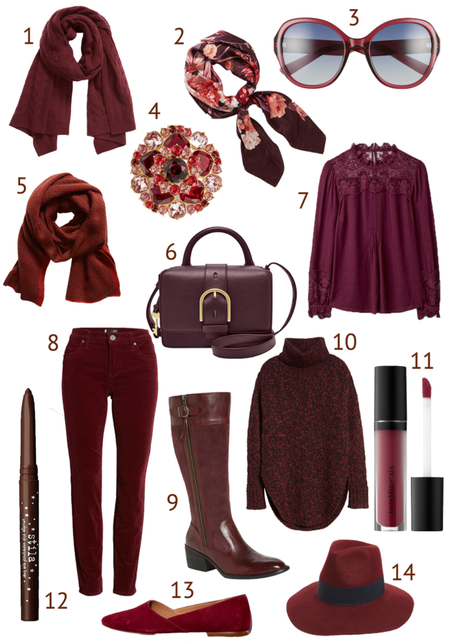 Cozy cashmere cableknit. This luxe cashmere scarf is the perfect size to wear with your winter coat but still leave it on once you get indoors. Four colors to choose from.
A beautiful silk scarf in a versatile size. Large enough to be able to turn this scarf into as blouse, to wear with your outerwear in fall, double around your neck to wear with a sweater or blazer, or use in place of a belt. Two colors available.
Polarized Polish. When the temp drops, no one wants to wear metal sunglasses - hello frostbite! But you still need to protect the eyes. These chic oversized sunglasses will also protect the face from wind and cold and polarized lenses will improve clarity. All this, two colors available, for $65.
Put a brooch on it. Fall and winter are the perfect time for brooches and pins. This one in a mix of red and pink hues would look so chic with your work suit, your winter coat, or in place of a tie with a buttoned-up blouse. It would look beautiful with blush pink or wine red, with denim, black, gray, and even shades of purple and plum.
Herringbone print FTW. The subtle pattern of this scarf elevates the look and adds richness to all of your outerwear. Two colors available, and the price is very nice.
A timeless and chic crossbody bag. The hardware feels modern and luxe, the color is rich (it also comes in two other colors), the size perfect for all the essentials with a strap long enough to fit over your puffer coat.
This blouse will make your whole look. Whether it's tucked into high-waisted wide-leg trousers or styled with your favorite skinny jeans, this gorgeous blouse will garner compliments and cause double-takes. Also available in black. FYI use EY49 at checkout and get 25% off through Thursday!
Red red wine-colored cords. This stretch corduroy skinny jeans are available in regular and petite sizes up to 18, 10 different colors, get great customer reviews and cost less than $70.
Chic boots on sale. One of my favorite footwear brands for comfort and quality with a boot that will be stylish for many years. Available in six colors and discounted to less than $160.
The coziest sweater. Great reviews for warmth, style, and comfort. A curved hemline is great half-tucked or worn over leggings. Currently on sale for less than $50. Three colors to choose from.
The must-have lipcolor for the season. A rich burgundy lip is so lovely with winter-pale skin, lush brows, and a subtle flush on the cheeks. This is my favorite hybrid lipstick/gloss in the next color I plan to buy!
The eyes have it. While some red eye makeup will make you look like a rabbit or on Day 3 of The Flu, a dark burgundy can make brown eyes look richer, hazel and green eyes pop, and blue eyes electric. Available in 13 colors, this pencil is great for a crisp line or smudging to replace traditional eye shadow.
This flat will dress up and down. Made of velvet, these flats have a slightly elongated toe that will look chic peeking out of wide-leg trousers, styled with jeans of any silhouette, or glam up for evening with a midi or fit and flare frock.
Budget-friendly elegance. Whether it's your old thrifted denim jacket or a wool lady coat, any outerwear looks more elegant with a wool fedora. This one comes in three colors, gets great reviews, and is a good price.
Shop the Post: