Its been a while since my favorite burger trail series. Have been sampling other stuff more than burgers these days. But you know what they say 'bout burger lovers? Well, they don't really say anything, but let me say something. Once a burger lover, ALWAYS a burger fanatic. Oh yeah, I totally made that up.
Moving on, I woke up early today, I mean earlier than usual. At 7 in the morning and I had absolutely nothing to do, I decided to go to Connaught Place, work on my blog, do some writing, grab breakfast and maybe later do a little bit of photography. Starbucks, sure cater to most of my needs along with free wi-fi. (I wanted to watch few episodes of The Carrie Diaries too, shhhhh)
I had their egg and cheese breakfast sandwich before and I love how it is light, soft, buttery and at the same time looks like a burger. This time I decided to order the English Chicken sandwich and cappuccino. Truth be told, when starbucks first opened its outlet in Delhi, I thought the place is over hyped and I will still settle with my Costa, but I guess it grows on you. I love starbucks now. Not their iced coffees much, but hot ones, YES, because I can always add my own cinnamon, I LOVE cinnamon.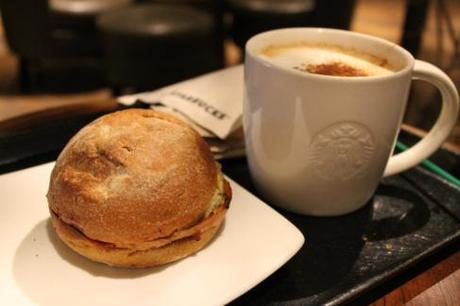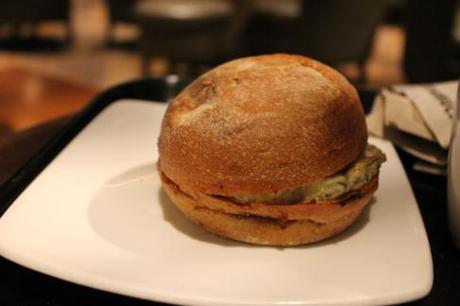 Now let me open it for you. Let's get nasty.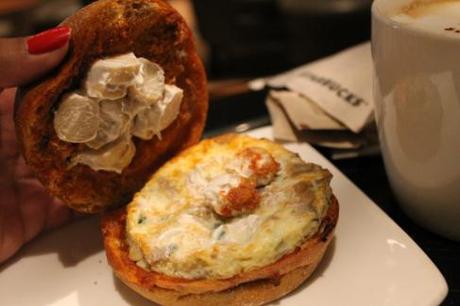 And that is it.
I thought it was great. Not too heavy and definitely not loaded with a ton of calories.
See, burgers can be healthy too, sometimes, no?
Till the next time.
P.S. I don't know if a lot of you know this, I lived in Bombay ( weird people call it Mumbai) for a year studying fashion designing and trying to work as a stylist here and there. Therefore, I will soon start with writing about Bombay food and yeah, most of the pictures will be sourced from google since I didn't really document much of my reads then.