Anthony's Restaurant Rating:
70/100 X
Welcoming:5/10 Menu Choices: 8/10 Food Presentation: 9/10
Food Temperature: 8/10 Food Taste: 18/20 Service: 6/10
Ambiance/Music: 5/10 Architecture/Interior: 5/10 Air Quality: 6/10
Total: 70/100

More about:
Bunz
After reviewing the newly launched Bagel burger at Crepaway, I discovered, and by pure coincidence, the existence of Bunz. The success of the Bagel burger competition was immense and I got to learn about a place that serves bagels with style. Following some of my readers suggestions, I went to visit Bunz  at Citymall. A place I was not aware off at all, but turned out to be the only bagel producers in Lebanon. Bunz bagels are a must try.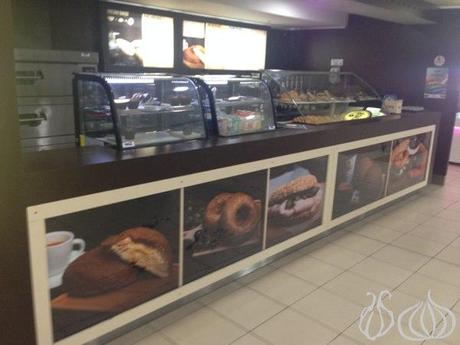 A 
bagel
  is a bread product, traditionally shaped by hand into the form of a ring from yeasted wheat dough, roughly hand-sized, which is first boiled for a short time in water and then baked.The result is a dense, chewy, doughy interior with a browned and sometimes crisp exterior. Bagels are often topped with seeds baked on the outer crust, with the traditional ones being poppy or sesame seeds. Some also may have salt sprinkled on their surface, and there are also a number of different dough types such as whole-grain or rye.
The basic roll-with-a-hole design is hundreds of years old and has other practical advantages besides providing for a more even cooking and baking of the dough: the hole could be used to thread string or dowels through groups of bagels, allowing for easier handling and transportation and more appealing seller displays.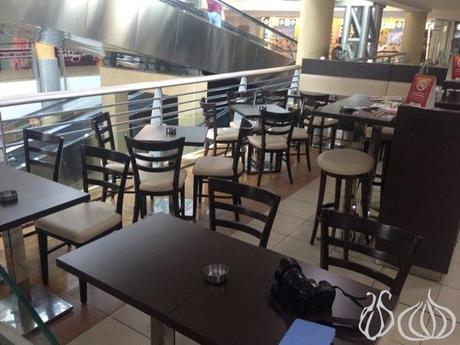 The place:
Located on the Seaside, P1 parking level of City Mall
A brown and beige space, looking like a cafe
A seating on the outside with few spells of light coming from the glass ceiling
A long counter with two displays fridges: bagels on one side and muffins on the other
Behind the counter, the display of prices is clearly shown
Five mouthwatering pictures under the counter make you want to try them all
Wifi is free for all
Unfortunately, hidden underground, the place does not look very appealing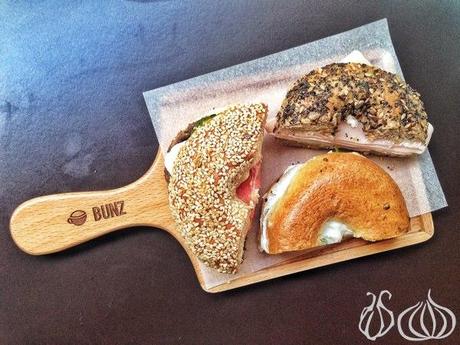 Plain bagel 1,500L.L
Olive bagel 2,500L.L
Sesame bagel 2,500L.L
Black cumin seed bagel 2,500L.L
Poppy seed bagel 2,500L.L
Multiple cereal bagel 2,750L.L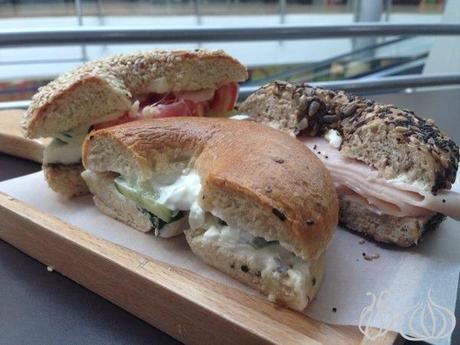 How do you like your bagel?
Cream cheese 4,500L.L
Labne 5,000L.L
Turkey & Cream cheese 6,500L.L
Turkey & Cheddar cheese 7,500L.L
Salmon & Crem cheese 9,500L.L
Fetta cheese 5,000L.L
Light halloumi cheese 5,000L.L
Chicken 6,500L.L
Tuna 6,000L.L
Pizza 6,000L.L
Nutella 4,500L.L
Served on a wooden board, the bagels are mouthwatering at first site – even before actually plunge into them…I ordered to try:
Plain Bagel with Labneh: A spongy bagel filled with a generous quantity of Labneh and decorated with cucumber and a hint of mint leaves: non chewy, served warm and slightly crunching pleasantly, this bagel is simple yet superb. The crunchy cucumber slices add the needed touch. To make it a perfect bite, I would personally add some black olives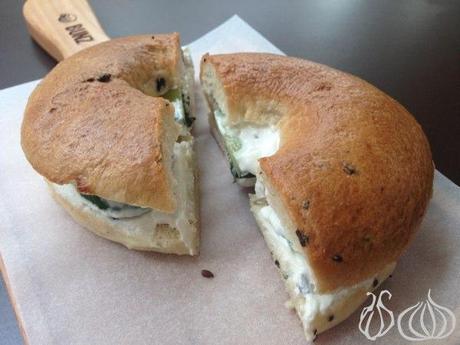 Sesame Turkey and Cream Cheese: Soft and tender and covered with sesame seeds that make all the difference. Generously filled, this sandwich is breathtaking. Crunchiness and softness blend together in a tasty creation worth trying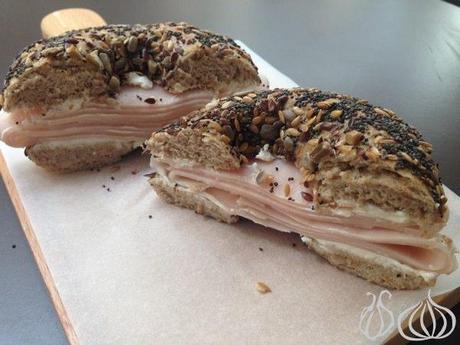 Sesame Bagel with Halloum and Gruyere: This is a winner! Imagine two kinds of cheese filled in a bagel adding to that some fresh vegetables, cucumbers, tomatoes and the premium ingredient that make of it my favorite: Olive tapenade. A bit too thick and hard to eat without falling apart but the end result is very tasty. Everything is generous, the bread, the covering, the filling… Two thumbs up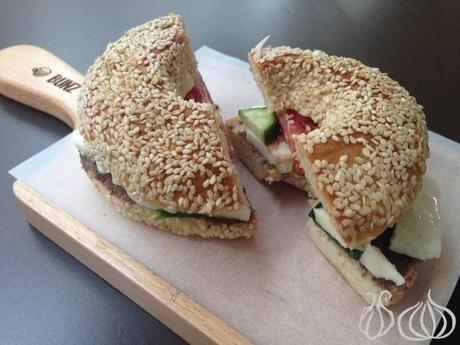 Good to know:
"Buns" don't exist anymore. You will have to stick to eating bagels only which are this place's best creation. Should we expect a new branding and name change?
At BUNZ, we serve freshly baked buns, a crunchy coffee crust on the outside, soft and fluffy on the inside with a buttery like taste literally melting in your mouth. The sweet smell of our buns with a hint of a coffee aroma is a mouthwatering experience, capturing you when walking by our shop. Our fresh New York style bagels are toasty and soft with all sorts of varieties, a perfect bite for anytime of the day. The best complement to our buns and bagels is a wide selection of BUNZ signature beverages for the coffee and non-coffee lovers alike.
I simply fell in love with Bunz' bagels. A new idea for a healthy breakfast or afternoon snack. Unfortunately, its location is not good enough to entice anyone to actually sit and have a meal. Dear owners, consider a new location with an open space where some natural sunlight can be enjoyed. You have a great product that needs to breathe and see the light.BUNZ is a must try
























Pages  [
1
]  [ 2 ]  [ 3 ]  [ 4 ]