As you may have noticed, another man by the name of Ken has started writing on here – & you would be correct in thinking he is not me, as I am me. But he hasn't hacked on and just started rambling away at my behest. As part of an ongoing development within thebhoymcclay blog I have taken Kenny on as a wingman of sorts and his clever, witty and thought-provoking articles will be a great asset to the site. Hopefully with articles and previews such as this, we can also continue to explore new and fresher pieces which will hopefully benefit not only the blogger, but also the reader. Enjoy
This is my second matchday preview for Bundesliga Football and as I'm a reasonable lad,  I thought rather than you doing the research on one of the most exciting leagues in Europe – I would deliver the facts, figures and key players in the German top-tier directly to you.
Last week I managed to correctly predict Mainz 1-1 Hannover in Matchday 21, let's see if we can make it two out of two!
Bayer 04 Leverkusen v FC Augsburg (18.02.2012 - 1430 GMT)
Bayer Leverkusen's poor run of domestic form extended beyond the Bundesliga on Tuesday night, as a ruthless Barcelona side ran out three one victors at the BayArena in the Champions League – Matchday 22 however, throws up an altogether different prospect with the visit of relegation threatened Augsburg.
A battling display saw Bayer respond with a second-half equaliser through Michal Kadlec, but class eventually prevailed and the Catalan giants emerged with a two goal advantage to take to the Camp Nou in three weeks time. The visitors will be hoping these European exploits will enhance their slim hopes of taking anything back to Bavaria – but the signs are encouraging as Bayer were only victorious once in the league directly following their group stage encounters last year.
Augsburg played out a goalless draw last week at home to Nürnberg in the Swabian – Franconian derby and have shared the spoils in their last three encounters following the rückrunde, picking up vital points in their battle against the drop.  Their problem though has been finding the net – with only 19 goals in the for column in their previous 21 encounters this is in stark contrast to games involving Leverkusen, where goals are seldom in short supply.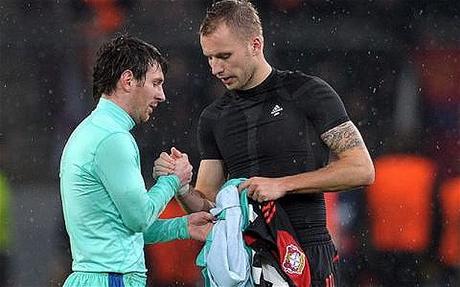 Kadlec - a player once on Celtic's radar, swaps match shirts with Messi
Robin Dutt's men routed Augsburg four one earlier in the season in their first ever Bundesliga encounter, and despite sitting sixth in the league, Leverkusen are struggling to capture any semblance of form which could see them claw back the ten points currently sitting between them and a Champions League spot. Matchday 21 saw them travel to the league leaders Borussia Dortmund and BVB found it tough against a well organised and stifling Bayer side. Die Werkself invited pressure and had Dortmund switching from their normal free-flowing style to a more direct route in order to make any headway, and in the end only a Shinji Kagawa gave the home side the 3 points.
Left-back Marcel De Jong and midfielder Tobias Werner are out for Augsburg after picking up injuries in the Nürnberg game and it appears both could be sidelined for up to ten weeks, whilst long-term absentees Nando Rafael, Moravek, & Dawda Ba are still unavailable. Creative spark Sidney Sam is still on the Leverkusen treatment table but Michael Ballack and Eren Derdiyok should make the squad. German midfielder Daniel Baier sits out a one match suspension for Augsburg for crossing the disciplinary threshold whilst Czech international Michal Kadlec returns to Bundesliga action for the home side.
Michal Kadlec vs Axel Bellinghausen
Bellinghausen will be hoping to impress on his return to the BayArena after departing at youth level in 1998. Returning from injury to replace Tobias Werner in the second half against Nuremberg last week, the German midfielder will looking for a starting berth in order to prove his fitness. If this does transpire, he could be facing Kadlec on his league return for Leverkusen following suspension, and he will be keen to showcase his own attacking prowess in the Augsburg defensive third. The tall left-back has been with Bayer now since 2008 and is now only five appearances short of his one hundredth game for the club.
Stefan Reinartz v Sascha Mölders
If Augsburg have any chance of staying in the top flight for any longer than one solitary season, Mölders has to add to his five goals so far this campaign. Having been an ever-present in his sides previous twenty-one encounters, his ratio of a goal for every nine attempted shots will have to improve. From the small & mesmeric Messi, to the tall and boisterous Molders – twenty-three year old Reinartz will enjoy a break from the Argentine superstar, but will have to endure a quite different test when up against the physicality of his compatriot.
Bundesliga Football Prediction: 3-1
Please visit http://bundesligafootball.co.uk For all this weeks previews and Special features on all things Bundesliga
You can also follow on twitter at @BLFuk 
Danke Schon
55.803755
-4.191869
Advertisement