Happy Friday babes! I apologize for the lack of posts this week. Husband was out of town and between the kids, the heat, and oh yeah this growing belly, it's been a challenge to say the least. Luckily my mother-in-law saved the day and flew in Tuesday to help out. But this pregnancy has been taking a toll on my body and I just can't seem to find the motivation to do much of anything. With only a few weeks left, I guess that's to be expected!
I had my 33 week check-up this week and we discussed what's been going on and a plan moving forward. Based on the diabetes and all of the musculoskeletal pain I've been having, we're planning on inducing at 39 weeks. And possibly a membrane sweep at 38 weeks, to see if I'll go into labor on my own. I had my membranes swept with P and went into immediate labor so who knows! I guess no one but baby knows what will happen. But it's worth a try for sure

So if all goes as planned, we will have the baby in the next 5-6 weeks. CRAZY! But I feel like I've been pregnant forever so I am beyond ready to meet the newest addition.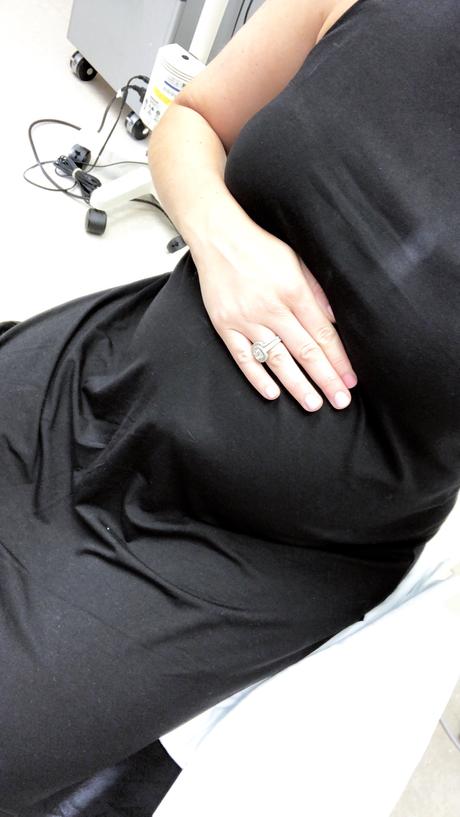 So here's what's been going on with baby this week:
How far along: 33 weeks + 4 days
Size of baby: Celery
Baby's size and weight: 17.2 inches and 4.19 lbs
My total weight gain: 42lbs
Baby's development: 
Baby is keeping eyes open while awake.
Staring to coordinate breathing with sucking and swallowing.
Bones are hardening.
More major brain development.
Baby has developed her own immune system.
Drinking up to a pint of amniotic fluid a day.
Thick white coating (vernix caseosa) is slowly falling off.
Stretch marks: I'm starting to get a few on my hips.
Maternity clothes: These super cheap non-maternity dresses have been my JAM. I should have bought more!
Gender: Girl.
Movement: She's been crazy recently and since it's so cramped in there, it really hurts.
Sleep: Pshh not good. Getting up twice a night to go to the bathroom and rolling from side to side in pain.
What I miss: Not feeling like my belly is going to detach from my body, sleeping without being in pain, eating whenever and whatever I want.
Food cravings: Hmmm nothing really specific. I wish I could eat McDonald's fries or a DQ Blizzard I guess haha
Symptoms: Back pain, pelvic pressure, burning sensation under ribs, not sleeping, irritability.
The siblings are:  exhausted after all of the activities we've been doing. Swimming, camps, playing outside… but I love that they're getting to experience what summer is all about!
High of the week:  Organizing all of baby's new clothes, toys, necessities, etc! It's starting to feel more real! 
Low of the week: Just the constant state of pain I'm in.
I'm super excited for Monday because we get to have our growth ultrasound to check on baby girl! I'm assuming she's going to be average size but even the growth scan isn't super accurate. We won't *really* know until she makes her debut but based on my other kiddos, I'm guessing she'll be pretty average size. It's so hard to even picture another baby because I don't think I've mentally prepared myself at all. The nursery is done, we've had the sprinkle, but it still doesn't feel real that we're going to have a newborn baby in the house. Like an actual newborn baby human that's going to be part of our family. I'm sure it will feel natural when it all happens but I don't think it's hit me yet… or actually I KNOW it hasn't hit me yet lol but it sure will in a few weeks!
Have a great weekend babes… see you Monday! xo
Here are the previous bumpdates if you missed them!
11 WEEKS
12 WEEKS
13 WEEKS
14 WEEKS
15 WEEKS
16 WEEKS
17 WEEKS
18 WEEKS
19 WEEKS
20 WEEKS
21 WEEKS
22 WEEKS 
23 WEEKS
24 WEEKS
25 WEEKS
26 WEEKS
27 WEEKS
28 WEEKS
29 WEEKS
30 WEEKS
31 WEEKS
32 WEEKS