The St. Pete's Patch reports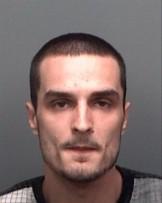 A robber who was shot in the chest with his own gun when he held up a woman at a Regions Bank ATM Friday was identified as Almedin Muratovic.
Police say the shooting occurred at 9:10 p.m. Friday at Regions Bank, 8250 MLK North, when Cristina Hopkins stopped to use the walk-up teller machine while her boyfriend, Anthony Hall, and 5-year-old child waited in the car.
Police say that Hopkins was approached by Muratovic, who had a .22-caliber handgun and demanded that she give him money.
Hall, 28, left the vehicle and confronted the suspect, police said. The two struggled over the gun, which discharged wounding Muratovic in the upper body.
This is my favorite kind of DGU. When the unarmed good guy takes the gun off the bad guy and shoots him with it, I tend to be sympathetic. Of course, the fact that the shooter had been unarmed doesn't necessarily mean the shooting was necessary and clean, but at least we know he wasn't a gun-totin' vigilante-type just itching for trouble.
This time it seemed clean and good. I especially like the part about sticking around to be interviewed by the police.
In spite of Robert Farago's advice
, that's what legitimate people do when they get involved in something like this.
What's your opinion? Please leave a comment.