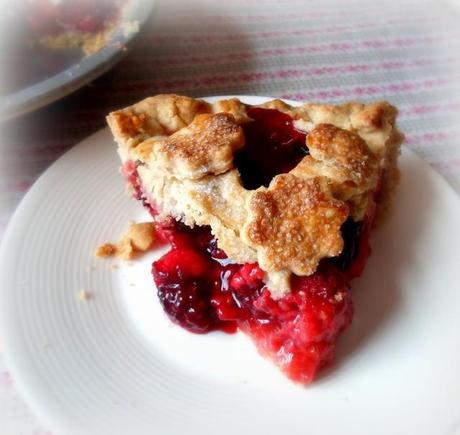 Bumbleberries . . . they're something I have in abundance this time of year.   My fruit is ripening, but in small amounts . . . a handful of blueberries here, a handful of raspberries there.   The last few strawberries . . . stragglers, etc.


You know what I mean . . . you have lots of berries hanging about, but not enough of any ONE berry to do anything that is distinctly dedicated to just them.   It's Bumbleberry season!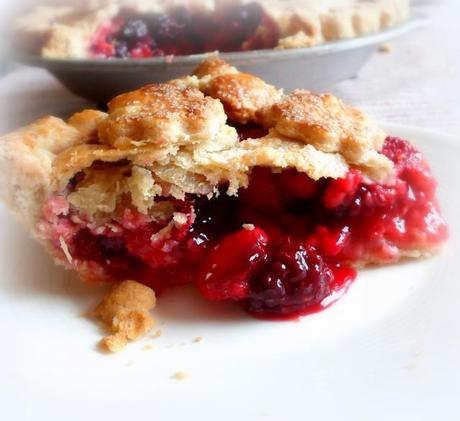 You don't even need to grow your own.  It could be a few blueberries leftover from making pancakes or muffins.   Perhaps a friend dropped off a pint of raspberries.  You didn't use all of the berries you bought for strawberry shortcake.  A little bit here, and a little bit there and you've got Bumbleberries!!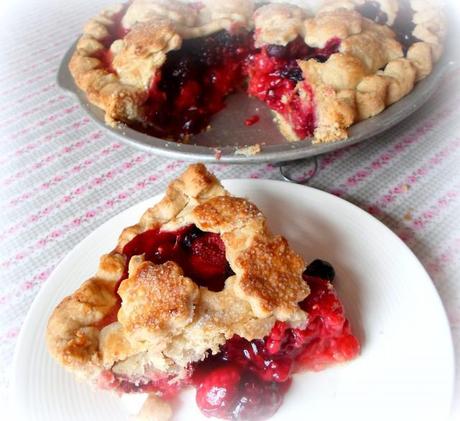 Bumbleberries make the most delicious pie!  A balance of sweet and tart that pleases with every mouthful.  I don't know anyone that doesn't enjoy this lovely pie.  I, myself, am not fond of cooked strawberry pie, but I love them in this pie, full stop.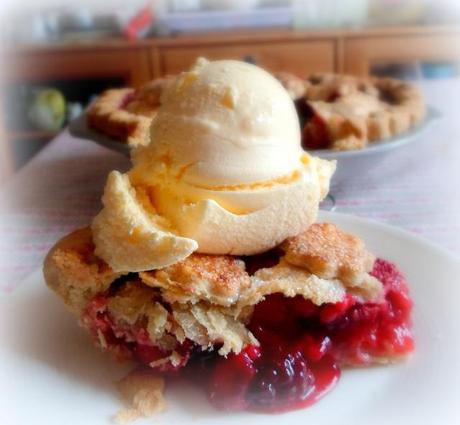 It's gorgeous served just slightly warm with a bit of  vanilla ice cream scooped and settled on top!!   Okay . . . so that's one mega scoop sitting there, but hey!   In for a penny in for a pound!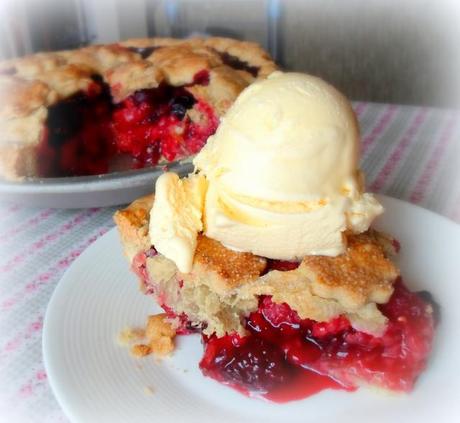 And who can blame me?  Really.  I know . . . I'm one weak willed puddy tat.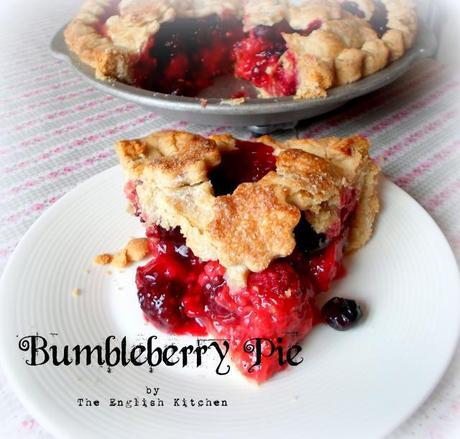 *Bumbleberry Pie*
Makes one 9 inch pie  Printable RecipeA delicious pie composed of five berries.  Perfect for berry season when all of them are coming in fast and furious and you don't have enough of any one kind to do anything substantial with!Pastry for a two crust pieFilling:1 1/4 cups fresh blueberries, picked over and washed1 1/4 cups fresh strawberries, washed, hulled and sliced1 cup fresh raspberries1 cup fresh blackberries1 cup black or red currants, or cranberries if you can't get the currants(if using cranberries, coarsely chop them)1/2 cup sugar1 1/2 to 2 TBS cornflour (cornstarch)1/4 tsp freshly ground nutmegpinch salt
the juice of 1/2 lemonthe finely grated zest of 1/2 un-waxed lemonCream for brushing and sugar for sprinkling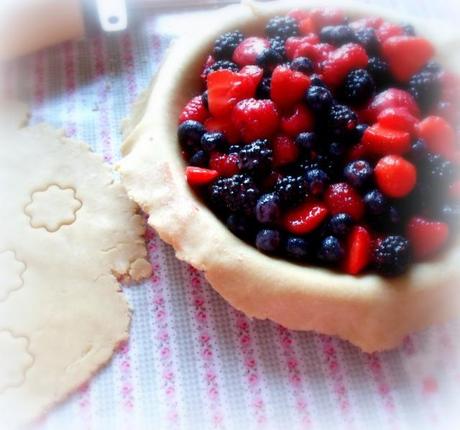 Preheat the oven to 200*C/400*F/ gas mark 6.  Whisk together the sugar, cornstarch and salt.   Gently fold the berries together in a bowl.  Stir in the sugar mixture along with the lemon zest and the lemon juice.  Let stand for a few minutes, while you roll out the pastry.
Roll out half of the pastry to fit into a 9 inch pie dish with a bit of an overhang.   Roll out the other half to fit over the top.   Pour in the berry mixture.  Top with the top crust.  Press together along the edge, trim to an even 1/2 inch.  Flute.  Cut several steam vents into the top of the pie.  Brush generously with cream and sprinkle with sugar.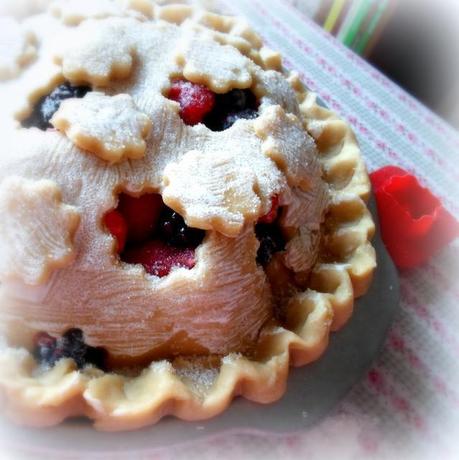 Place a foil lined pan on the bottom rack of the oven, and then place  the pie on the center oven rack, over it.   Bake for 30 minutes.  Reduce the oven temperature to 190*C/375*F/ gas mark 5, Turn the pie 180 degrees, and then bake for a further 35 to 40 minutes, until the juices are bubbling thickly and the pastry is done.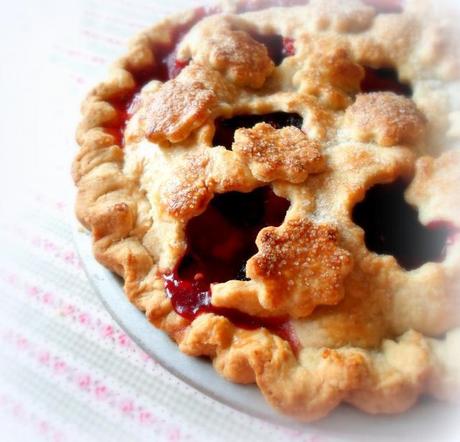 If it appears to be browning too quickly, cover with foil during the last 10 minutes.  Transfer to a wire rack and allow to cool for at least an hour before serving.