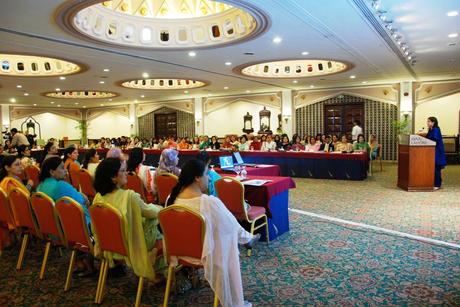 A CIPE-supported Pakistan women's leadership conference in June 2009. (Photo: CIPE)
It is difficult to change the patterns of behavior that have dominated societies for centuries, even more so when legal and institutional frameworks reinforce popular perceptions and the status quo. By reforming policies on paper, however, societies can take one of the first steps in self-transformation. So it is with women's empowerment.
The act of reforming Pakistan's Trade Organizations Ordinance helped break down one of the legal barriers to women's economic empowerment. Before the reform, women had limited ways of representing their economic interests. In addition to facing traditions that regarded women as incapable of doing business, women entrepreneurs were not able to form their own business groups representing their unique interests. With reforms to the Trade Organizations Ordinance in 2006, that changed.
The 2006 Ordinance allowed women, for the first time, to form their own chambers of commerce independently. This amendment was essential for women to have a collective voice in policy dialogue where they were previously excluded. As Samina Fazil, president and founder of the Islamabad Women Chamber of Commerce and Industry, reports, "Prior to the formation of our Chamber, women had no platform to be heard."
Now, there are eight registered women's chambers in Pakistan, including some in more conservative areas such as Mardan, Peshawar, and Quetta.
To change broader perceptions of gender roles, the institutions that govern society must allow for women's full political and economic participation. Then, with equal freedoms and rights, women contribute to an environment where they can flourish alongside men. Women's chambers of commerce allow women to do just that – they are vehicles for women to create an environment where more women entrepreneurs can do business and prosper.
For example, the South Punjab Women Chamber of Commerce and Industry (SPWCCI) is negotiating for collateral-free loans of up to 500,000 Pakistan rupees (approximately US$5,800) for women entrepreneurs. The Chamber also promotes its members products, such as mango or cotton, to potential customers.
To raise the profiles of women entrepreneurs and provide role models for more potential businesswomen, the Central and North Punjab Women Chamber of Commerce and Industry recognizes outstanding local businesswomen at an annual awards ceremony
The Peshawar Women Chamber of Commerce and Industry even teaches its members how to explain the benefits of women in business to their households where they face challenges from male family members.
Furthermore, by providing services to ease doing business, women's chambers of commerce also encourage more women to pursue entrepreneurial ventures. Ambreen Khan Hoti, president of the Women Chamber of Commerce and Industry Mardan, testifies, "The creation and existence of a legal body representing them has given a lot of encouragement to women confined to the houses who were the victims of harsh traditions."
Admittedly, reforming laws and regulations on paper does not automatically entail shifts in public opinion – traditional gender roles, like other patterns of behavior, are often deeply ingrained. However, when women have the space to represent and advocate their entrepreneurial interests, they can show their families and communities their economic potential. The 2006 reform to Pakistan's Trade Organizations Ordinance gave women this space. Read more about their accomplishments in this Economic Reform Feature Service article:
Article at a glance:
Prior to 2006, women entrepreneurs in Pakistan lacked

effective representation in trade associations and were not able to form chambers of commerce.

The 2006 revised Trade Organizations Ordinance for the

first time allowed women to form their own chambers of commerce and mandated that at least two women must sit on the boards of directors in all of Pakistan's regional chambers.

There are now 60 women board members in Pakistan's

chambers and eight women's chambers have been registered, including some in conservative areas such as Mardan, Peshawar, and Quetta.