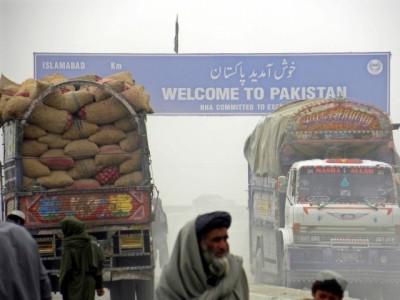 Trucks from Afghanistan await clearance to cross the border into Pakistan. (Photo: EPA)
The border between Afghanistan and Pakistan is a rough road. But it also serves as a vital economic lifeline between the two countries, whose trade is valued at some $3 billion annually — equal to about 15% of Afghanistan's GDP.  However, many legitimate businesses still find it difficult to navigate the complex web of regulations, bureaucracy, and corruption which hamper legal trading across a frontier best known as a conduit for smuggling drugs and weapons.
In hopes of overcoming these issues, several Chambers of Commerce in Pakistan and Afghanistan, with technical help from CIPE and funding from the British High Commission in Pakistan, have been working for the past three years to set up the Pak-Afghan Joint Chamber of Commerce and Industry (PAJCCI), which held its first meeting on March 13, 2012. The new chamber will seek to address crucial issues on both sides of the border that have hampered the development of legitimate and documented cross-border trade.
"Given the critical role that private sector growth must play in Afghanistan's future development, and the importance of Pakistan as a major trading and trans-shipment partner for Afghan business, this organization is long overdue," said Andrew Wilson, CIPE Regional Director for South Asia. "There are many complex trade issues to overcome, and this group will have its work cut out for it."
The joint chamber's leaders are optimistic about the economic possibilities. Zubair Motiwala, who was elected PAJCCI President at Tuesday's meeting, said that the chamber aims to double the volume of trade between the two countries to $6 billion annually.
In addition to advocating for reforms that would remove barriers to trade, the chambers have already begun to cooperate on more immediate issues, such as identifying products in specific sectors that firms in Afghanistan would like to buy from Pakistani companies. This kind of knowledge will be vital for companies trying to do business in a country where transportation is costly and dangerous and information is scare.
Looking ahead, there is also hope that a more stable and economically developed Afghanistan could provide a conduit for Pakistan to access Central Asian oil and gas resources. "Afghanistan can play a key role in providing access to the central Asian countries for energy deals," said Khan Jan Alokozai, PAJCCI co-president from Afghanistan. However, the chamber's leaders said that they had no plans to get involved in the politics surrounding current proposals for a new gas pipeline.
Given the complex political and security situation in the region, the PAJCCI has many obstacles to overcome. But developing strong business ties with its largest and most economically advanced neighbor will be essential to the Afghanistan's long-term stability and development.