One of the big things that bothered me about the back facade of our home when we bought it, was a large, bare expanse of stucco just to the right of the back door. See before photos of our backyard HERE. My initial thought was that it was the PERFECT location for a pergola, and it is, but after replacing the patio, and making several other improvements to the backyard, a $$$$ pergola just wasn't in the budget, at least not right now. So instead, we built a trellis to fill the vertical space.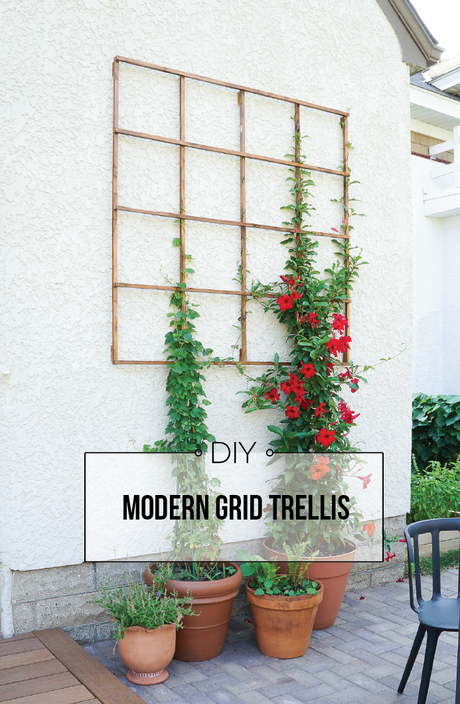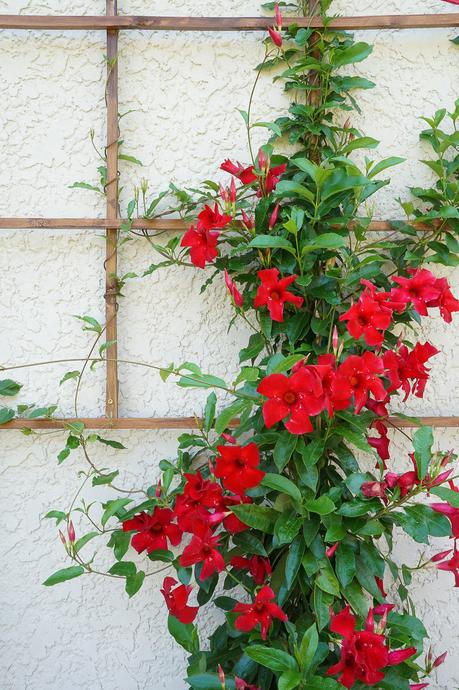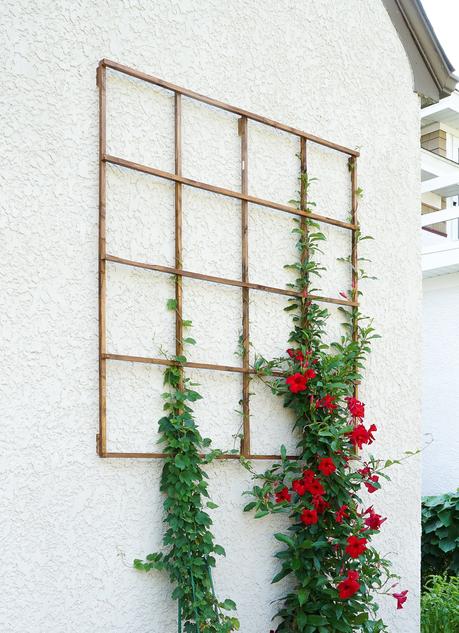 I was really inspired by the work of a company named, Garden Metalwork. Their simple modern grid trellises totally redefined for me what a trellis could be. A trellis didn't have to be made of premade lattice with traditional scrolls at the top-it could be clean, bold and modern. I would have LOVED to purchase one of their trellises, but I'm pretty sure it would have cost about as much as a pergola. So the next best (most affordable) option was to build one from exterior grade cedar. I used 60″ cedar stakes from the garden center because they're the perfect size and thickness for creating the look I was after.
HOW I DID IT:
Materials:
11 Cedar garden stakes
Exterior grade stain
Mitre saw
Marking tool and T-square
Measuring tape
1 - 1/2″ Galvanized screws
3″ Galvanized screws
Cordless drill
Caulking
1. Cut the points off the stakes using a mitre saw.
2. Stain the garden stakes with an exterior grade stain.
3. Form the perimeter frame of the trellis by laying down two vertical garden stakes and connecting them at the top and bottom with garden stakes that run horizontally. The stakes should overlap at the corners. Screw the horizontal stakes into the vertical ones using 1-1/2″ galvanized screws. One at each corner.
Next, attach 3 stakes of equal distance horizontally across the frame. Then flip the frame over and attach 3 stakes of equal distance vertically, connecting the top and bottom stakes.
4. Then cut the remaining stake into Qty 6, 3″ pieces. Attach one at each corner, as well as one on each of the outermost vertical stakes. These little pieces hold the trellis out from the wall so vines can grow all the way around it.
5. Drill pilot holes for the screws that will attach the trellis to the wall. Do this by drilling through both the trellis and the small backer pieces. At this point you'll also want to predrill into the wall (or in our case stucco).
6. Next apply caulking to the pilot holes on the backside of the trellis. The caulking will help water tight the exterior holes where the trellis attaches to the house.
7. Before the caulking dries, attach the trellis to the wall with 3″ galvanized screws. Lastly, place climbing plants (such as mandevilla and hops) below the trellis, and you're all set!