If you're new here, you may want to subscribe to my RSS feed. Thanks for visiting!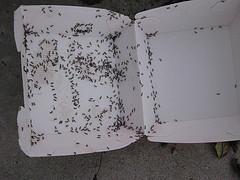 box of ants (Photo credit: clang boom steam)
Spring is going to be here before we know it and boy oh boy, I can not wait.  Green leaves on the trees, flowers, birds chirping, and warm weather.  No more shoveling snow and everything either brown, white, or dirty white.  I can't wait to be able to stop tracking dirt and rock salt into my house on my shoes every day.  I am ready for spring.
Or, most parts of spring anyways.  I am not entirely ready for my hay fever to start acting up, but I most certainly am not ready for the creepy crawlies that end up in my house.  I know I should count my blessings that my biggest concern around here for unwanted house guests are things like ants, spiders, moths, mice, and the occasional squirrel.  Yes, I have had squirrels in my house.  I'm pretty sure there are some living in our walls, but our landlord won't do anything about it.  Things seem better since he patched the hole in the stucco of the house last spring though.
But all this to say, this is the kind of critters we tend to deal with here.  I know the ants will be coming soon.  I will do whatever I can to combat them.  Vinegar on the counters and washing my floor with vinegar.  That should help with the pesky pantry moths too.  Although, that hasn't been a huge problem since we moved here 2 years ago.  Mice are more of a spring problem around here and spiders are nothing more than the occasional daddy long legs.  So nothing I can't really handle for the most part.
But I have had infestations and I know that there have been times that I have just been at my whits end and didn't know what to do to solve the problem.  Aside from a change of season anyways.  See, winter is a good thing.  Not everyone has that luxury though or their seasons last longer than mine do here in New England.  Sometimes when the infestation gets really bad you just need to hire a professional.
Residents in a handful of states can try out Moxie pest control for their infestation problems.  Click here to see what Moxie pest control has to offer you and if they are in your area.  I am off to scrub because just the thought of creepy crawlies gives me shivers.
Do you have a favorite pest control specialist?
This is a sponsored post.  I am receiving compensation for mentioning this company in this post.  All thoughts and opinions expressed here are completely my own though.