Can you finish a four-patty burger in 5 minutes?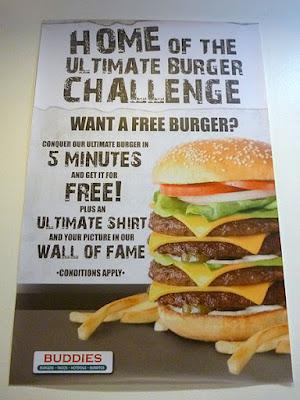 As what
Barney
 would answer: "Challenge accepted!"
So I went to Piazza Elesia in Talamban where a new burger place has set up shop. You won't miss the restaurant since it's just by the road with a big sign that reads: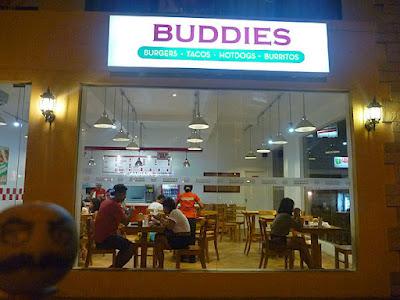 Outside the burger place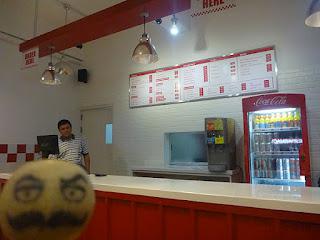 Minimal, clean, and bright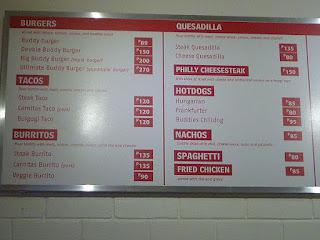 The Big menu board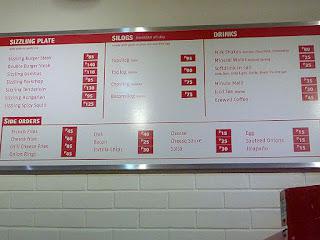 The Big menu board continued
I liked the place immediately. It was very simple, using only white and red as their interior colors. We asked the cashier if we could avail of the challenge and she said that it was moved to June 25. Oh boo! So we just did what hungry people do when they're facing a big menu board - we ordered.
Double Buddy Burger with lettuce, tomato, onion
The onions were great. Never had a burger with onions before. I would appreciate a bigger juicy slice of red tomato though. The patties were surprisingly good; it was large and juicy, but was served flaming hot that I had to let it cool before I took a second bite. I timed myself eating this Double Buddy Burger and finished at a slow 3-minute rate. Overall, I would definitely take the challenge.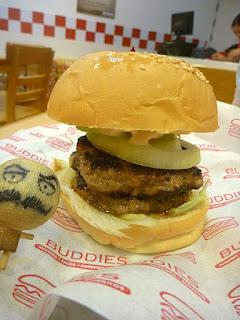 Looks more like a mushroom.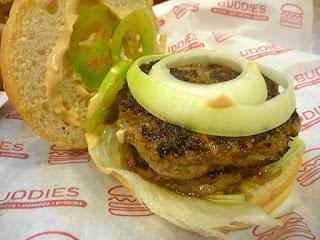 Small green tomatoes, big onion slices, lettuce, and juicy beef patties.
Steak burrito
Strips of steak with onions, tomatoes, black beans, and salsa rice wrapped in tortilla. I can taste the strong cilantro flavor and just enough beans which was perfect for me. However, this burrito doesn't pack enough size considering its price.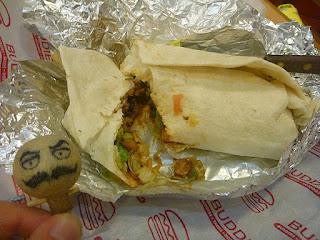 Burrito mi amiga?
Sizzling Gambas
I find this very salty. Also, there's a strong prawny smell with this meal which is a bit of a let-down. I can only appreciate how the garlic was cooked - soft and not burnt.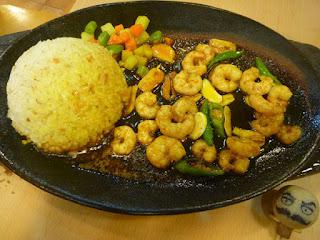 Buddies doesn't have the luxury of having a handful of servers. So this restaurants instills the value of self-service. The diners are expected to pick up their order from the counter once the cashier calls out their number.
After having a full meal, I went home plotting a strategy to conquer the challenge.
June 25 came and went...
Other appointments and the bad weather moved my decision to take the challenge on the 27th. So, without further ado, the 5 minute challenge to finish a
steak taco!
Wait! Wasn't it a burger? Oh let's not be in a hurry. Don't want to keep my date hungry.
The steak tacos (two in a serving) have a soft shell tortilla. Tasty, tender meat, with a salsa that goes well with the veggies.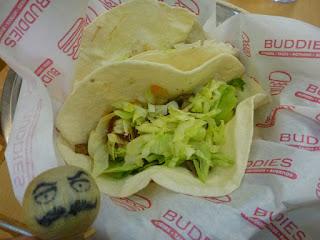 I prefer soft shelled tacos
And now the real deal!
(Background effects: lightning and thunder)
 The Ultimate Buddy Burger Challenge
First, some rules:
- Timer starts once you touch your food
- Finish everything on the plate and the provided water in 5 minutes
- If big chunks of food drop you are eliminated, unless you eat those too
- There must be nothing in your mouth after the 5 minute time has elapsed
If you win:
- The burger meal's for free
- You get an ultimate burger challenge shirt
- Your mugshot on their Wall of Fame
- Bragging rights!
I've planned this event in my head for a week. What came out of that laborious planning was to use these handy-dandy tools: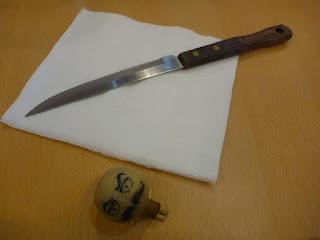 A knife and some table napkins
The napkin is to flatten the burger, while the knife is to slice it in half to let the steam and hotness out. Then it's up to my "guts" to deliver a good finish. The plan is going smoothly in my head...
Until I saw the enormous reality that unfolded in front of me:
The Ultimate Buddy Burger
THE ULTIMATE BUDDY BURGER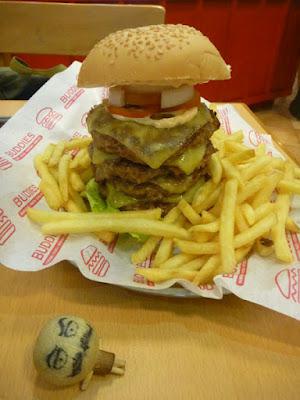 Greetings mortal!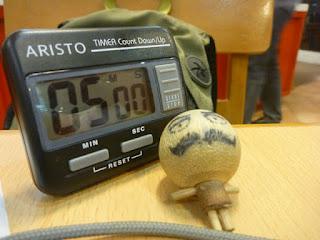 Gulp! 5 minutes only?
If you may kindly look at their promo poster again - there are 4 lean burger patties and only about 6 strips of potato fries. I must admit, I knew that the patties would be fluffier but I didn't know there was going to be that many fries.
I'll summarize the whole experience in this prose:
I attacked it like Hercules fighting the Hydra.For each bite, the burger grew more meat.Oh dear, four minutes has passed and what was left was this: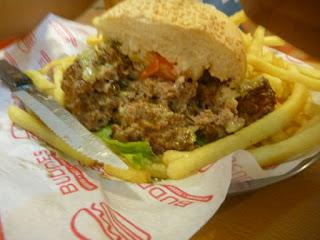 Satisfied mortal?
You be the judge - I couldn't finish half of the burger in 4 minutes, how am I supposed to finish everything (including the fries) with 1 minute left?
Challenge Accepted. After 5 minutes - Challenge Failed!
With the commotion done, we helped ourselves finishing the meal. We gobbled up the fries and shared what was left of the burger.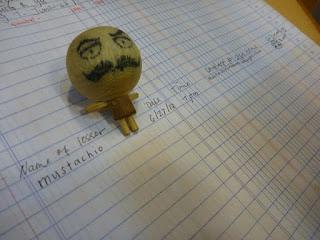 Name of Loser or The Tragedy of a Mustached Hero
Nevertheless, Mustachio went home full and happy having been able to join an eating challenge for the first time. I dissected why I failed the challenge and I've come up with three reasons: - I ate the burger without cooling it really well (it was still steaming hot even after I sliced it and let it cool for 30 seconds)- I didn't drink much of the water (which would have aided me in swallowing) and - I've underestimated the quantity of the meal.
I just gave you some tips on how to approach this challenge. And now I dare you to try it. Do I hear a "Challenge Accepted"?
Buddies
Piazza Elesia, Talamban, Cebu City
(032) 520 8732
11AM to 3PM, then 5PM to 10PM (temporary schedule, closing time may change)
How this dinner bore a 1/3 pound hole thru Mustachio's pocket:
Double Buddy Burger Php 150
Steak Burrito Php 135
Sizzling Gambas Php 110
How this challenge bore an ultimate hole thru Mustachio's pocket:
Steak Taco Php 120
Ultimate Burger Challenge Php 350