Budapest Tram #2 is the most scenic tram journey in Europe!
And that's according to National Geographic in an article titled:  Top 10 Trolley Rides.  According to our guide it's the second most scenic tram journey in the world (after San Francisco), but I couldn't find anything substantiating her claims.
It may very well be true though. Tram #2 on the Pest side of Budapest follows the Danube River providing views of Buda and Buda Castle on the other side of the Danube. On the Pest side, you are treated to views of the baroque neo-gothic Parliament building up close, along with several UNESCO World Heritage Sites and the Chain Bridge.
One of my favorite sites was the Jewish Memorial, which pays tribute to Jews that died in WWII by featuring  shoes along the Danube riverbank. It's a stark contrast to the grandeur of the buildings lining the riverbank and I think it's this subtly that makes it so powerful. (See photo below)
Regardless of where tram #2 falls in the rankings, I thought it was a beautiful journey.  Take a look: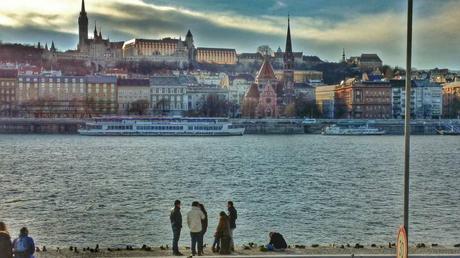 Buda Castle and the Shoes on the Danube Promenade, memorial to the Jews who died in WWII.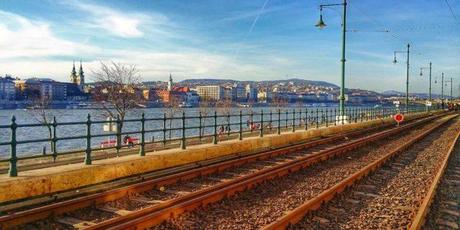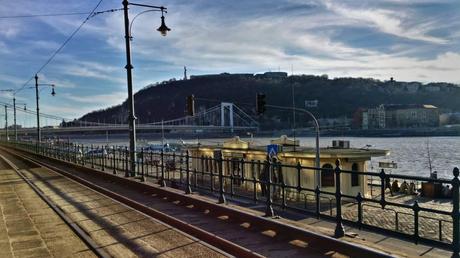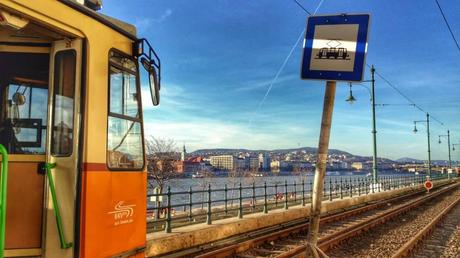 Know Before You Hop on Europe's Most Scenic Tram
You can hop on tram #2 at Jaszari Mari Square and continue along the Danube.  When I visited, part of the track was closed for construction, so I wasn't able to travel the full route past the parliament building.  Construction is expected to be finished sometime in Spring 2014.  Travel tip:  Sit on the side closest to the Danube for the most scenic views.
 Cost:  I used my Budapest card, so it was included in the price, but a 24 hour fare good for unlimited public transportation in the city can be purchased for 1500 HUF (~5 EUR). Single fares can also be purchased.
I can't think of a better, or more cost-effective way to see Budapest.  It's worth going both during the day and in the evening for a completely different perspective.  One of the highlights of my trip to Budapest!
&locale;&layout;&action;&width;&height;&colorscheme;