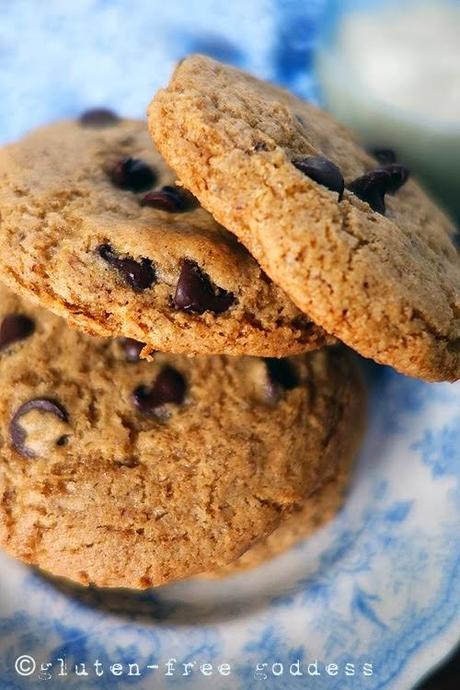 By 
Meet Karina 
Updated for 2014...} I know what you're thinking. Not another cookie recipe. Please. I've had it with melty chocolate chips and crunchy, chewy sweetness. Where are the rutabaga recipes, 

dagnabbit?

 And what about beets? Or parsnips? I've got a hankering for kale the size of Wyoming. I yearn for jicama. Cook me up some kohlrabi, already.
Sorry, Darling.
Not today.
You'll have to be patient.
There are cookies to bake.
And these are gluten-free.
And dairy-free.
And vegan.
But I'll be honest.
Baking egg-free, butter-free, gluten-free cookies (that actually taste tempting) can be tough. So if you- or an angel you love- are allergic to several of the top allergens, or living GF/CF for ASD reasons, just know I'm in the weird and rocky boat with you.
Which is why I keep experimenting and tweaking recipes.

And if the butter eating glutenous In Crowd doesn't 

get it

, I say, You know what, Cheese Breath? Just go eat your Twinkies, will ya?
Buckwheat Chocolate Chip Cookies Recipe
Buckwheat flour? In a cookie? Affirmative. Sweet and nutty buckwheat flour is higher in protein and fiber than typical gluten-free flours. And it has no metallic aftertaste like the legume flours many folks turn to for boosting protein in GF baked goodies. Just make sure your source for buckwheat flour is truly gluten-free and milled with no cross-contamination issues. Make sure it tests well below the PPM allowed for gluten-free status. Call the company to be sure. Or join Gluten-Free Watchdog for updates on the latest product testing.
As for the "fat" choice- through all my gluten-free, dairy-free, egg-free cookie experiments I have come to favor organic coconut oil, or Spectrum Organic Shortening as my baking "fat" of choice. It somehow (I'm no scientist) gives vegan cookies a better structure.
Ingredients:
1 cup organic GF buckwheat flour
1 cup sorghum flour
1/2 cup potato starch or tapioca starch
1 1/2 teaspoons xanthan gum
1 1/2 teaspoons baking soda
1 teaspoon sea salt
1 cup vegan shortening or coconut oil (I would use a tad less coconut oil)
1 1/2 cups organic light brown sugar, packed
1 tablespoon bourbon vanilla
1 tablespoon honey or agave nectar to keep it vegan
1 tablespoon Ener-G Egg Replacer whisked with 1/4 cup warm water (or use 2 free-range organic eggs)
2-5 tablespoons vanilla rice or coconut milk, as needed
1 10-oz bag dark chocolate chips
1/2 cup chopped nuts, coconut, or chopped dried fruit, if desired
Instructions:
Whisk together the flours, tapioca starch, xanthan gum, baking soda and sea salt in a big mixing bowl.
In a separate bowl, beat the Spectrum shortening, brown sugar and vanilla  extract until combined.
Add in the frothy egg replacer (or beaten eggs) and beat to combine.
Add in the dry ingredients a little bit at a time and beat to combine, until a dough forms, adding a tablespoon of vanilla rice milk at a time to achieve a sturdy, smooth dough.
Add in the chocolate chips by hand. Cover the bowl with plastic wrap and chill the dough for an hour.
Check your e-mail, sip your tea.
Preheat the oven to 350ºF. Ready your baking sheet. I use an Exopat liner on my baking sheet; you could also line a baking sheet with parchment paper.
Using an ice cream scoop or spoon, scoop wads of dough and form them into twenty round balls; place them on the lined cookie sheet, about two inches apart. Press down on the dough balls ever so slightly, but keep a slightly mounded shape- not too flat, because they will spread.
Bake in the center of the oven for 12 to 15 minutes, until the cookies are firm to the touch. Remove the cookies with a thin spatula and place them on a cooling rack. They will crisp as they cool.
This recipe makes 20 large cookies. For some reason, the larger size bakes up better than smaller- crispy good on the outside and tender-chewy in the middle.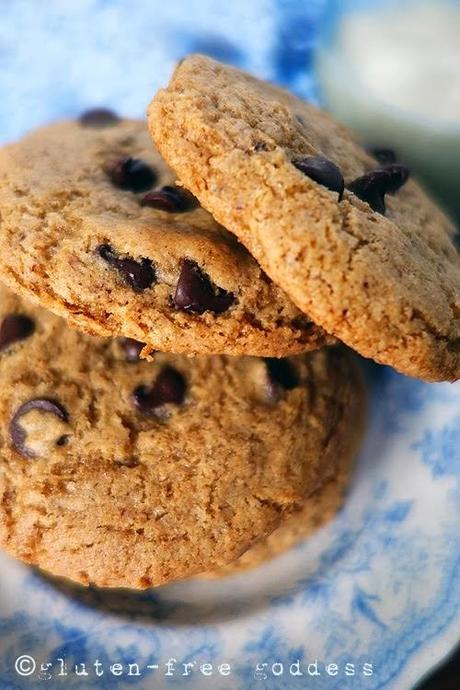 Buckwheat Chocolate Chip Cookies
Note:
My latest batch of these cookies: I added a tablespoon of honey and it boosted flavor and texture to a new level. Honey- and vegan raw agave nectar- act as a humectant. Try adding a tablespoon to your baking recipes.