Our sole purpose of going to Bucas Grande Island was to see Sohoton Cove and its neighboring lake and caves.
The first stop of our tour was Sohoton Cove. It was almost noon on a Saturday when we got to the Sohoton Cove Visitor's Center to register and pay some fees:
Entrance fee Php 25
Environmental fee Php 25
Docking fee (per boat) Php 100
Tour guide Php 330
Small pumpboat for the Sohoton Cove tour Php 500
Paddleboat for the Jellyfish Sanctuary (one paddleboat and guide per guest) Php 100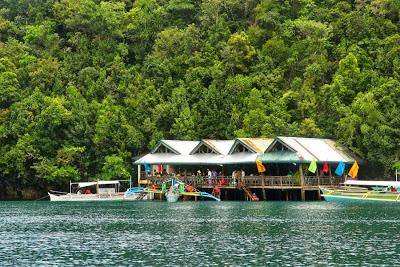 Sohoton Cove Visitor's Center
There were already about half a dozen groups and we had to wait our turn for the tour. Pumpboats have to wait at the Visitor's Center and guests have to transfer to a smaller pumpboat for the tour. Only small pumpboats can get into the cove because the entrance to it is through a low–ceilinged cave.
Sohot
is a Visayan word meaning to pass through a small opening, thus Sohoton Cove.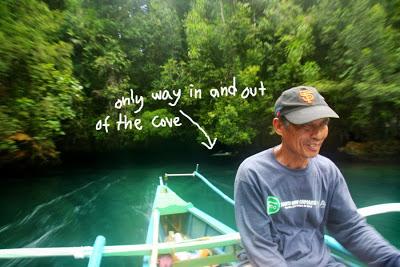 The tour visits two caves: Hagukan Cave and Magkukuob Cave. Guests are encouraged to swim inside Hagukan Cave. For those who don't know how to swim, lifevests can be rented at the Visitor's Center or trust your guide to lead you into the cave. Hagukan Cave is named for the snoring sound the water makes when it hits the opening during high tide.
Haguk
is Visayan for snore. One would expect the inside of the cave to be pitch black, but it actually isn't. Too bad I didn't have a waterproof camera to take photos of the inside of the cave.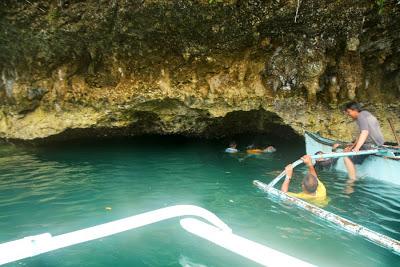 Entrance to Hagukan Cave
It is a short walk to get inside dark Magkukuob Cave (not to worry, your guide is a Boy Scout, he'll have a flashlight with him), then a bit of climbing to get to the exit. It is also known as Diving Cave because you have to jump off a platform to exit. You can actually trace your way back to the entrance but it's easier to just jump off than navigate your way down the slippery cave.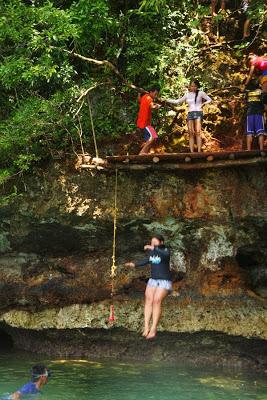 The exit is 15 meters above the water
After visiting these two caves, we were taken back to the Visitor's Center to transfer to a paddleboat for the Jellyfish Sanctuary. Only one guest per paddleboat and guide. I asked for an extra paddle from my guide and started paddling. My paddling was taking us anywhere but the jellyfish lagoon. I eventually just hummed a tune and pretended to paddle.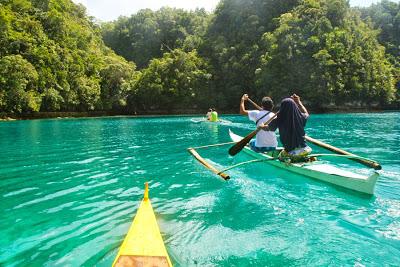 Paddling to the Jellyfish Sanctuary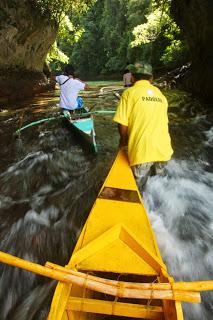 The shallow entrance to the sanctuary
The jellyfish are stingless. One can touch them but not take them out of the water for more than a minute or they die. The jellyfish appear from March to October and are abundant around April. It is best to go to the sanctuary when the sun isn't too high up—the jellyfish hide when it's hot, at least that's what my guide said. Swimming is strictly prohibited at the sanctuary.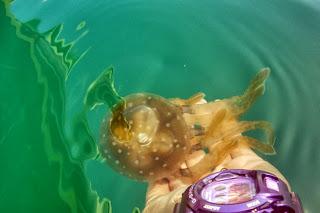 Photo by D. Ogabang
After Sohoton Cove and the Jellyfish Sanctuary, we proceeded to Tiktikan Lake, Bolitas Cave, Crystal Cave, and a newly explored cave I forgot the name of (this cave is in the same area as Bolitas and Crystal Caves).
An entrance fee of Php20 is collected at Tiktikan Lake. Cottages for overnight stay can be rented by the lake. It was too quiet at the lake, I don't think I'd want to stay the night there. :-)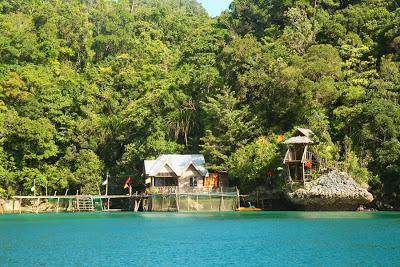 Entrance to Tiktikan Lake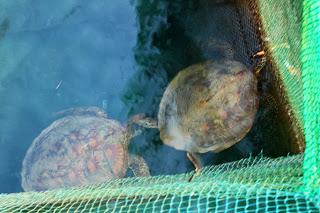 Two sad pawikans in a pen by the entrance :-(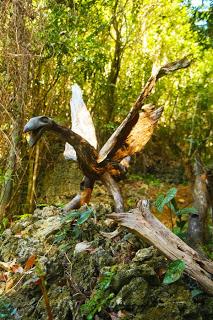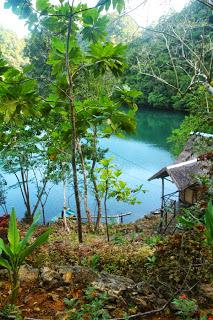 A wooden sculpture of the tiktik bird (left) halfway to Tiktikan Lake (right)
To explore Bolitas Cave, Crystal Cave, and the cave I forgot the name of, a guide and flashlights are required. No guide fees but tips are always welcome. Flashlights can be rented for Php20. The first cave we went into was the cave I forgot the name of. It took us almost an hour in and out of it. There were portions where we had to crawl, squirm, and wriggle our way through. After this exploration we were drenched in sweat and covered in mud.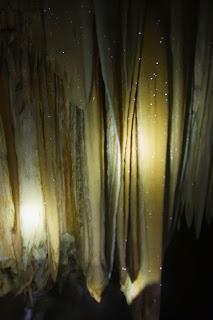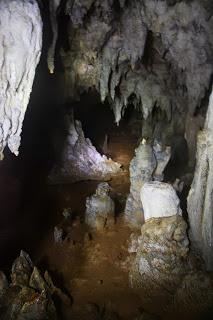 Inside the cave I forgot the name of (left) and Crystal Cave (right)
Crystal Cave was easy to explore. No squirming and wriggling required. After the two caves, where we saw shiny, sparkly formations inside, we didn't bother going into Bolitas Cave (the entrance to Bolitas is a narrow passage by the mouth of Crystal Cave). It was already dusk when we emerged from Crystal Cave. And we were exhausted.
For Php3000 we were
picked up from Socorro
, taken on a six-hour tour of caves and lakes, and, the next day, taken to the mainland (Brgy. Hayanggabon, Claver, Surigao del Norte) to catch a van (1.5 hours, Php120) going to
Surigao City
.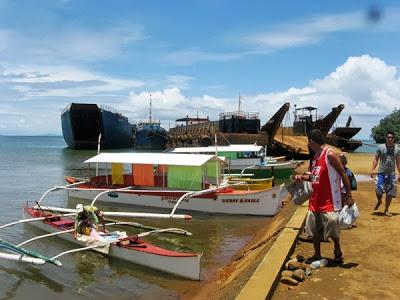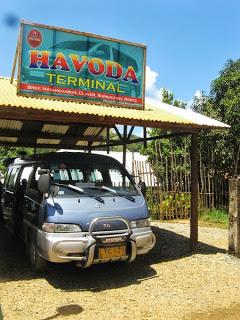 Hayanggabon port (left) and the van terminal just outside the port (right)
Boat transfers/tour was arranged thru:
Balanghai Kanlunes
/
Fredie Rosillo
0935 418 3244 / 0946 696 3120
Three Days in Siargao:
In and Around Siargao Island
La Isla Siargao Bar and Grill
Magpupungko Then and Now
Three Little Islands
Skales Greek Restaurant
Siargao's Neighbor, Bucas Grande:
Balanghai Kanlunes in Bucas Grande Island
Lakes and Caves (you're here!)
Siargao and Bucas Grande:
Itinerary and Expenses (soon)