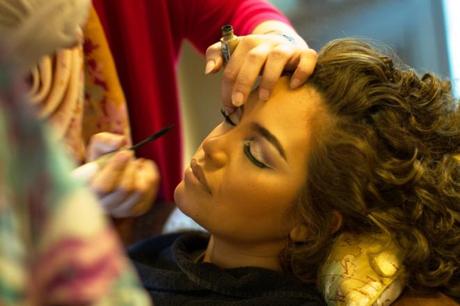 My latest project for Posh Fairy was a shoot for the soon to be launched L'Occitane au Bresil; a new brand with a French soul and a Brazilian heart. Traveling through the waters of Brazil, Olivier Baussan; the founder of L'Occitane en Provence discovered rich and exuberant eco-systems with fascinating ingredient stories, this encounter of Brazilian liveliness with L'Occitane's values inspired to create a new brand: L'Occitane au Bresil.
The concept of the shoot was obviously inspired by Brasil, the beauty, the vivid colors, and the tradition. After scouting a few potential locations, we decided to shoot at a nursery, and Home & Garden were more than welcoming of the idea, and offered us complete access to their showroom. I will be sharing the final shots with you very soon, as they are currently exclusive material to Styles Magazine June issue.
And lastly for now, I would like to bring your attention towards every person who worked with me on this shoot, the team was in amazing harmony and they made the entire project such a great experience. A big thank you goes to all of them.
- Art director / Stylist: Joumana Soufi @thesidetalk
- Photographer: Jean Claude Dib @jeanclaudedib.photography
- Model: Hannah Delaimi @stylenscones
- Outfits: Enti @entikw
- Accessories: Stylist's own
- Hair: Aziza 'Zizi' Skaff @azizaskaff of @blushkwt
- Makeup: Amal Al Adwani @amal_makeupartist
- BTS photography & videography: Roqaya Shamo @rshamo_
- Location: Home & Garden Nursery @homeandgarden