More than 200 people attended last Sunday's Gymanfa Ganu at Bryn Seion Welsh Church in Beavercreek, Oregon. People came from Northern California, Seattle and as far away as New York to enjoy the annual event now in its 79th year.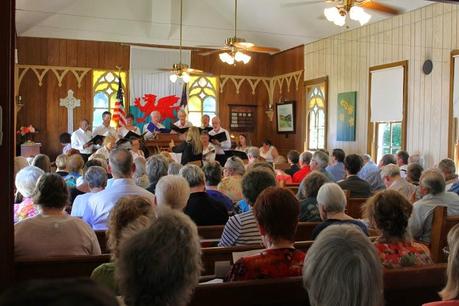 The Oregon Welsh Festival Chorus perform at the 79th Bryn Seion Gymanfa Ganu
---
For those who do not know, undoubtedly a small minority of our readership, a
Gymanfa Ganu
is:-  "a Welsh festival of sacred hymns, sung with four part harmony by a congregation, usually under the direction of a choral director" .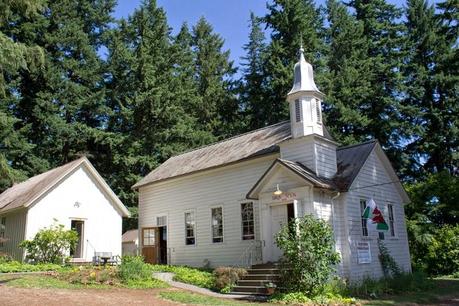 Bryn Seion Welsh Church, Beavercreek, Oregon
---
Bryn Seion's Gymanfa Ganu is always held on the fourth Sunday in June. The first session begins at 1.45 pm followed by a
te bach
, or small tea, at Beavercreek Grange. Then back to the church for the evening session at 6:00 pm. Singing is in English and Welsh - no experience required.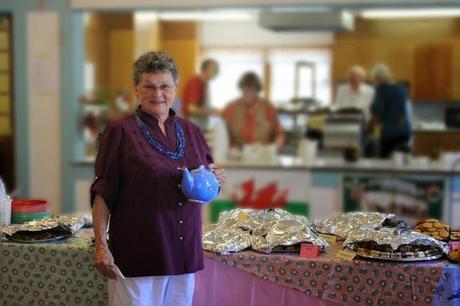 Janet Figini prepares refreshments for the te bach at Beavercreek Grange
---
This years Gymanfa Choral Director was Eryl Aynsley who was born in Denbigh, north Wales in the beautiful Vale of Clwyd. She has been active in Welsh music and culture all her life and is a native Welsh speaker and singer. Eryl is the Cultural Director of the Welsh-American Society of Northern California. In August 2013, she was Leader of Wales International at the National Eisteddfod of Wales and she had been looking forward to her trip to Oregon.
Eryl, who has lived in California for 32 years, spoke to AmeriCymru during the afternoon te bach. When asked for her impression of the event and its importance for Welsh culture she replied, "Fabulous singing! I was greatly impressed with both the enthusiasm and the Welsh pronunciation. The Gymanfa Ganu is very important. We cannot afford to lose this body of hymns. Please everybody do whatever you can to keep this language, music and culture alive."
In addition to the regular program Gymanfa goers were treated to a guest appearance from the Oregon Welsh Festival Chorus at this years event. The OWFC, which recently welcomed its new Musical Director, Dr. Jamie Webster, performed during the Gymanfa itself and also entertained the crowds during the afternoon
te bach
at Beavercreek Grange.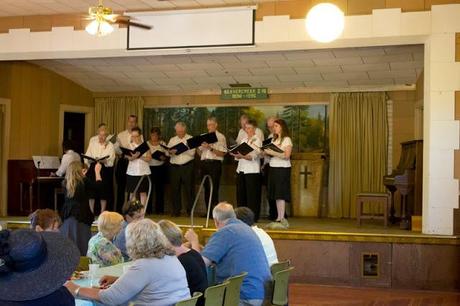 The Oregon Welsh Festival Chorus entertain Gymanfa goers at the afternoon te bach
---
The Origins of Bryn Seion Welsh Church (From the event flyer)
The Welsh had been among the first to come to the New World and had already settled many areas for 200 years. In the 1840's an increasing number of Welshmen emigrated to America in search of opportunity and affordable farmland. In Beavercreek, the settlers were reminded of their home back in Wales and called for family and friends to join them.
The Welsh families longed for a church where they could come together to worship and sing with family and neighbours.
In June 1884 this dream became a reality as Bryn Seion (Mt. Zion) church. First listed as "The Welsh Evangelical Congregational Church", Bryn Seion is now non-denominational. Church members come from a variety of backgrounds and most travel miles to attend. They share a bond of Welsh ancestry, the language, love of singing and the tranquil setting.
At one time there were many Welsh churches across North America but now only a few remain. Bryn Seion is the last Welsh church on the West Coast and has kept an unbroken tradition for 150 years.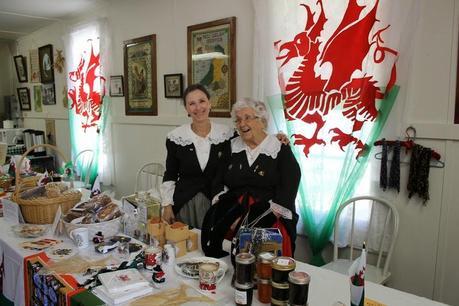 Geri Baker-Parry and Bette run the Welsh Gift Shop at the Gymanfa Ganu
---