I sometimes wonder if part of the reason Brussels sprouts are so divisive as a vegetable is down to the poor treatment they get in so many kitchens. Even for the most ardent fans, a pile of overcooked, slightly mushy sprouts isn't going to cut it.
This week I'm sharing three vegan side dishes made from Brussels sprouts that I think use the vegetable to its full potential. What's your favorite way of eating them?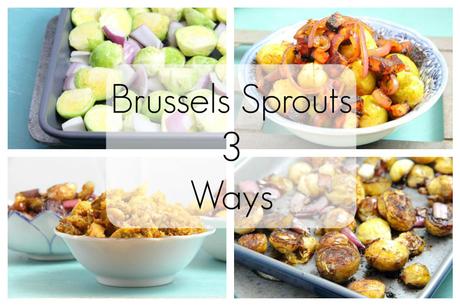 These curried quinoa Brussels sprouts make an exceptional side dish full of warming spices. The sprouts and the quinoa cook together in one pot too so, like every respectable side dish, they don't add to your washing up too much.
There's quite a bit of substance to this dish however, so with a larger portion it could easily be served as a main course in its own right.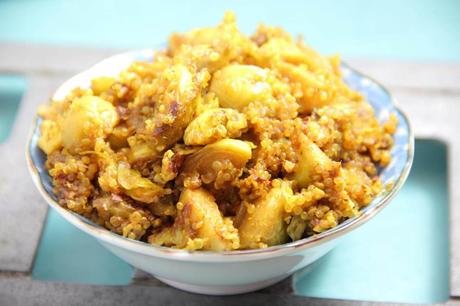 Brussels Sprouts 3 Ways: Curried Quinoa Brussel Sprouts | Vegan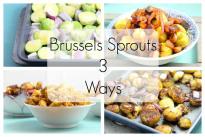 Save
Print
Prep time 10 mins Cook time 30 mins Total time 40 mins   Author:
The Tofu Diaries
Recipe type:
Side
Cuisine:
English
Serves:
4
Ingredients
1tbsp olive oil
200g Brussels sprouts, cleaned and halved
½ red onion
2 cloves garlic, crushed
2tsp garam masala
½tsp ground coriander
½tsp ground turmeric
250ml vegetable stock
80g quinoa, well rinsed
Method
Add the olive oil to a pan and warm over a medium high heat. Add the Brussels sprouts, red onion and garlic. Fry for a couple of minutes, then add the spices. Fry for a further three minutes.
Add a tablespoon of the stock to the pan and stir well. The stock should reduce rapidly.
Now add the washed quinoa and fry, stirring continuously, for two minutes.
Add the remaining stock and simmer for twenty minutes, stirring occasionally.
Serve as a side dish or light main.
3.4.3177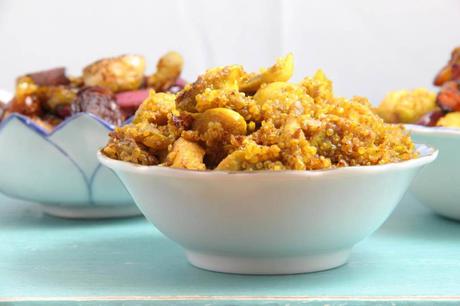 Looking for more winter vegetable side dish ideas? Try these Roasted Balsamic Brussels Sprouts.