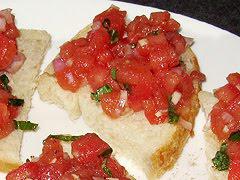 Bruschetta

, plural 'bruschette' (
brus-ket-aye
), is a very popular appetizer born in the 16
th
century in central and southern Italy. The bruschetta then spread to the entire country and eventually followed the Italian emigrants around the world.
Classic bruschetta can be made in several ways, but it's always based on a salad of fresh tomatoes, garlic, and olive oil on a toasted slice of bread. The name
bruschetta
, in fact, derives from 'bruscare', roman dialect for the verb
to toast
.
Bruschetta can also be made with other toppings (e.g.: mushrooms, beans, bell peppers, canned tuna). In Italy, however, these are substantially less common than the classic tomato one. In all cases, the term 'bruschetta' refers to the
dish
(bread plus topping), never to just the topping.
In a good bruschetta, the bread has to remain crunchy. This is obtained by making sure the topping is not too soggy and by adding it only a few minutes before serving. Some restaurants even have
do-it-yourself
bruschette, where a tomato salad is served in a bowl along with toasted bread. Traditionally, the bread should be char-roasted, but it can also be toasted in a regular oven.
This authentic recipe describes a variation of the classic bruschetta where a few extra ingredients are added.
Ingredients (as an appetizer for 2-4 people)
- 4 roma tomatoes
- ½ shallot
- 1 ½ cloves of garlic
- 3-4 leaves fresh basil
- 1T olive oil
- ½T balsamic vinegar
- ½ tsp salt
- 4 slices of artisan bread
- (optional) some ground black pepper
Preparation
(*)

Gather the ingredients. Wash and prepare the tomatoes for peeling by removing the bottom
and by cutting a cross on the top. Slice and toast the bread.

Blanch the fridge-cold tomatoes by dipping them in boiling water for 30 seconds,
and then cooling them off quickly in cold water. The skin will come off easily.

Remove the seeds and the cores, then dice the tomatoes.

Cut the shallot into small dices.

Cut the garlic into small dices. Slice the basil leaves by first rolling them up.

Dress the bruschetta topping with balsamic vinegar, salt and olive oil.
Place a generous amount of tomato salad on each bread slice. If desired, sprinkle with ground black pepper. This appetizers goes well with a full-bodied white wine, such as Malvasia Bianca, Soave, or Vernaccia.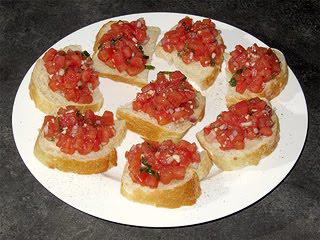 (*)
Pictures by Candace B.