I am sure my family is waiting patiently for me to prepare something chocolatey for them.  It has been ages since I last done something with chocolate!
Since hub bought me a tray of eggs, I shall use some to prepare this Brownie Magic Custard Cake.  A book that I picked up from the library just before my trip.
Yes you heard me right, Magic Custard Cake.  It has been already been 3 years ago since I last baked one!  I totally love that cake.
You can refer the chocolate version here.  The originator also has a video which I posted in that post.
So enjoy the school holiday.  Errr... is there one?  My kiddo still has school activities!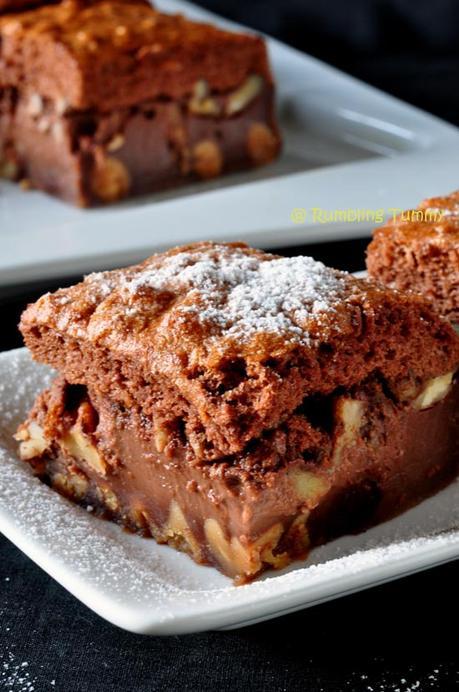 Findings: The cake is really light and has a brownie based to it and it is not too sweet.
Since it is my habit to incorporate some coffee to heighten the chocolate taste, the flavor came out really good.
By coincidence, I spotted Victoria Bakes also baked a similar cake.  If you like a more intense flavour, hop over to her blog.
Recipe definitely a keeper!


Adapted: Magic Cakes


What you need:
100g walnuts, toasted and crushed
4 eggs, separated
125g castor sugar
1 tbsp hot water
1 tsp instant coffee
125g butter, melted and cool slightly
110g plain flour
30g cocoa powder
pinch of salt
500ml milk, lukewarm
25g chocolate chip
25g reese chip
Method:
Preheat oven to 150

°C.


Beat the egg yolks and sugar until it is light and fluffy.
Beat in melted butter and water into the egg yolk mixture.
Mix in the flour, cocoa powder and salt until mixture is smooth
Pour in the milk little by little, whisking constantly.
Beat egg whites until stiff.
Using a whisk, gently fold into the batter.
Arrange the walnuts and chocolate chips in the bottom of the tin.
Pour in the batter slowly and smooth the surface.
Bake for 55 mins but the center of the cake should be still have a slight wobble.
Let it cool in pan and set in the fridge for 2 hours before cutting.
Serve with chantilly cream and chocolate sauce.
If you have enjoyed this post by Rumbling Tummy, be sure to follow this Rumbling Tummy on Facebook, Instagram, Pinterest, Twitter and Google+.