Note: This post is written with contribution by my representatives.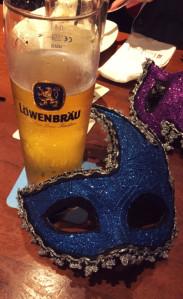 Today, let's have some German cultural immersion. Hehe. I have never heard of this festival but maybe you have. Karneval is a traditional German festival that marks a time of eating, drinking and merriment and will be usually companied by a hug parade with elements of a circus, masquerade and social satire. (Sounds like a lot of great fun isn't it!)
Just in case you think this day is completely dreamt up so that we can eat good food and drink ourselves drunk, this festival daes back hundreds of years. (Guess the Germans really know how to have a good time!) Fortunately for us, Brotzeit is bringing flavours of the festival and Gemutlichkiet (a feeling of warmth, friendliness and good cheer) to the shores of Singapore.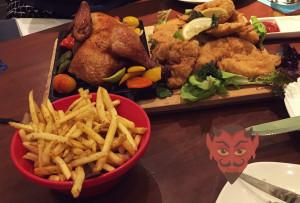 I do hope you love your meats because the Zweierlei von Huhn (Duo of Chicken, S$40) is absolutely delicious. It comes with a combination of half an oven-roasted chicken and another half a golden fried chicken, so you don't have to worry if you can't make up your mind how you want your chicken. Cos you are going to have both!
Special mentions to the sides - fired fries and potato salad. Heard that they were frigging Shiok! Alternatively you can have the Yummylicious Trio (S$24)(not in photos). It is quite value for money because it comes with 2 glasses of draft beers or 2 bottles of Kolsch beer. The  Trio comes with a platter consisting of an oven-baked meatloaf, chicken schnitzel with rocket leaves and German meat patty with gherkin (cucumber) and lettuce.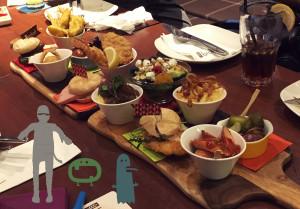 If you are in for a selection for food, opt for the Deutsche Tapas instead (3 for S$15, 6 for S$28, 12 for S$45). You know what, come with a group of friends so that you can try all 12 bites! Some are more tasty than the rest, but we don't think any bite should be missed so that you enjoy the full flavor.
A full set of 12 would include: Bierbeisser (sausage), super food sala, spicy chicken sausages, currywrust, golden fried chicken, cheese spatzle, meatballs, seabass filet, fried mushrooms, meatloaf in mini kaiser roll, chicken schnitzel in mini kaiser roll and meat patty in mini kaiser roll! And what's a party without beer. You will be able to enjoy the Karneval-exclusive hoppy-tasting Graffel Kolsch (1 bottle at S$10, bucket of 5 at S$48 and 5L party at S$98)!



Game for a challenge? Don't miss the Half-Meter Sausage Challenge! If you and your friend (2 in a team) can wolf down this Deutsche Halbmeter Wrust (length of an adult forearm), featuring classic Nurnberger sausages, served with sauerkraut and potato salad in a baguette within 4 minutes, and you will enjoy this dish from the house as well as bragging rights!!
Sounds like a whole ball of fun isn't it! Do note that the Karneval menu is only available at Brotzeit from 17 Jan to 25 Feb. Feast, fun and party while it last, folks!