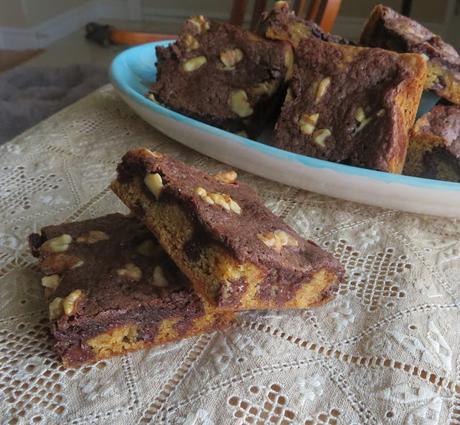 My sister Cindy and her partner Dan were coming over for supper the other night. I made Easy Pizza Casserole for our meal, and served it with a salad and some garlic bread, but I was looking for a lush dessert/cookie/bar to serve for dessert.
Dan is a huge fan of chocolate chip cookies. (Who isn't!)  We all love brownies.  I decided to make Brookies, which combines the best of both worlds!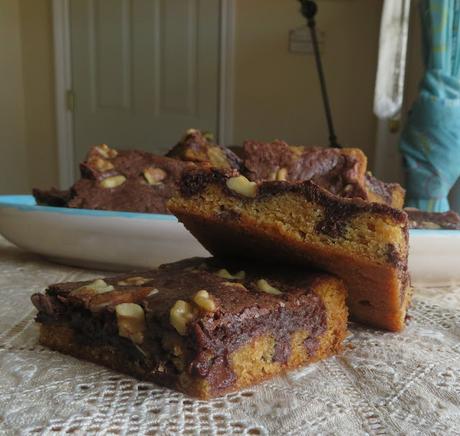 Chewy fudgy chocolate brookies combine the best of both worlds. You get an addictive chocolate chip cookie base with a lush rich chocolate fudge brownie layer baked on top! You can't go wrong! 
If you can find a bar that is any more moreish or addictive I would like to meet it!  These bars are fabulous.  I downsized/small-batched my favorite recipe to make a manageable amount for the smaller family.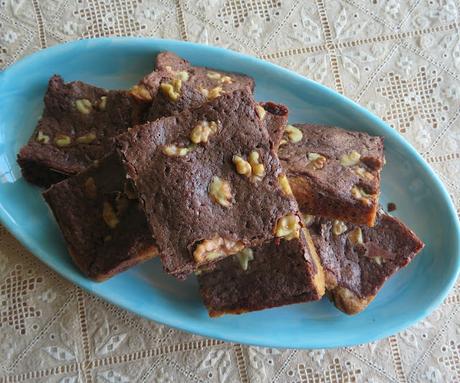 We each enjoyed one on the night. I gave my sister some to take home with her and kept a couple for myself.  Totally manageable.  When a cookie bar is as delicious as these are, you really don't want too much temptation hanging about in your kitchen.
I have little to no willpower when it comes to things like this. I know myself well. Small-batching it is the only way to go, even if I am having company!  That way I have a manageable amount and cannot overdo it when it comes to pigging out!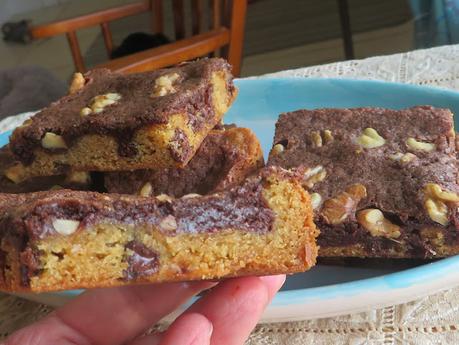 I mean . . .  just look at that photograph.  Can anything be more delicious looking?  I think not! 
This is a cookie bar that you won't be able to resist sinking your teeth into. I guarantee!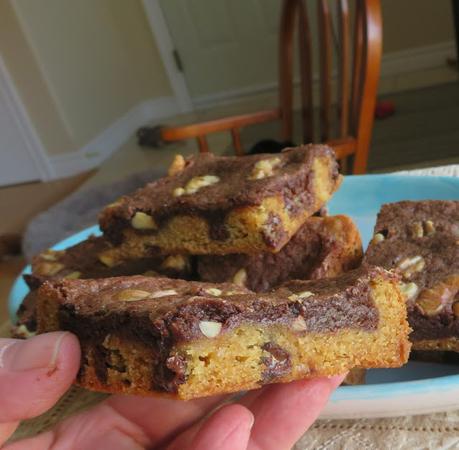 Of course if you are not a glutton like myself, you can easily double the ingredients and make a full batch.  In that case you would need to bake them in a 9 by 13 inch pan, and use a whole egg for the cookie base.
The cook time will remain basically the same as with these.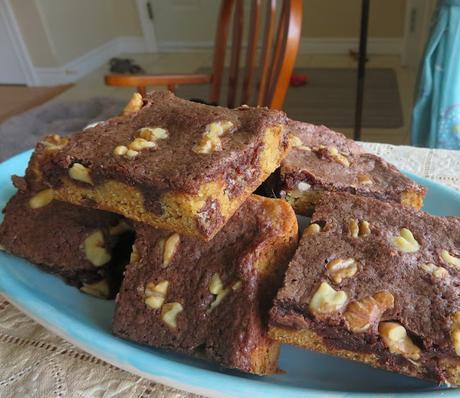 WHAT DO YOU NEED TO MAKE BROOKIES
Simple store cupboard ingredients. I am betting you have everything you need in your kitchen right now!
flour (plain all-purpose flour)unsweetened cocoa powder (Do not confuse this with the hot drink mix. They are not the same thing.)eggs (I always use large free range eggs)semi sweet chocolate chips (I like either the Costco brand or President's Choice Decadent ones)baking powderbaking sodasaltbutter (I always use just plain salted butter unless otherwise specified)vanilla (I use pure vanilla extract. 
This is the kind I buy
and it lasts a long time.walnuts (I always toast my nuts before using them)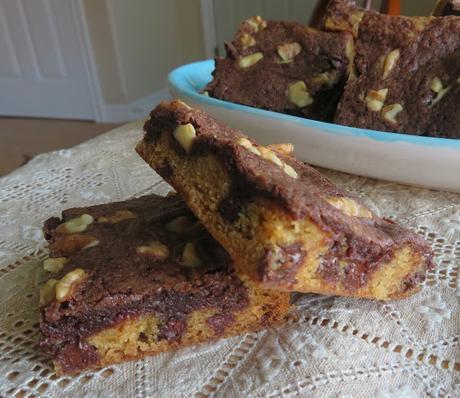 Not only are these lush bars delicious, but they are really attractive.  You get that beautiful combination of colors with the golden brown chewy chocolate chip cookie base and then the dark fudgy brownie tops.
The walnuts on top give a nice crunch. You could ice them if you really want to, but trust me, these are beautifully perfect on their own without any frosting.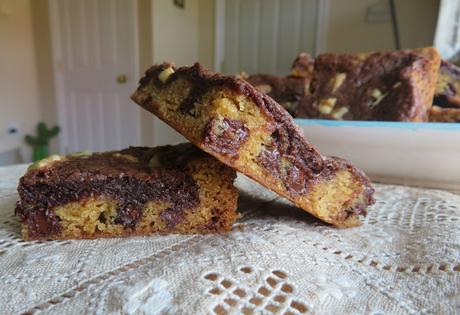 HOW DO YOU MAKE BROOKIES
These are a very simple make, trust me on this. So long as you follow the recipe instructions to a "T," you will have no problem and they will turn out perfectly!
You begin by making the chocolate chip cookie bottoms.  Cream the butter and both sugars together just as you would any chocolate chip cookie. If your brown sugar is really lumpy, you may want to put it through a sieve first, or at the very least rub it with your fingers to get all the lumps out.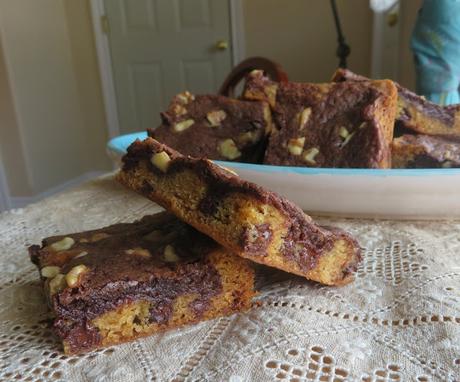 I use an electric hand mixer for this and it all goes together really quickly.  Beat in the egg yolk and the vanilla.  You can freeze the egg white for another purpose.  
They freeze really well and come in very handy for recipes such as pavlova or angel food cake. You can find my
small batch pavlova recipe here
.  You can find my
small batch angel food cake here
. Both are excellent recipes.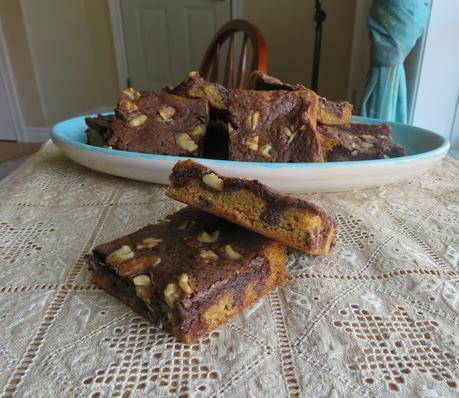 Once you have all the wettish ingredients for the cookie bottom combined you need to stir in the dry. I like to sift my flour and soda together with the salt so that the soda is evenly distributed.  Just stir it in and then stir in the chocolate chips.
The hardest part is patting it out in the baking tin. I like to lightly flour my finger-tips which makes this a much easier chore. Make sure you get it right into every corner!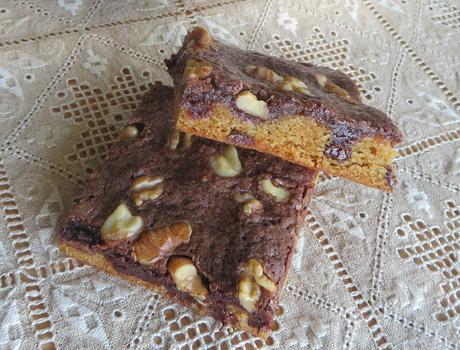 Once you have the chocolate chip cookie dough patted out you need to make the brownie topping.  This goes together very quickly.
Stir the melted butter, sugar and vanilla together in a bowl. I sift the flour and cocoa powder together with the baking powder and salt, again to make sure everything is combined equally.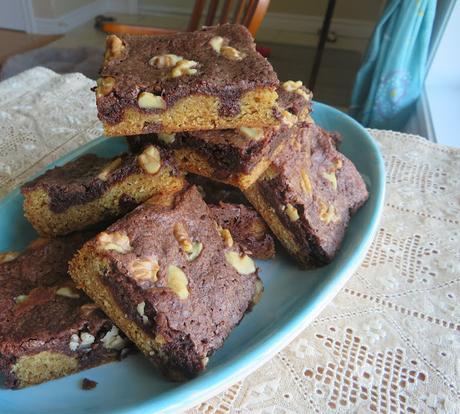 Stir the flour and cocoa mixture into the wet mixture, combining it all equally, making sure there are no lumps and dry patches.  
This is then very easy to pour/spread over top of the chocolate chip dough.  I tend to drizzle it over slowly moving it across the cookie dough, using a rubber spatula to scrape out every smidgen of brownie batter!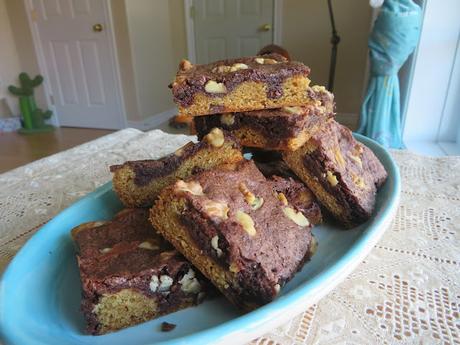 Just get it as evenly as you can. It will spread on baking.  Once I have done that I sprinkle the toasted walnut pieces over the top evenly.
I like to toast my nuts. They just taste better and are crunchier and nuttier.  8 to 10 minutes on a rimmed baking sheet in a moderate oven does the trick.  Leave them to cool before using.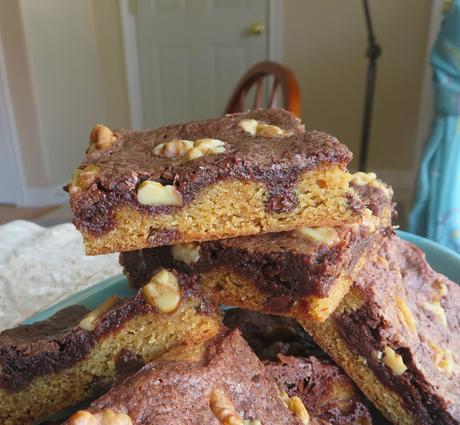 I do mine a whole bag at a time and keep them in the freezer in an airtight container.  This helps to not only keep my nuts from going rancid, but also means I don't have to stop and toast my nuts every time I need to use them.
It makes sense. You can use them in baking, salads, etc. No need to thaw them out first.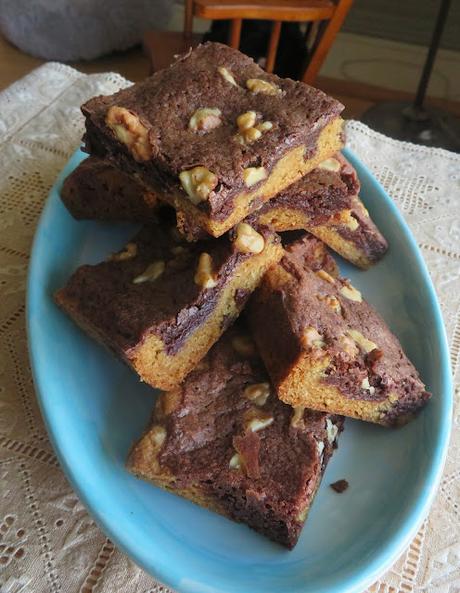 Another handy tip when I am baking is to line the baking tin with baking paper, leaving an overhang to life the finished bakes and cakes out with when done. The finished bake just looks nicer when cooled, with no bar or other unsightly marks from the cooling rack.
Bakes and bars are also a lot easier to cut into squares and bars when they are out of the pan. I have always found that when I try to cut these in the pan, the first bar can be difficult to get out and is often destroyed getting it out of the pan.  This doesn't happen if you lift the whole bunch out first!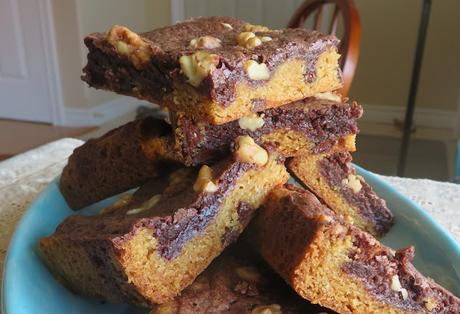 Because each layer of these amazing brookies is made individually they go together lickety split. Both are very easy makes on their own, and it is a simple matter of layering which is such a simple thing to do. 
They also bake up really quickly, meaning you can have this delicious moreish treat ready to eat in not much more than half an hour, depending on if you like to eat them warm, or are happy with them cold.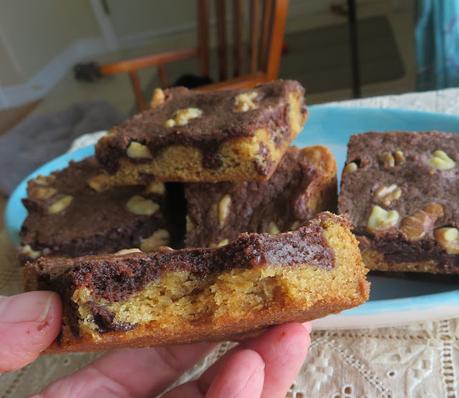 These are brilliant on their own with a nice glass of cold milk, or you can turn them into a lush brownie dessert by serving them one at a time in a dessert nappy, slightly warm and topped with a scoop of vanilla ice cream. 
For extra decadence, why not spoon some hot fudge brownie topping over top! I can promise you any way you serve these, they are bound to be loved by whomever.  
Whether you serve them as an after school treat, a lush dessert, or enjoy them as a sneaky nibble in the middle of the night, they will always go down a real treat!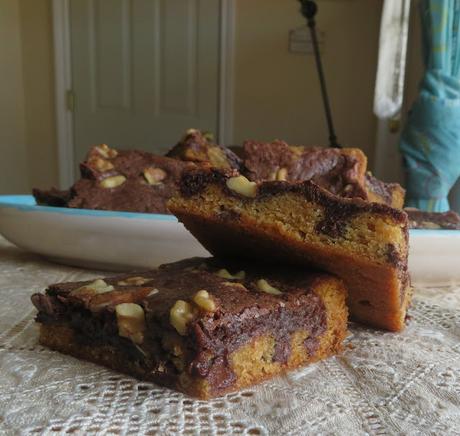 Brookies (small batch)
Yield:
9
Author:
Marie Rayner
Prep time: 15 Min
Cook time: 25 Min
Total time: 40 Min
These fabulous bar cookies are a delicious combination of chocolate chip cookies and brownies. They are seriously moreish!
Ingredients
For the chocolate chip cookie layer:
1/4 cup (60g) butter, softened
1/4 cup (50g)light brown sugar
2 TBS white sugar
1/4 teaspoon vanilla extract
1 large egg yolk
2/3 cup (83g) plain all-purpose flour
1/4 teaspoon salt
1/4 teaspoon baking soda
1/2 cup (90g)  semisweet chocolate chips
For the brownie layer:
1/2 cup (100g)  white sugar
1/4 cup (60g) butter, melted
1/2 teaspoon vanilla extract
1 large egg
2 TBS cocoa powder
1/4 cup (35g)plain all-purpose flour
1/8 tsp teaspoon baking powder
pinch salt
3 TBS chopped toasted walnuts
Instructions
Preheat oven to 350 degrees F (175 degrees C). Grease a 8-inch square baking dish. Partially line with baking paper, leaving an overhang to lift out the baked squares when done.
To make the cookie layer, beat the softened butter, light brown sugar, white sugar, and vanilla extract together in a large bowl until creamy. Add the egg yolk beat until light and creamy, about 2 minutes.
Stir in the flour, combining well together. Stir in the chocolate chips.
Spread dough into the bottom of the prepared baking dish to cover completely.
To make the brownie layer, stir the sugar, melted butter, and vanilla extract together in a bowl; add the egg and beat well. Sift the cocoa powder, flour, baking powder and salt together. Stir into the butter mixture until thoroughly combined and no dry streaks remain.
Pour brownie batter over cookie dough and spread to cover completely. Sprinkle the toasted walnuts over top evenly.
Bake in the preheated oven until a toothpick inserted into the center of the brookies comes out clean, 20 to 25 minutes. 
Cool completely in the pan before cutting into bars. 
To cut into bars, life the brookies out by the paper overhang onto a cutting board. I make three cuts one day and three the other. Perfection.
Did you make this recipe?
Tag @marierayner5530 on instagram and hashtag it #TheEnglishKitchen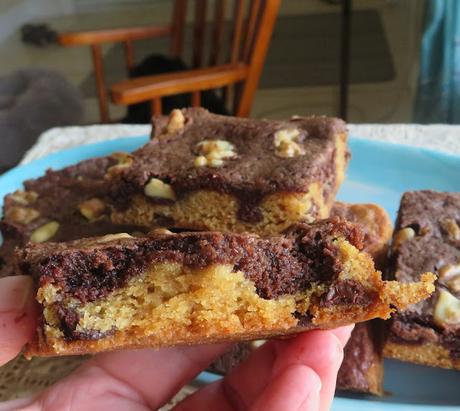 All of the content you see here on this page, both photography and written, are the sole property of The English Kitchen, Marie Rayner. Any reposting or misuse is not permitted. If you are reading this elsewhere, please know that it is stolen content and you may report it to me at mariealicejoan at aol dot com. 
Follow me on Bloglovin