We stayed at the Bromley Court Hotel in Bromley for two nights recently, while visiting South London.
The main reason we chose the Bromley Court Hotel was the fact that they welcome dogs.
The initial welcome when I checked-in, from the lady working on reception, was unfriendly, but we were given our room earlier than the usual 2pm check-in, so at least that was good.
The rest of the staff were professional and very welcoming, especially the barman who we had an enjoyable chat with one evening.
The photo below shows the old original building, but the hotel rooms are actually located in the modern (1970′s) extension.
Our room was quite small; there was hardly room to swing a cat, but the 3 of us fitted into it o.k. Leggy Lurcher dogs can curl up into surprisingly small spaces when necessary.
The beds were soft and comfortable, the room was very clean, and the shower had good water pressure and lots of lovely hot water.
There's a restaurant, but we didn't dine there so I can't comment, and room service is available, we didn't use that either, but several people in the neighbouring rooms to ours did, and they seemed to enjoy the food – if the empty plates left outside their rooms were anything to go by.
The hotel has a very pleasant garden to the rear of the property, and a decent amount of car-parking spaces at the front.
The hotel is within easy walking distance of Bromley town center.
We enjoyed our short stay at the Bromley Court Hotel, and we would stay there again.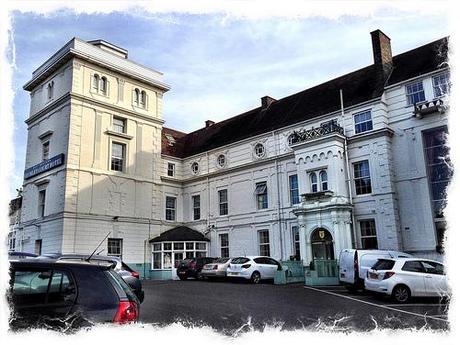 The BEST WESTERN Bromley Court Hotel
Bromley Hill
Bromley
Kent
BR1 4JD
http://www.bromleycourthotel.co.uk/
Blog post by Richard Randall