This post may contain affiliate links. Please read my disclosure.
This broccoli smoothie recipe is packed with health benefits and tropically sweet flavors thanks to the added mango and banana. Quick and creamy, this healthy smoothie is a great addition to your mornings or afternoons: a bright green smoothie is what everyone needs! Kid-friendly with a vegan option, you will love this easy recipe!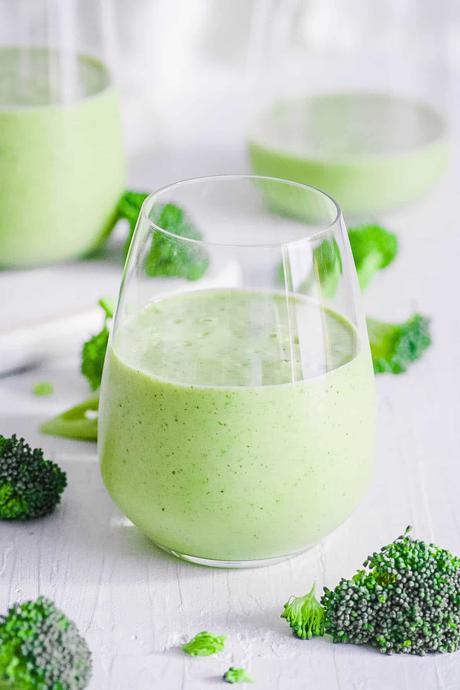 In need of a pick-me-up for a healthy breakfast or post-workout snack? This easy broccoli smoothie is one of our favorite ways to get some greens in the morning! It is the perfect morning smoothie when we're craving something nutritious and filling. We like to enjoy this smoothie by itself or with other breakfast and healthy snack recipes.
An easy way to incorporate a green vegetable into your daily diet, you will want to make this healthy green smoothie recipe again and again! If you happen to have an abundance of ripe bananas and mangoes in the freezer, put them to use with this delicious smoothie! This recipe is a great way to use up any additional ingredients left in the freezer or refrigerator too.
Latest Recipe Video!
Green veggies are nutrient-dense, help boost immunity, and are overall so healthy - so I'm always looking for ways to eat more greens!
This healthy broccoli smoothie recipe is perfect if you happen to have an abundance of leftover broccoli in the refrigerator. What's better than being able to utilize ALL of the food in the refrigerator? There aren't many things better than that! Great for kids & adults - we think your whole family will enjoy this smoothie with broccoli as much as we did!
👩🏽‍🍳 Why This Recipe Works
Healthy and naturally gluten-free! This broccoli smoothie with banana is loaded with great benefits!
Full of protein! Thanks to the yogurt and broccoli, this smoothie recipe is loaded with protein! Great for keeping the hunger at bay.
Kid-Friendly and versatile! The growing toddlers and kiddos will love this brightly green smoothie! This is also a great way to sneak in some extra veggies into your kids' diet. They won't even be able to taste the broccoli!
Easy to customize! With so many different options and substitutions, this smoothie is incredibly easy to customize and adjust to your liking! See variation suggestions below.
🥘 Ingredients
This is just a general list of ingredients you need for the recipe! For the full measurements, and nutrition info, be sure to scroll down to the recipe card.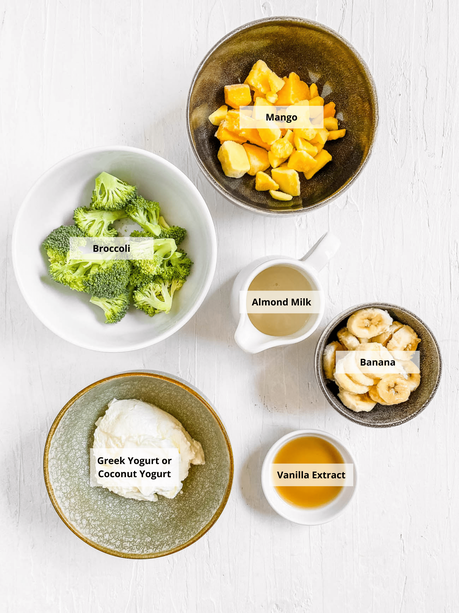 Broccoli: For this smoothie, you can use either a cup of raw broccoli florets or cooked broccoli. Frozen broccoli will also work! You can find broccoli at farmers' markets or in the organic produce section at the grocery store.
Mango: I recommend using frozen unsweetened mango chunks to save on prep time! Mango is loaded with Vitamin C! Frozen ingredients make it so that you don't have to add ice to your smoothie to cool it down.
Medium Banana: Rich in potassium and fiber, bananas are an excellent source of nutrients! We used a medium frozen ripe banana for this smoothie.
Milk: We used unsweetened almond milk for this recipe, but you can any kind of milk. More below!
Vanilla Extract: Vanilla extract adds natural sweetness without needing sugar!
Yogurt: Greek yogurt is full of calcium and protein. Feel free to use dairy-free yogurt for a vegan option.
Coconut sugar: Optional, but if you would like your broccoli banana smoothie a little sweeter, then add just a bit of coconut sugar.
🍽 Equipment
📖 Variations
Make it Vegan: For a vegan broccoli smoothie, simply use coconut yogurt in place of the Greek yogurt.
Keto: For a keto version, omit the mango and banana and use monk fruit sweetener instead of coconut sugar.
Healthy Superfood Smoothie: If you want your smoothie to be even more nutritious, then consider adding some chia seeds, hemp hearts, flax seeds, dates, leafy greens. You can easily turn this into a broccoli spinach smoothie by adding in a handful of baby spinach!
Additional Protein: For additional protein, add a scoop of your favorite vegan protein powder, or feel free to add 1 tablespoon of nut butter - peanut butter or almond butter would both work well in this broccoli smoothie recipe.
Different Fruits! Instead of mango and banana, feel free to add in your favorite fruits! Pears, apples, and berries would all work well. Feel free to use frozen fruit if you can't find fresh!
Broccoli Pineapple Smoothie: Instead of the mango, add 1/2 to 3/4 cup chopped pineapple!
Milks: Use any kind of milk for this recipe such as low-fat milk or skim milk, coconut milk, oat milk, flax milk, etc. If you don't want to use milk, you can also use coconut water and a splash of lemon juice. I don't recommend using fruit juices like orange juice or pineapple juice as that would increase the sugar content of this recipe without adding any nutrients.
Add Ice Cubes: For a smoothie with more of a "slushy" feel, add a few ice cubes into this recipe before blending.
Broccoli Smoothie Bowl: For a smoothie bowl recipe, simply pour the blended smoothie mixture into a bowl and top with granola, nuts, fresh fruit, desiccated coconut, raw honey, etc.
🔪 Instructions
Blend Ingredients: First, place all of the ingredients in a high-speed blender and blend until smooth. Adjust the sweetness to suit personal taste.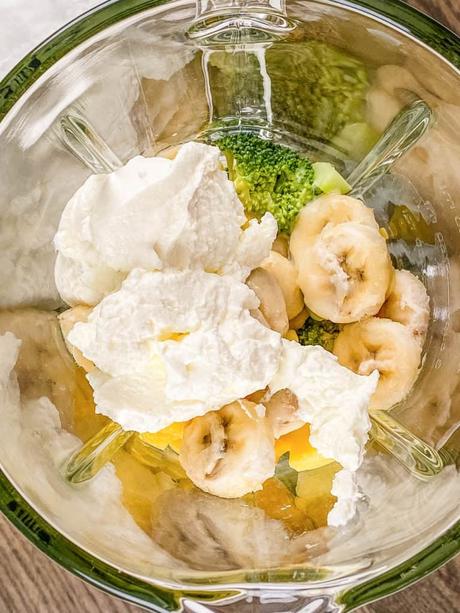 Serve: Serve immediately!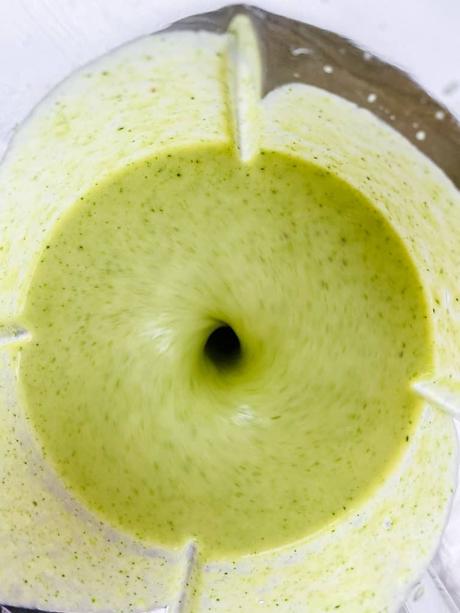 ❓Recipe FAQs
What are the health benefits of broccoli?
This cruciferous vegetable is packed with minerals and vitamins your body needs! Detoxifying and low carb, this healthy veggie is great to have on hand at all times! Broccoli is a true superfood because it's packed with vitamins, minerals and antioxidants. Broccoli contains a high amount of Vitamin A, Vitamin C, Vitamin K, is an excellent source of fiber, and even contains protein!
Are smoothies a good way to get vegetables? What vegetables should I add to my smoothie?
Absolutely! The great thing about a creamy smoothie is that all of the veggies you add blend together and take on the flavor of the fruits you've combined it with. So smoothies are a great way to sneak in a ton of veggies like spinach, kale, and broccoli since they will take on the flavor of sweeter fruits like berries, apples, pears and bananas!
You can add any vegetables you like to your smoothie! Some of my favorites include: all leafy greens, cauliflower, sweet potatoes, carrots, pumpkin, beets, squash, cucumber and zucchini!
What should you not mix in a smoothie?
You can add almost anything you like, but watch out for high sugar/high calorie ingredients like fruit juices, sweeteners like honey, maple syrup, agave, ice cream, frozen yogurt, etc, and nuts/nut butters (they are healthy, but high in calories so you don't want to add too much!). Sweeteners are the biggest thing to stay away from - you don't need it in your smoothie because fruit is already naturally sweet.
Are broccoli smoothies good for you?
The answer is - it depends on what you add into your smoothie along with the broccoli! If you add a ton of sugar and sweet ingredients, your smoothie will be more like a dessert or a milkshake than a healthy snack. But this broccoli smoothie has no added sugars, and is packed with superfoods so it's very healthy for you!
Can you freeze broccoli for smoothies?
Yes! Certainly. We like to buy a large batch of fresh green broccoli florets and freeze the rest in the freezer for future uses. You can make a frozen broccoli smoothie and it will taste just like if you had made it with fresh broccoli!
Is it OK to drink green smoothies every day?
Totally! If anything, it's encouraged since green smoothies are usually filled with detoxifying properties, fiber, and antioxidants.
👨‍👩‍👧 How To Serve
You will want to serve this broccoli smoothie anytime you're craving healthy food!
💭 Expert Tips
Be sure the banana slices are frozen so the broccoli smoothie is thick, creamy, and smooth.
Always adjust the sweetness to suit individual tastes.
Maple syrup can be used as a substitute for coconut sugar.
Using a high-speed blender will result in a very smooth and fluffy recipe.
This smoothie will last for up to one day in the fridge, but if you don't serve it immediately, it will separate. So if you blend it and then wait to serve, be sure to stir it up before serving so it's fully combined!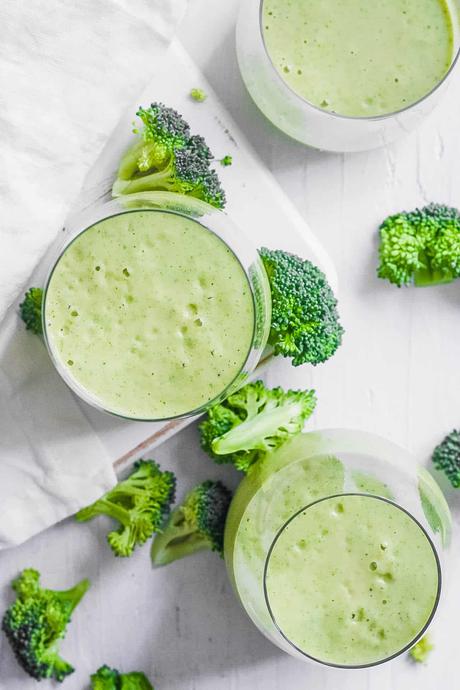 🥤More Healthy Smoothies!
📋 Recipe Card
Broccoli Smoothie With Banana (Vegan Option!)