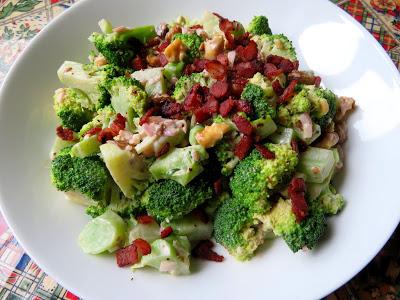 One of my favorite salads has always been broccoli salad.  It is a salad that I tend to only eat at pot lucks and such because to make a full recipe here at home just has never been practical.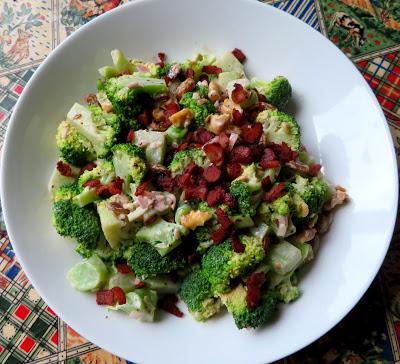 Problem no more!  I have managed to create a version that is just perfect for two servings only.  Its pretty basic, but I can promise you it lacks none of the flavor of the original.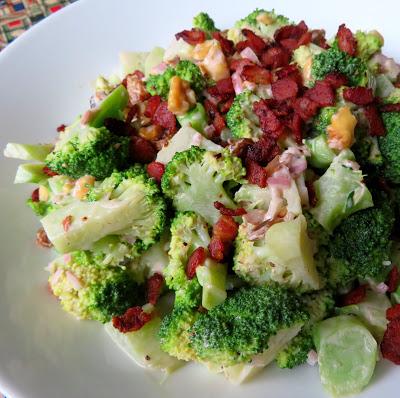 Because of Diverticular disease I find it really hard to digest completely raw broccoli. (Cauliflower also!) I have always found that blanching the broccoli briefly in some boiling water takes care of that problem for the most part.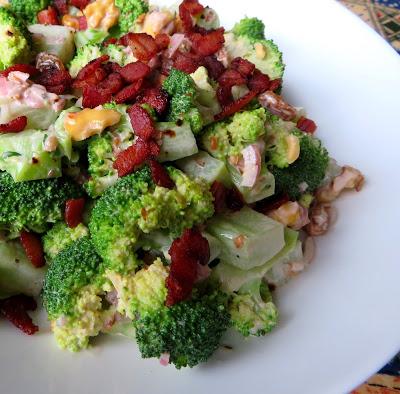 It also really brightens the color of the broccoli.  It doesn't take long or much of an effort.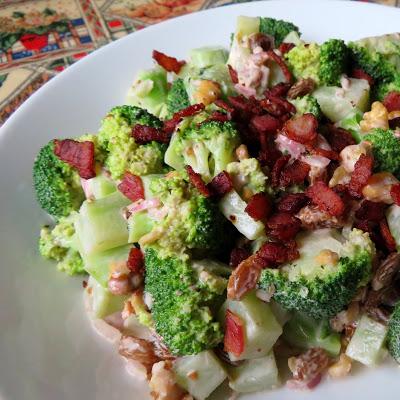 I peel the stems and cut them into 1/2 inch cubes, and then break/cut the florets into 1 inch pieces.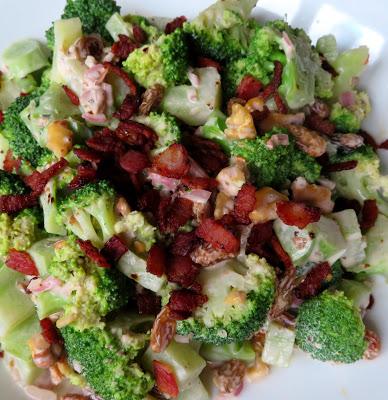 Once the water comes to the boil, add the stems and cook for  a minute, then add the florets and cook for a minute longer.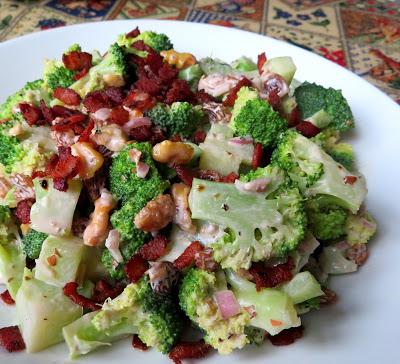 Drain them immediately and run under cold running water until they are cold and stop cooking.  This helps to keep their color as well.  To make sure that they are not soggy, I like to spin them in my salad spinner, but you can also lay them out on a layer of paper towelling or a kitchen towel.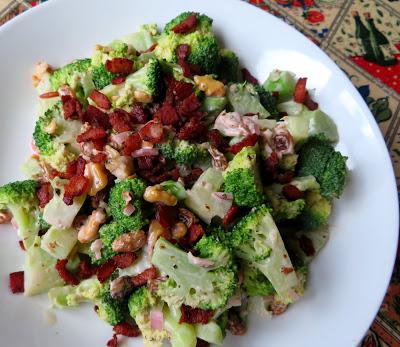 You don't want your broccoli to be too soggy or you run the risk of it diluting the dressing. If you find that the dressing turns out a bit too thin anyways, just add a bit more mayonnaise.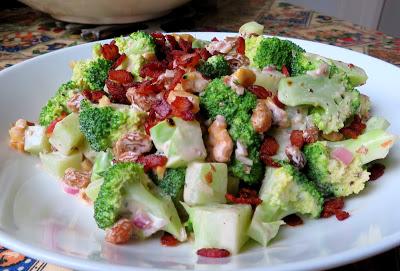 The dressing itself is very simple.  Its just mayonnaise whisked together with balsamic vinegar. Use a good vinegar and don't be tempted to use low fat mayonnaise.  They put sugar into that to make up for there being no fat.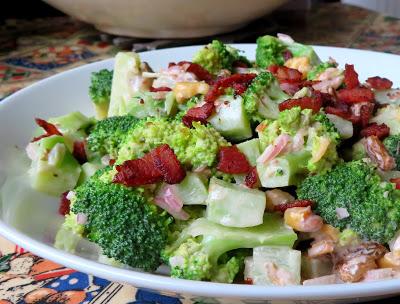 In the regular broccoli salad I always use chopped red onion, but today I used minced shallot because that is what I had.  They worked really well.  Shallots are a beautiful balance between onion and garlic, like a milder version of each.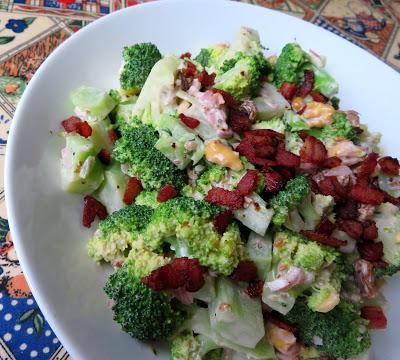 I added toasted walnuts for some crunch and texture. You could use whatever nut you like, toasted.  Sunflower seeds are whats normal I believe, but toasted pine nuts are great also.  Altogether this is really tasty and satisfying.  Sometimes if you are wanting to add some protein you can also add little cubes of cheddar cheese.  Just saying!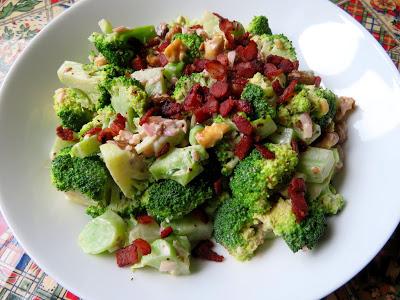 Broccoli Salad for Two
Yield:
2
Author:
Marie Rayner
Your favorite salad downsized to feed only two people.  Delicious and tangy and every bit as satisfying as the original full sized version.
ingredients:
2 slices of streaky smoked bacon, chopped
3 TBS sultana raisins (golden raisins)
1 small bunch of broccoli (about 3/4 pound in weight), florets cut into 1 inch pieces and stems peeled and cut into 1/2 inch cubes
60g full fat mayonnaise (1/4 cup)
1 1/2 tsp balsamic vinegar
fine sea salt and freshly ground black pepper to taste
3 TBS coarsely chopped toasted walnuts
1 small shallot, peeled and finely chopped
instructions:
How to cook Broccoli Salad for Two
Add the bacon to a small skillet and cook until crisp, stirring frequently.  Drain on paper towelling and set aside.
Cover the sultana raisins with boiling water. Let sit for several minutes to plump them up, then drain well and pat dry.
Bring a large pot of lightly salted water to the boil.  Add the broccoli stems and cook for one minute, then add the florets and cook for a further minute.  Drain well and then run cold water over them immediately until they are totally cold.  (this stops them from overcooking) Transfer to a salad spinner and spin until dry. 
Whisk the mayonnaise, balsamic vinegar and some seasoning together until smooth.   Toss in the broccoli, raisins, toasted walnuts and minced shallots. Toss well together and then taste for seasoning.  Add additional salt and pepper if required.  Sprinkle with the crisp bacon bits and serve.
Did you make this recipe?
Tag @marierayner5530 on instagram and hashtag it #EnglishKitchenCreated using
The Recipes Generator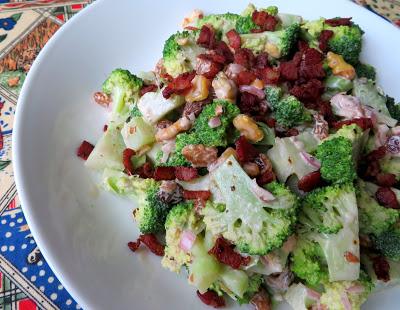 I really enjoy cutting my regular recipes in half and making them just the right size for us. There is so much less waste that way.  I hope you are enjoying it also. If you were wanting a full sized version of Broccoli Salad, you can find my
full size recipe
here.