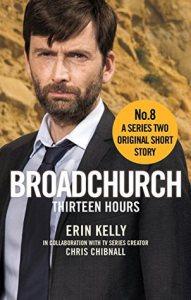 Well Broadchurch season two is now over although the viewers have been promised another series… I really don't know where they can take this next but can guarantee that I will be watching.
This the last short book to accompany the series takes the reader right back to Alec Hardy's entrance to Broadchurch which provides the perfect way of finishing this superb look at the various characters that inhabit Broadchurch.
This book shows us what we didn't see at the beginning of series one, we see Alec hiding Claire, his ill-health in view, the sleepy town being the perfect place for him to finally uncover the truth of what happened at Sandbrook all in thirteen hours.
I have really enjoyed this series, Erin Kelly has managed to pack lots of detail and depth to each of the characters featured and I for one am going to sorely miss my weekly fix.