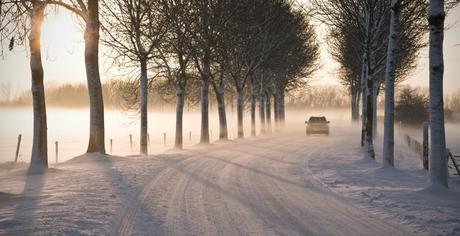 COPY
Brits are preparing for Christmas chaos on the roads, beginning in earnest on 23rd December, as festive travellers make their way home to see family and friends.
According to a new study, commissioned by leading audio entertainment provider Audible, 19% of Brits driving home for Christmas will be making their journey on this date.
But far from a feeling of "bah humbug", many see the drive as much a part of Christmas as tinsel.
Some 44% of drivers spend the journey spotting other people's Christmas lights and decorations, whilst 36% of drivers say they will be singing carols.
For over half of Brits (56%), the car journey home brings festive anticipation to its peak, signalling the start of the fun side of Christmas after the chaos, shopping and stress earlier in December.
The journey also offers the best opportunity for quality family time, with close proximity to extended family, over-eating and Christmas telly fatigue having the potential to blight the big day itself.
With 1 in 10 drivers revealing that they will be listening to an audiobook on their festive journey home this year, Audible have released their selection of the top family audiobooks to complement the all-important Christmas getaway.
Audible.co.uk's Christmas Car Selection
1. Harry Potter series by JK Rowling - narrated by Stephen Fry
2. The Jungle Book by Rudyard Kipling - narrated by Bill Bailey, Richard E. Grant, Celia Imrie and more
3. Northern Lights series by Philip Pullman - narrated by Phillip Pullman and cast
4. A Christmas Carol by Charles Dickens
5. Grandpa's Great Escape by David Walliams - narrated by David Walliams and Michael Gambon
6. Letters from Father Christmas by J.R.R. Tolkien - narrated by Derek Jacobi
7. Skipping Christmas by John Grisham
8. The Adventure of the Blue Carbuncle: Sherlock Holmes by Sir Arthur Conan Doyle
9. Rudolph the Red-Nosed Reindeer and Rudolph Shines Again by Robert L. May
10. The Nutcracker and the Mouse King by E.T.A Hoffman - narrated by Tony Robinson
11. Pride & Prejudice by Jane Austen - narrated by Rosamund Pike
12. A Christmas Present by Jodi Taylor
To make the journey even more of a thrill - and to add a traditional chill - Audible has teamed up with award-winning actress Gillian Anderson to narrate a free short audio story, perfect for whiling away those automotive hours.
Mrs. Zant and the Ghost by Wilkie Collins - narrated by Gillian Anderson
Anderson, who narrates a free, exclusive download of Mrs Zant and the Ghost by Wilkie Collins, says,"I'm a huge fan of Audiobooks - I find them entertaining and immersive so having a great story to share as a family on a long drive is genius.
Sometimes when listening to music, you're very aware of time passing, with each song lasting three minutes - whereas if you're caught up in the narrative of a story, you don't notice how long you've been listening, or driving, for that matter.
It was a Victorian tradition to share ghost stories on Christmas Eve and so I have chosen to read the chilling Mrs Zant and the Ghost by Wilkie Collins. Once I got my head around the Victorian phrasing it became such a joy to read. The story really transports you to a fireside over a century ago."
Laurence Howell, Director of Audible UK says, "Christmas is a bumper time for families to be together in the car. We know people love to listen to audiobooks in the car, so made sure people across the country had something great to listen to during those long Christmas drives. Working with Gillian was an absolute pleasure. Her voice has the perfect haunting tone and we couldn't have hoped for a better narrator for Mrs Zant and the Ghost."
Mrs Zant and the Ghost is available to download for free from 23 December 2015 at http://www.audible.co.uk/driving with the twelve other stories available now.
ENDS