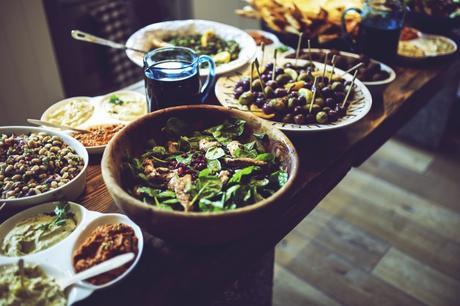 Brits are spending more than five hours a week consuming 'food media' - but just four hours actually cooking, a study has found.
As the nation's obsession with high profile chefs, cookery books and foodie TV shows continues, the average adult now spends more time watching, reading, browsing and tagging food on social media than they do whipping up their daily meals.
More than half admit they would much rather watch a dish being cooked on TV, or spend time looking at photos online, because they are too busy or think it's too complicated try to try their hand at making something themselves.
The stats emerged in a study by Lurpak, to launch its new 'Game On, Cooks' campaign aims to tackle the problem by challenging Brits to turn their screens off and ovens on.
To uncover this Great British 'cooking paradox,' media psychologist, Emma Kenny analysed over 400 hours of food culture spanning TV, radio, internet and social media conversations and consumer research from Lurpak.
Over 30m viewers now tune in to the nation's top 10 foodie TV shows every week, with a record 10.4m tuning in to Great British Bake Off and over 14m readers flick through popular foodie magazines for inspiration every month.
Media psychologist, Emma Kenny, said: "Cooking programmes have been a part of our television viewing pleasure since the 1950s.
"Fast-forward to 2016 and there are over 18 days worth of cookery shows available on our screens each week plus social media offering so much delicious content, it seems that, as a nation, we are fixated with any activity related to food culture.
"Championed by engaging personalities such as Gordon Ramsey and Jamie Oliver, it's no surprise there's such a huge appetite for cookery content.
"And yet these latest findings show us that the amount of time we spend watching food-based shows is not translating back to our kitchen-based behaviour."
The study found the average adult spends one hour and 37 minutes a week watching cooking and food-related TV shows, with The Great British Bake-off, Masterchef and Come Dine with Me the most popular.
But while seven in ten enjoy watching TV cooking shows, only half have been inspired enough to try making something they have seen on screen.
While another one in ten say it has been at least a year since they had a go at making a dish they spotted online or on TV.
One in five have admitted to making a dish at home but just so they can photograph it and share it on their social media page.
For those surveyed, a total of three and a half hours were spent digesting food content on digital platforms every week.
They spent 44 minutes a week engaging with food via Facebook, and another 20 minutes tweeting about it.
Foodies browse on Instagram and Pinterest for 19 minutes a week and watch cooking videos on YouTube for 34 minutes a week.
Brits also spend 58 minutes reading food websites and blogs, 15 minutes snapchatting about food and 9 minutes scouring recipe books each week.
In comparison, the average adult will spend just 36 minutes a day preparing and cooking food.
It seems four in ten people are put off cooking by TV shows, saying it all looks too complicated to try at home, while 34 per cent claim to be too busy.
Others say it's too expensive or that they just like looking at the food.
There is appetite for change however with 56 per cent saying they wished they cooked the recipes they saw online more often.
A new Lurpak campaign 'Game On, Cooks' aims to tackle the cooking paradox by demonstrating that consuming food culture is a poor substitute for the visceral experience of cooking.
Louise Goodyear, Senior Brand Manager, Lurpak, said: "It seems that while the nation loves to watch, read, browse and tag food every week, few are likely to actually have a go themselves.
"Consuming all this food on screen doesn't compare to the sights, sounds and tastes of a real kitchen - we're becoming a nation of sofa chefs! That's why Lurpak is calling on Britain to stop spectating and start cooking because you're not a cook until you cook. - Game On, Cooks."
Emma Kenny continues: "It would be great if we could transfer our love of onscreen cookery into our real life kitchens.
"We're being brainwashed into thinking that cooking is too difficult, takes too long and costs too much and it's turning us to convenience food.
We need a revolution - let's get the nation to reconnect with food, and experience the thrill of cooking! In short, we need to get off the sofa and into the kitchen."
Top Foodies/Chefs on Instagram
Jamie Oliver - 4.9m
Gordon Ramsey - 1.8m
Joe Wicks - 1.4m
Ella Woodward - 945k
Nigella Lawson - 798k
Symmetry Breakfast - 633k
Madeleine Shaw - 252k
Top With Cinnamon - 213k
Clerkenwell Boy - 146k
10 Gizzi Erskine - 124k
Top 10 most popular food-related TV shows:
The Great British Bake-Off
Masterchef
Come Dine with Me
Saturday Kitchen
The Hairy Bikers Cookbook
Sunday Brunch
Dinner Date
Jamie and Jimmy's Friday Night Feast
This Morning's food section
Cake Boss
ENDS