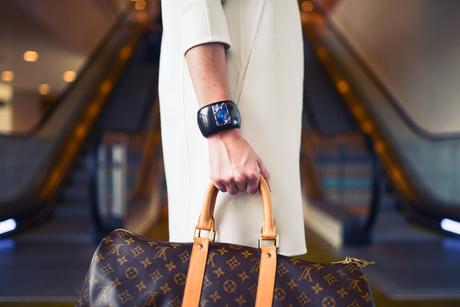 Fashion loving Brits heading to the Eurozone and the Nordics could save up to £1,750 on the latest catwalk trends, according to a study released today by Travelex.
The holiday money provider teamed up with fashion blogger Five Five Fabulous to identify where Brits could save up to 88% on the hottest looks from London fashion week by shopping abroad
Over 4 million Brits now head abroad every year just to snap up the latest catwalk trends, while over half (52%) buy fashion clothing and accessories when on holiday. New York, Paris and Rome are all listed as popular shop-till-you drop destinations.
The results also show that Brits' thirst for fashion starts before they even get on a plane, with the average holidaymaker spending £199 on their dream wardrobe. 8 in 10 admit to going on a pre-holiday shop to look as stylish as possible abroad.
With Brits looking further afield to get the most fashionable items of the season, Travelex has teamed up with fashion blogger Five Five Fabulous to find the five hottest catwalk trends from LFW for less from five destinations around the globe where the pound is strong.
Commenting on the collaboration, Kate Howarth from Travelex says: "The strength of the pound in different destinations means there's a great opportunity to make serious savings by shopping for next season's looks abroad - with some even costing less than half the price of buying them in the UK."
Top Five Trends, destinations and savings
Reem Kanj of Five Five Fabulous comments:
"I love the excitement of London Fashion Week and spotting all of the trends for the next season. This year was especially interesting, working with Travelex, to help fashion lovers get the hottest trends for less. For me the off -the- shoulder trend is the most exciting - to anyone planning a trip to Denmark, I would recommend checking out the Danish brand Designers Remix to get the same designer look but for £250 cheaper."
Trend 1: Loungewear
Loungewear and lingerie inspired vibes are looking strong for SS16, with Givenchy's show in
New York featuring elements of silk and lace and Eudon Choi showcasing relaxed, undone fits in London.
This loungewear look can be snapped up for less at Ron Herman Boutique in LA, stockist of
Rumi Neely's line Are You Am I. A complete look from Eudon Choi this season comes in at around £700 on average, while Are You Am I offers clean cuts and slinky basics, all for under $300, giving you savings of up to £505.
Trend 2: Colour blocking
Day two at London Fashion Week served up more from the colour blocking trend we saw at the Narciso Rodriguez and Zac Posen shows in New York. Charlie May's beautiful SS16 presentation channelled a simplistic, relaxed, Scandi-inspired look, with single pieces - averaging £750 - styled together to create a head to toe colour block outfit.
Look out for the Swedish native brand, Filippa K, whose stores in Sweden offer similar pieces for up to £500 less - especially good value for Brits heading to Sweden. With the pound stronger than it was in September last year, Brits will find their pounds stretch 10% further in Sweden.
Trend 3: Off the Shoulder
Necklines at MM6 Maison Margiela's show were notably off the shoulder, a trend also spotted at both the Edun and Proenza Schouler shows during New York Fashion Week. Off the shoulder shirts and dresses create an instantly laid-back, feminine look -perfect for spring and easy to emulate. Danish brand Designers Remix, by Charlotte Eskildsen, is big on the off the shoulder trend, with a beautiful array of tops, knitwear and dresses in this style for a fraction of the price.
By working closely with Travelex, we found that Brits can save over £250 by shopping at Designers Remix in Denmark, partly thanks to the strength of the pound which means Brits get an extra 378DKK (equivalent to £38) on every £500 exchanged compared to last year.
Trend 4: Tropical
Sophia Webster's presentation demonstrated tropical themes for SS16, a trend that was similarly strong at the Anna Sui show in New York. Embracing the tropical trend is all about capitalising on the bold colours of summer, a look that Kiwi designer, Kathryn Wilson is great for. Sophia Webster's shoes are priced at around the £400 mark, making Kathryn Wilson's Auckland- based line ' Miss Wilson', packed with bright and summery colours, a great alternative for less.
Get the look and save up to £250 by shopping at Kathryn Wilson in New Zealand, helping you acquire your SS16 wardrobe for less. With the Pound up 21% compared to this time last year, fashion-conscious Brits will have an extra $206 (£88) to spend on exchanging £500.
Trend 5: Military
Burberry reinforced the militaristic looks that have been hinted at by both the SS16 collections of Marc Jacobs in New York and Versus Versace in London. Both gave a nod to military and featured double-breasted jackets as key parts of their SS16 collections, with Burberry coming in at a high-end £2,000 for the full look.
Recreating the military trend doesn't need to break the bank, especially with the pound up 8% against the Euro compared to last year, with Brits receiving an extra €51 on every £500 exchanged.
Get the look in Madrid with the exclusive brand Hoss Intropia who offer the double-breasted look, as well as other on-trend pieces in military style blues, greens and greys, whilst giving you savings of over £1,500.