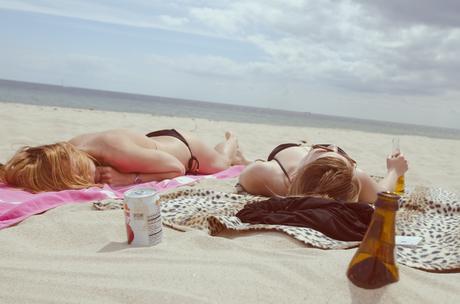 Choosing a destination that was too 'British', travelling with the in-laws and failing to 'switch off' from work are just some of the things holidaymakers regret about their travels.
A report which delves into the holiday habits of 2,000 adults has revealed more than a third have returned from a break abroad only to feel disappointment at what they did or didn't do.
For 14 per cent of people the biggest reason for remorse was their own bad behaviour, while 24 per cent regretted the location of their holiday.
Working animal charity SPANA has compiled a top 50 list of the biggest holiday regrets, which includes travelling to a touristy site, not bothering to learn basic local language phrases and not paying for priority boarding.
Being too lazy to leave the resort to sight-see, sticking to known foods rather than trying local cuisine and being too scared to experiment with different sports and activities also leave Brits feeling dissatisfied with their overall experience.
Jeremy Hulme, Chief Executive of SPANA, said: "It's no secret that Brits love their summer holidays abroad, but it seems that all too often holidaymakers return home wishing they'd done things differently.
"Whether it's engaging in embarrassing behaviour after letting their hair down, or not being adventurous enough in experiencing local food and culture, it's clear that British tourists have a long list of holiday regrets.
"But, while some of our holiday choices may come back to haunt us, if you're thinking of doing an activity like a camel safari or taking a horse-drawn carriage ride it pays to do your research.
"Thousands of animals are involved in the tourism industry around the world, transporting holidaymakers on rides, treks and tours.
"We're encouraging everyone to read our Holiday Hooves guide to help them make responsible decisions and choose healthy animals that aren't being mistreated.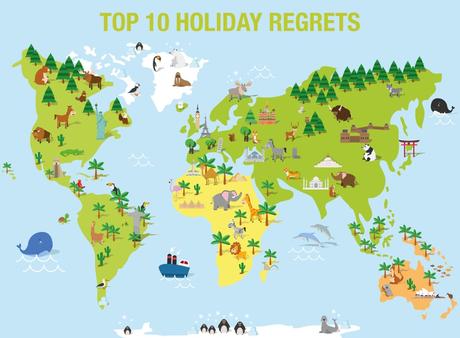 The study shows many adults have regretted letting others dictate how they spent their break, rather than making their own minds up.
Others regret choosing a destination where there was literally nothing to do, and some wish they hadn't booked the cheapest hotel as they found they were stuck in the middle of nowhere.
Falling out with the people they travelled with, having a holiday romance and REFUSING a holiday romance also feature in the top 50 list.
Opting NOT to buy a souvenir and then wishing you had, forgetting to wear sun cream and drinking alcohol to excess are other reasons for disappointment.
Holidaymakers also pointed out other regrets such as ending up with a bad view from their hotel room after not checking their booking, getting ripped off with local exchange rates and forgetting to take essentials like phone chargers, ear plugs and travel insurance.
Interestingly, 71 per cent of people think British tourists have a reputation for bad behaviour when abroad, and 53 per cent have felt embarrassed by the behaviour of their compatriots while on holiday.
When it comes to safety abroad, Brits still have a lot to learn.
Trusting a local and ending up lost, being hospitalised after sustaining an injury and failing to know what to do in an emergency were also factors which led to holiday regrets.
Incredibly, 22 per cent of those polled don't bother getting travel insurance when going on holiday and 61 per cent don't think to get their vaccinations are up-to-date.
Seven in 10 adults won't buy in extra medication in case they get poorly abroad, while 35 per cent don't even bother printing off their holiday documentation in preparation.
TV presenter and travel author Simon Reeve said: "I'm proud to be supporting SPANA's responsible tourism campaign to improve the welfare of animals working in the tourism industry worldwide.
"Travelling around the developing world I've seen for myself how families rely on working animals for their livelihoods.
"But a life of work shouldn't mean a life of suffering - these animals work hard and they deserve to be treated with respect and compassion.
"SPANA's campaign is about helping holidaymakers to make informed choices, recognise healthy animals and know what to do if they see mistreatment.
"It's also about encouraging tour operators, animal owners and governments around the world to take the issue seriously and - with the public's support - sending a message that only the highest standards of animal health and welfare are acceptable."
For more information and to download a free copy of SPANA's ethical animal tourism guide, Holiday Hooves, please visit www.spana.org/tourism
TOP 50 HOLIDAY REGRETS
1. Letting others dictate how you spent your holiday, rather than doing what you wanted
2. Choosing a destination that was too 'touristy'
3. Choosing a destination where there was literally nothing to do
4. Falling out with the people you went on holiday with
5. Deciding not to purchase a souvenir and then wishing you had
6. Choosing a destination that was too 'British'
7. Forgetting to wear sun cream / sunbathing all day and getting badly burnt
8. Drinking local alcohol to excess
9. Drinking too much on a night out and behaving badly
10. Getting food poisoning
11. Not bringing plug adapters
12. Choosing not to leave the resort, and failing to 'sight see'
13. Not making any effort to learn language basics
14. Going on holiday with the wrong people (in-laws, annoying friends)
15. Failing to try local foods when given the opportunity
16. Getting ripped off (e.g. not knowing the exchange rate or currency value)
17. Falling into a deep sleep on the sunbed and getting sunburnt
18. Being too scared to experiment with different sports and activities
19. Going out on the last night before a really early flight home
20. Not taking more sun lotion / mosquito repellent and paying more for it abroad
21. Walking through unsafe, unlit areas at night
22. Not telling your bank you're going abroad
23. Not 'switching off' from work
24. Forgetting your phone charger
25. Embarking on a holiday romance
26. Deciding not to embark on a holiday romance
27. Not saving space for holiday purchases
28. Not paying for priority boarding
29. Talking about work on holiday, instead of enjoying the holiday
30. Being overly trusting when approached by people
31. Trusting a local and ending up lost
32. Not arriving early enough to reserve your sun bed with a beach towel
33. Not querying your hotel room on booking - so you end up with a bad view
34. Forgetting your ear plugs
35. Not knowing local dangers (e.g. avoiding tap water, salads etc)
36. Deciding to get a really early flight home
37. Leaving your passport in the room
38. Sleeping with a stranger
39. Booking the cheapest hotel - and being stuck in the middle of nowhere (no research on locations, facilities etc)
40. Working on holiday instead of relaxing
41. Being hospitalised / sustaining injuries
42. Not paying extra to take more luggage
43. Not researching the hotel, and its other residents, well enough
44. Not knowing what to do in an emergency (e.g. 999 equivalent)
45. Getting into unsafe taxis
46. Travelling without insurance
47. Taking all your currency out with you
48. Not knowing local customs (e.g. appropriate dress)
49. Riding mopeds without helmets
50. Sleeping on the beach