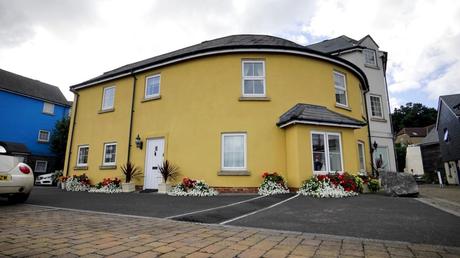 NEWS COPY
Having trouble selling your house? You could try painting the front door white.
Research has revealed that's the door colour that may help increase its chances of a quick sale.
It also helps if you have four bedrooms, four front-facing windows and a front garden with a rose bush and a neatly mown lawn.
The research, commissioned by TSB to celebrate its partnership with Dulux Amazing Space, found that a third of Brits already have every detail of their ideal next home mapped out.
Raj Sahota, Head of Dulux Amazing Space, said: "It doesn't take much to put someone off a house if you're trying to sell it.
"The research indicates that Brits are pretty clear on what they're looking for in a house, and they're happy to wait it out to find the perfect home.
"It's important to consider the exterior as well as the interior of a house when the time comes to sell - as people can be extremely picky about making such a big investment.
"Luckily they don't have to wait for their dream interiors, as it's something they're happy to tackle themselves with some DIY skill and design knowledge.
"The Dulux Amazing Space design service is a great way to make sure that your home is looking at its absolute best to impress potential buyers."
Extra space to build an extension and a decent drive are also important considerations for respondents.
Some 60 per cent of Brits wouldn't be able to see past these details, claiming they'd be instantly put off a property if they could see poor paintwork, a scratched front door and bad carpets.
In fact, 45 per cent of respondents claim to have been put off by a single feature of an otherwise perfect house.
One respondent noted that blue floor lights in the kitchen convinced them not to buy, and another bristled at an ornate fish tank built into a chimney breast.
Luckily for fans of home décor, two-thirds of people said they wouldn't be put off by the interior decoration of a house, believing they can fix it themselves - while 30 per cent say they'd like their next home to have a modern interior, compared to 18 per cent who prefer a more traditional look.
While almost half (46 per cent) say they'll rigorously look into every detail of a home before putting down a deposit, a fifth say they're happy not to look too closely - as long as they get a good 'vibe' from the home after a visit.
Furthermore, an instinctive one in 10 believe a cursory look is all they need - they're not interested in details.
When it comes to looking at houses, it's not just those in the market for a move spending their time on property websites. More than half of the population (56 per cent) admit to browsing for properties despite having no plans to move.
The top reasons for this behaviour are to find out how much nearby houses cost, to keep up with market changes and to seek inspiration from how other people decorate their homes.
For those looking to sell, the most popular scent to entice buyers is freshly baked bread, followed by flowers and fresh laundry.
Nick Smith, Head of Personal Loans at TSB, said: "Our home improvement loan offers customers the money to renovate their home, but we wanted to add something extra to help them make the most of their borrowing. And that's why we've partnered with Dulux Amazing Space."
From now until October 18 2016, customers taking out a TSB Home Improvement Loan will receive a free online interior design consultation with a Design Expert from Dulux Amazing Space (worth £75), for one room in their home.
The service allows customers to share their style preferences and pictures of the room they want to makeover, and a Dulux Design Expert will suggest designs, colour schemes and furniture and accessory ideas - based on the customer's preferences.
At the end, they'll get a 3D visualisation of their room, a style guide plus an interactive shopping list - so they'll have everything they need to create their ideal room within their budget.
ENDS