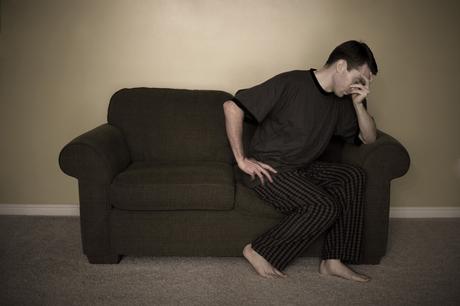 NEWS COPY
The modern British man is two and a half times more likely to cry in public than his father, new research reveals.
Four in ten blokes (38 per cent) admit they have cried in public in the past year alone, according to results, while their dads publicly shed a tear just five times in their entire adult lifetimes.
A study into the emotional reactions of 2,000 British adults found distressing scenes in TV and film dramas are most likely to make men weep, outside of the death of a loved one, while for women it is when someone they love hurts them.
The survey, commissioned to mark the launch of US drama Chicago Med (20th March, 9pm on Universal Channel) - which is described as an 'emotional rollercoaster for viewers' - compared reactions to emotional and dramatic scenes (both real and fictional) among adult Brits.
Results showed the average Brit cries for a total of 2 hours and 41 mins a year - more than 11 days of our adult waking lives over the course of a lifetime.
The results suggest that men no longer feel they have to maintain a stiff upper lip; the figures also show men are less resistant to public tears than women - 79 per cent of women are more likely to shed a tear on their own than when in front of others, compared to 58 per cent of men.
It found the top reason Brits shed a tear, besides the loss of a loved one, is watching an emotional scene on TV (57 per cent), rather than real life situations such as hurting someone they love (48 per cent) or seeing something distressing on the news (32 per cent).
Men are also more affected by things they see on TV, with 46 per cent saying that they are more likely to cry in front of the telly than in real life situations - compared to 42 per cent of women.
The survey was led by acclaimed psychologist Donna Dawson who said: "The main reason that modern British man is more likely to cry in public than his father is due to TV dramas that are more realistic, gritty and hard-hitting, as well as the last two decades of confessional and counselling-type TV programmes.
"These fictional shows tap into modern dilemmas and pull more directly on our emotions than TV dramas in previous decades ever did.
"Fictional TV shows are more likely to elicit tears because they allow a purer, universal expression of grief - an emotional 'unloading' - which is not tainted by the conflicting emotions of guilt, regret, confusion and anger that often accompany specific real-life situations. Conflicting emotions can stop or inhibit us from crying over a situation."
Overall, the top reasons for men to blub are watching a particularly emotional scene on a TV show or film, followed by seeing they have hurt someone they love, whereas, top of the sobs for women is when someone they love hurts them.
The overwhelming majority (86 per cent) of Brits say they have been brought to tears by a TV drama - with a death on screen (61 per cent) or emotional scene that reminds us of our own lives (48 per cent) being most likely to make us cry, closely followed by seeing animals getting hurt. But even a happy ending can make us weep, with over a third of those in the survey reporting tears of joy.
The results also uncovered that more than a third of British men were introduced to emotionally-driven TV dramas by someone close to them, which is why they watch them.
Despite this, over a quarter admit they are now hooked and would be happy to watch these shows on their own.
Women do feel more embarrassed when they cry at TV dramas than men, with 28 per cent admitting it makes them feel 'soppy', compared to only 25 per cent of men who feel this way.
A quarter of men see nothing wrong with crying in front of a TV show; a higher percentage than women, of whom only 21 per cent aren't bothered by a bit of a blub in front of the telly.
Chrystele Fremaux of NBCUniversal International Networks, says "It's fascinating to see how the reaction of men and women varies when it comes to revealing their emotions - and how these have changed over the years. Shows such as Chicago Med, along with Universal Channel's wealth of character-driven series, brilliantly draw on both the drama and grit of the real world, enabling viewers to experience the highs and lows that both emotional and dramatic scenes can bring."
Even though it appears to be more acceptable for men AND women to cry in public than a generation ago, 49 per cent of us have still made up an excuse to cover the tracks of our tears while watching emotional scenes on TV or in a film.
Donna Dawson added: "However, even though today's society is more approving of public tears, there is still a lurking fear in many of us that the people witnessing it will make fun of us - which is why we still come up with a range of excuses."
When it comes to blood and gore, as a nation we seem to be a strong-stomached lot as seven in ten say they have never felt queasy at the sight of blood in real life. However, 55 per cent of us do admit that we have to watch gory scenes on TV through their fingers, from behind a pillow, or look away entirely.
The top 'sob stories' used as excuses for crying at a TV show are:
* Something in my eye
* Yawning
* Lack of sleep
* Allergies
* Thinking about something else - it wasn't the TV programme
* Contact lens problems
* Reaction to dust
* Hungover
* Chilli on my hand and just touched my eye
US medical drama Chicago Med premieres Sunday, 20th March, 9pm on Universal Channel.
ENDS