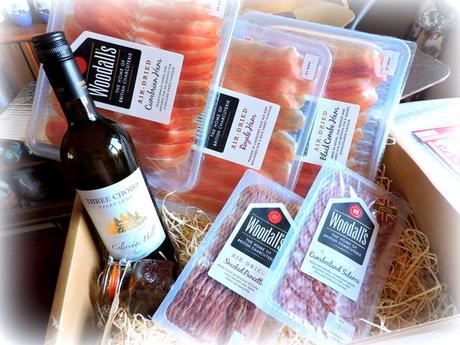 I recently received a delicious hamper filled with lovely charcuterie from the people at Woodall's, the home of British Charcuterie!    This goodness began in 1828 when the family set up their butcher's shop in Waberthwaite in Cumbria and almost two centuries later, 8th generation Master Curer, Colin Woodall, continues to use the family's original recipes and curing and smoking skills, whilst at the same time taking advantage of modern techniques which guarantee a consistently delicious result every time.
Over the years Woodall's has featured on such august menus as the Titanic and Concord, and has provided a taste of home for many British Everest Ascents.
Included in my hamper were: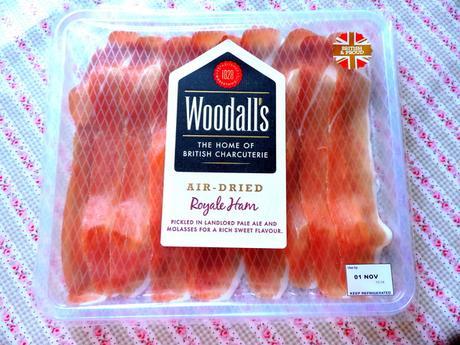 Royale Air Dried Ham -  The recipe for "Royle" was developed from a cure for Suffolk ham by Woodall's and is pickled in a rich blend of Landlord Pale Ale molasses, vinegar and brown sugar before being lightly smoked.   The result is a totally unique air-dried ham with a wonderfully complex, rich, sweet flavor and a melt in the mouth texture.   This ham won  highly coveted Caterer Product Excellence Award last year and one star from Great Taste 2015.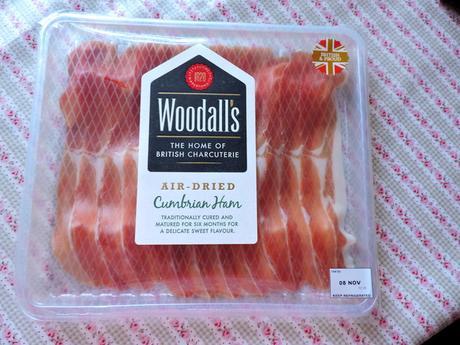 Air Cried Cumbrian Ham -  This is the original Woodall's air dried ham.  It is traditionally hand cured using an old family recipe.  After curing the hams are matured for six months to create a proscuitto style ham with a delicate sweet flavor.  It is the winner of two stars from Great Taste 2015.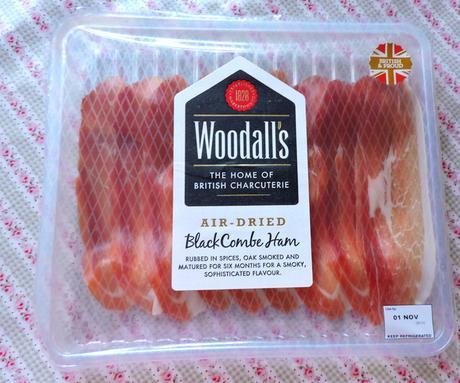 Air Dried Black Combe Ham - This ham is a celebration of Britain's long tradition of smoking hams.  To create a deeper flavour, this ham is hand rubbed with a spiced dry cure mix and then cold smoked in oak for 5 hours before being left to naturally air dry for at least six months.  This ham finds a perfect balance between being aromatic and distinct, but never overpowering.   Winner of one star from Great Taste 2015.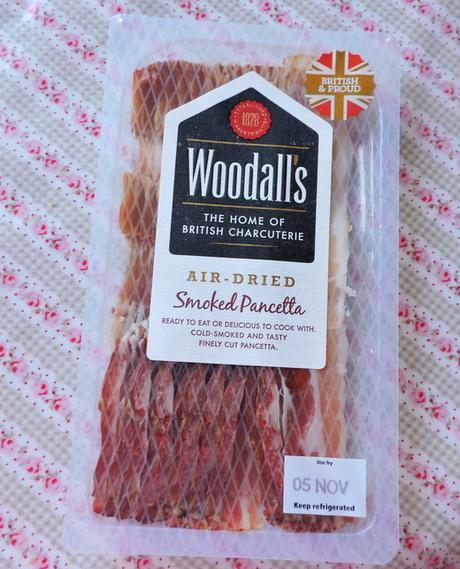 Woodall's Pancetta:  Pork bellies are hand salted and then allowed to rest for seven days before being hung for a couple of days and then smoked.  The product is then air dried for a further five weeks.  Unlike many pancettas on the market today, the Woodall's product is perfect for cooking with, but is also ready to eat straight from the pack. Bonus!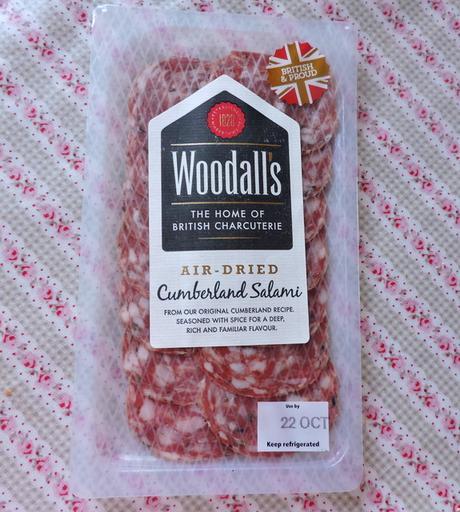 Cumberland Salami -  The Woodall's salami originated from the Cumberland sausage recipe which the Woodall family has been using for eight generations.  The sausage is then cured for six weeks to create a ready to eat product with a unique, deep and rich flavor.  This is a completely different taste experience to continental salamis and chorizos.   This delightful salami took the top gong at the 2014 Pig and Poultry Awards.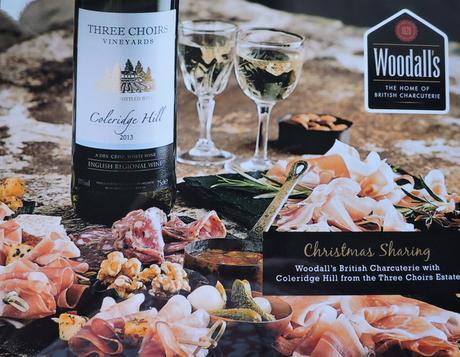 Included as well was a bottle of Coleridge Hill white wine  and a small jar of festive chutney.
You can celebrate the best of British on your festvie buffet this Christmas by offering guests a unique British Charcuterie Platter, combine Woodall's delicious air dried hams, salami, pancetta and olives, paired with some excellent English wine.   This simple platter was a winning combination at Royal Ascot this year and was served by chef, Steve Goulding, throughout his fine dining menus.  The addition of British pickles, cheeses and good breads can also turn this sharing dish into something quite substantial.
Woodall's, the UK's premier Charcuterie range, took Golds at this years Great Taste Awards for all of their air-dried hams which the judges felt were "easily a match for Italian and Spanish hams".  Because of their unique recipes and master curing practices, these hams have wonderfully rich, complex, sweet flavours combined with melt in the mouth textures, quite unlike anything you might find on the continent.
For it's festive British Charcuterie Platter, Woodall's has partnered with Three Choirs, Coleridge Hill 2013 (Silver medal at the English and Welsh Wine of the year 2015 Competition.); a dry wine whish has the soft deliciate fruit character of grapefruit with a hint of elderflower and spice.   The acidity of this wine works ver well with cured meat flavours and the combination makes for a wonderful celebration of British Produce.  (Coleridge Hill retails from £8.50.  It can be purchased direct from the vineyard and other small independant retailers, such as Hay Wines, The Hop Pocket Wine Company, Frank Stainton Wines, Sam's Chop House and Noel Chadwick to name just a few.)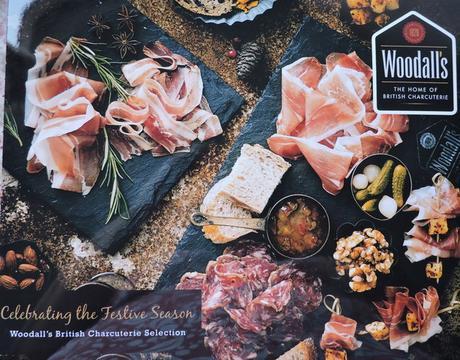 As the appetite for British Charcuterie continues to grow, fueled by the support of chef's like Mark Hix; and as British Charcuterie increasingly appears on restaurant menus; Colin Woodall believes that diners will increasingly seek out these products in fine food shops to eat at home.
"Woodall's is a truly British product, using British pork, British recipes and British curing and smoking techniques.  It ticks all of the boxes for those who are looking for new, exciting food experiences from products that are made locally and that, most importantly, consistently deliver on taste."
The range is available in speciality food shops nationwide . . .  including Selfridges, Harvey Nichols, Whole Foods, Windsor Farm Shop, Chatsworth Farm Shop, Booths, Ocado and independent delis and farm shops nationwide.  RRP's -  Hams £3.99, Smoked Pancetta £3.49 and Salami £2.99
Many thanks to Woodall's for sending me this lovely hamper.  All of the charcuterie was absolutely delicious and we both enjoyed it very much!  Two thumbs up!  I also love that it is homegrown, British through and through, from the field to the delicious plate.   That gets ten stars from me!  I was only disappointed that they hadn't also sent me some of their fine Cumberland Sausages.   I had them last time I holidayed in Cumbria and have been dreaming of them ever since.
Woodall's Online Shop
Woodall's on Facebook
Woodall's on Twitter
Note - although I was sent this hamper free of charge, I was not required to write a positive review.  Any and all opinions are completely my own.